Friday, October 24, 2008
OMG OMG OMG!
Kaileng saw YOGA! =DD
Of cos i'm not as excited as compared to seeing Jam in person...heh.
But still, i wanna say Yoga is NICEY!
Thanks to da glass door & Michelle my photographer, this shot is possible! =DD
Thanks Yoga!
& being random Julian is really nice..i love seeing him around mdc..
He brightens my day! You'r totally welcome for tat drink ya dude.. =DD
It's my treat...Happy filming.. cya around..i'm so happy to note your filming wrap up at december, tat means chances of seeing ya around is so much higher! =DDDD
Saw Yahui too, it's always nice to meet so many nice peeps at mdc!
Argh.. & so I missed Ruien aka LP again...
I'm always seeing her car only :(
Really miss tat babe, hope to see her around!
Till then, take care lovelies!
Kaileng wrote
10/24/2008 10:00:00 PM


Thursday, October 23, 2008
Randomly wanna blog now!
HAHA. Office is like duhx!
So Bored.. Nth to do...
Hang on! Not really la, truth is i'm always
slacking
in da office..
I'd normally distribute calls to be made in an excel sheet, then I'm off to do do my own things.
Heh!
Facebook, Yearbook,Tagged...friendster
...etc..! HAHA!
I hav been listening to
Dragonfly Vol 1
since morning..
It's like damn nice! Addictive! haha...
I bought the album long ago cos of
SLY
, yes, remember i was gaga-ing over sly back in 2004? haha! So bought it lor.. there was once i listened to
xi wang
over & over again..until I think i can easily sing it ! :) Recently i picked the CD up again & started listening to it, & addicted to another song in it. sang by
charlie
with the
queeen band
, titled
'Ci qing'
Nicey! Heex! Esp when the music is composed by
'

Six

'
! :DD
DeehellSix
! :DDDD Loves! I really hav a thing for musicians la!
So here am i promoting this song.."刺青'..
Music: DeehellSix
Lyrics: Colin Qi
Vocals: Charlie
世界辽阔 怎么会遇上我 你的美丽让我着了魔
你却离去 还把我心上锁 要我以后爱不上另一个
我开始寻找灵魂的解脱 在我身上刺满爱情传说
我开始享受刺痛的快乐 感觉你在
贴近着我 拥抱着我 赤裸裸的爱 在黑夜体会的温热
你说的话 我永远会记得 是谎言 空承诺
你却离去 还把我心上锁 要我以后爱不上另一个
我开始寻找灵魂的解脱 在我身上刺满爱情传说
我开始享受刺痛的快乐 感觉你在
贴近着我 拥抱着我 赤裸裸的爱 在黑夜体会的温热
你说的话 我永远会记得 是谎言 空承诺
如果你还记得我 请悼念我的悲哀 如果忘记我的爱 请把爱还回来
贴近着我 拥抱着我 赤裸裸的爱 在黑夜体会的温热
你说的话 我永远会记得 是谎言 空承诺
贴近着我 拥抱着我 赤裸裸的爱 在黑夜体会的温热
你说的话 我永远会记得 是谎言 空承诺
----Pic of Six & me :DD
I went over to his imeem site & found many beautiful melodies.
You're really good.. dude! Make more beautiful music ya! cya at
DF
! :DD
You can popby his imeem profile @ http://www.imeem.com/people/svyi3mF
Enjoy his wonderful music & support him.
Six is currently playing with
Queen Band
:D
---------------------------------------------------------
Neeway,
Sly
's
Xi wang
is just as nice :D
In fact, the album is nice! I am hoping for
Dragonfly Vol 2
! :DD
--This was a unforgettable day at mdc, the day where i got Sly to record xi wang on my phone! :DD Nicey!
Love Sly
!<3<3!My classmate once asked me" You like
Sly
Ar? Like going Crazy over him?" HAHA! yea, i added almost all his fan profiles back then haha! :DD Call me crazy, i dun care cos.."I dont wanna miss a thing!"Sounds familiar? Yes..
Sly
sang before on idols..haha! :DDD
Yesterday I had the chance, finally to see My fav mommy from variety show super mummy!
Kai
! :DDDD I cant tell she's mother of 3 la.. or izzit 2? Aiyoo! So pretty!
Sorry babe to keep you waiting for the 2nd pic..heh! Thanks Van for helping to take a pic of us!
Kai
is really pretty & a capable mum. I like her not bcos her name is
kailing
okay..heh! Jiayou!Pretty! :DDDD
Neeway, being random, I like this picture of Xueting's Fiona & me. heh!
Xueting, treasure Fiona alrite..she's really good to you! hehex!
take care all! Love ya my lovelies!
Kaileng wrote
10/23/2008 03:24:00 PM


Tuesday, October 21, 2008
今天没去上班。。。没心情。。也好累。。。
昨天哭着想了一整晚。。。
其实自己就是比较感性的。。连看戏也会哭。。
所以,看到你这样。。
你痛,你难受。。我更痛,更难受。。
特别是当你希望从我口中得到安慰的话,
我不但没有送上些好听的话,
还倒过来说些不该说的话。。
就因为我也无助,你在我面前叫了其他好朋友的名字。。:(
也不知道我该感到抱歉还是痛心。。
可能我真的无法体会到你所经历的吧。。
在我眼里,你一向都表现得很坚强。。
但这一阵子你却突然跌倒了。。
不要这样,看了我好心疼。。 :(
你记住。。若当全世界都选择放弃你,我也会守在你身边,不离不弃。。
没关系某些人怎样对待你,因为对于这些人,你总算认清楚。。
也总让你发现真正对你好的人。。
你。。还有我们。。
求你别再想了,你没欠任何人答案。。自己活得开心点。。
振作起来。。
想想,你这样痛苦,他们不是更快活?
Heeha! Love ya! :D
Kaileng wrote
10/21/2008 01:52:00 PM


Monday, October 20, 2008
*Updates*
weekend has been pretty fun as usual.
Received no updates about dear Grace, hope she's coping well.
Dear God, pls watch over our dear girl & her family as well...
Neeway, i really feel very happy to be part of my friends' life, & esp when i hold places in their hearts :DD
I feel great when i'm being remembered :DD
Just on a friday afternoon, i was really happy when i received a call from dearest marcus! :DD
ILuvYOU! heh! It's been sometime since i met up with my cute & sweet lil boy! So nice to see him again & yea, with nobody else with us, cos he was so sweet tat he told me tat day was reserved for me only! we could meet the rest some other days! heh! :DD
Was at dragonfly yesterday again. I think Sunday nites are really reserved for DF haha! INK band! :DD Didn't stay for 2nd set though, strange cos it's da first time i went back tat early on a sunday. haha!
Piceys!
--Yutaki & friends @ work :D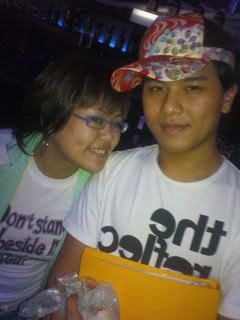 ----Heh! Bryan is still as cute, the way he speaks! :)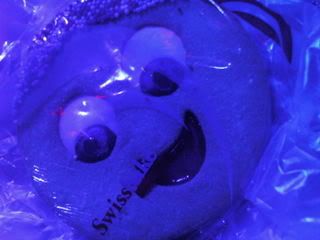 ----Bought this cookie for Bryan! cute hor? Just like him lor. haha! oh yea, Kazaf got one too! heh!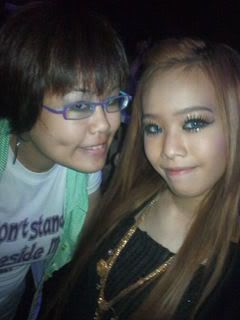 ----I'm convinced this babe is really good! hey! I love her falsetto on xiang shui you du!! heh! :) Kaili..jiayou!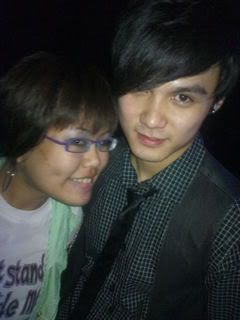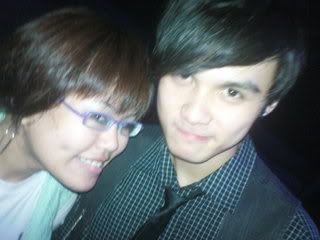 ----Omg. When Simon smiles, my heart melts. Of cos when he's on guitars too!Heh! :)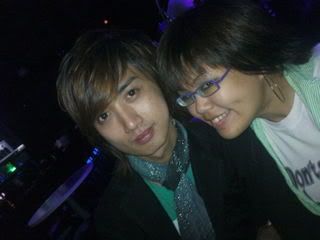 ----Terrence came for a day of part time at DF cos xiaolong is sick? Heh. He got me addicted to jacky's li kai yi hou! omg nice lor! :DD Hope you like our press conference huh! hehex! Terrence did you just said you gonna borrow kaili from bryan for the duet song? heh!
--Cutie pie shane. Oops. It tat a correct nickname for him? & i cant help but comment on his dragonball hairstyle everytime i saw him! heh!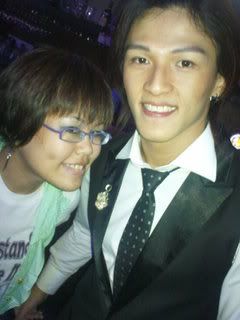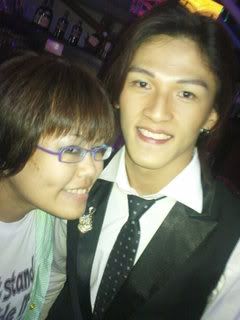 --Yutaki sang my fav song for da day! gan xin ti dai ni! omg nice! :DD & being random, he looks good on his earlier set of performance when he wore rather casual, hip hop.. :D
*no xiang's pics. :(
I still think he's shuai! :DD
-----Grp Shot! :DD I really love you my lovelies! :DD
On sat, went down to Central to support Hidama band, featuring of cos our dear Bryan & Kaili, tgt with their band mates :DD It's in collaboration to some japanese culture exhibition?They're competing in this Japanese Idol, band category. They didnt make it to the final round, but to me/us, they're da best! :DD Go! Hidama!
*Bryan is damn shuai tat day!* heh!
----Kaili on vocals! :D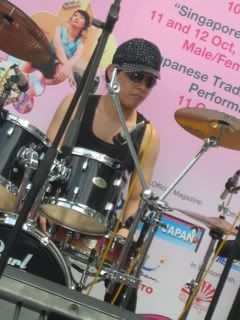 ----Bryan on drums! heh! I like it when he's on drums! :DD
*credits to Xueting for da beautiful pictures*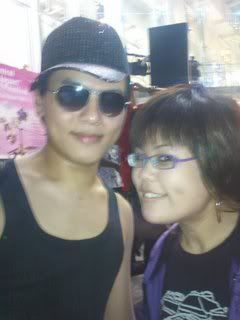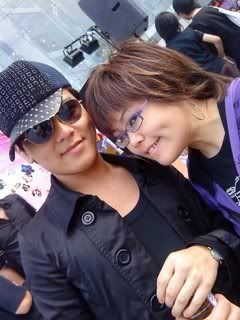 --Um soso!
---Know he didnt like it, but i still thinks he looks like M___D__ la.. wadever, he's nicey! :DD *Loves*
-----Kaili! :D
---The best combi! Looks good tgt, dont they?
:DD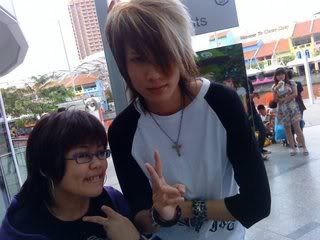 ---Kunio went down to support his friends.. Neeway! Dude! ya too tall la, cant imagine if i didnt comment he's way too tall, i would hav seem even shorter!ha! yes..i know i'm short! haa!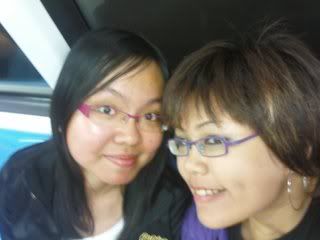 --With Pam!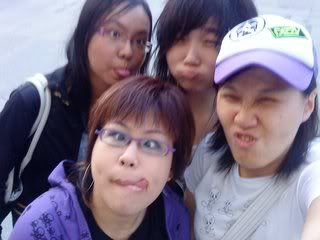 ---Grp Shot! :DD Love ya gals! i love gui lians! =)
Finally, pics with dearest Marcus! Love ya my lil boy. Ever so sweet though you dun often see me around, i'm always on your mind! :DD Hey, he's got a unique way of blogging. He uses pictures instead of words! cool huh! he picked this up from jesseca btw. heh! :DD
Enjoyed our k session! cya round soon yes my dearest? Lotsa love!
Random random, i wrote on his blog tat i gonna place 'lost' notice cos he had been missing for some time! Strange enuff received call not soon after & yes we met up! :DD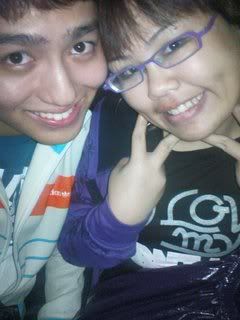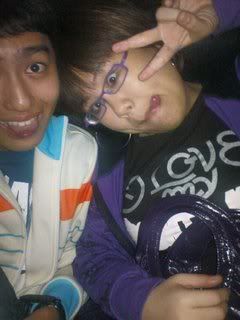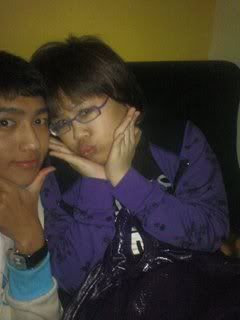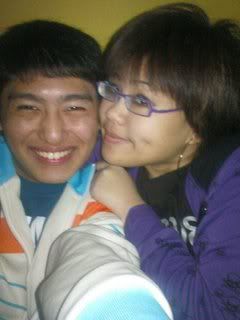 --Heex! I love his innocent smile! :DD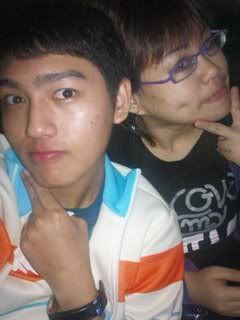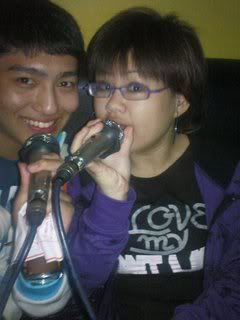 ---KTV addicts! :DD
Yesyes, i love ya loads! Always running around JB, so do take care & cya around soon!
Guess tats about all lor. cya all around. Love & be loved! :D I really feel esp xin fu with nicest people around me. You guys know who you are!
hang on! Kaileng's zilian as usual! =_="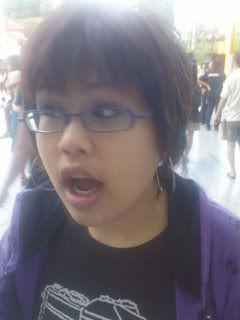 -----Xueting! I love this shot! thx..so natural! haha!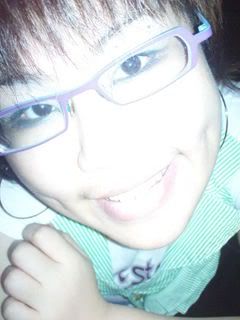 --yes, i know this pic is scaring you. But tats my purpose! haha!
Kaileng wrote
10/20/2008 12:39:00 PM