Tuesday, August 01, 2006
hey peeps...i'm back..actually i dunno why on earth i keep a blog. cos i reck'on nobody reads it..hehe..anyway...i would like to say a lil something about yesterday meet the idol session @ mt emily where the idols stayed from the start of top 12 all the way till competition ends..
yea..i was there for jon la..u can see..it's so obvious..even whole class knows tat i lurve jon..haha..
yea..i really do..such a talented guy...sings with feelings n have the x fator..wahaha..
upon saying tat..i remember something..farijan was angry with me...for taking a pic with jon~!
wahaha...say wad why u take picture with my darling..hehe...she also very much lurve jon..
den she drop me a testi saying she hate me for stealing her darling referring to jon..hehe..
see? jon was so popular...
anyway..yesterday i enjoyed myself @ the event it was really exciting...jon was like so close to us the fanatics...
he was so nice to say everyone will get an individual shot with him...woo~! he was damn nice la..
i juz love him so so much....i asked him to sign on my handphone as well as course book!
wahaha..dun say i'm crazy okay..i need motivation..hehe..i gonna rock java~!module..cos jon's signature gonna spur me to do well for the module..but not the rest cos i din anage to let him sign...wahaha..
anyway,,i juz lurve jon so so much la..
one of the pix i took with dear idol..JON,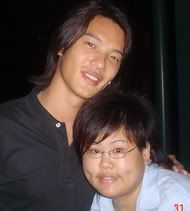 tats all..folks...till we meet again... hehe..i lurve jon~!
Kaileng wrote
8/01/2006 09:05:00 PM