Friday, August 08, 2008
I feel so fucked up lah. Easily agitated. Fuck..!
Might be cos of menses, mayb not..well I dunno.
LOL. could i be like kexin(fei teng bing dian) whom eventually goes crazy? LOL!
I feel so pekchek whenever i hear media-research ppl doing telephone survey on the same office. They'r damn LOUD can. Pls lah, over the phone they can hear u loud & clear lor, they'r not DEAF. Fuck!
Sorry, perhaps i'm too worked up. But staying in da same office hearing their voice can be such a torture la. Can u guys lower down ur volume?!? I'm so sure they can hear you over the phone la. Dun make me so pekchek la! arghhh!
& I'm damn sianz. Boss is leaving the job too. See? even such a patient person can leave, you can imagine how yucky this job is la. Cos of one stupid woman, almost all is leaving, i guess telecentre might as well close down & tat bitch can do everything on her own. Argh! but yea, now serving the one mth notice. After which transferring to new agency to continue for 3 mths. Actually, i dun tink i wanna continue but i dun want to get boss into trouble la, wait they'll say he leave he brings ppl along. So yea. stay for another 3 SHORT mths & see how. Anyway. Mdc isn't very good afterall, good thing? see my favs only lo. argh!
Neeway, i just simply dun feel good la. Mood badly affected due to tat 1 issue,1 person, only i'll know wads happeninh(haha!), cos somehow i'm getting really sensitive when it's nth... Haiz...
ARGHHHH. nvm la, see some pics i took yesterday bah. No point writing so much, since it's all negative & nth positive. I wish anyone could make me SMILE now. :(
Yes, just anyone :(
----With Fiona :) This babe is on da phone but she's nice as to still agree to take a pic with us...
Screamm:
--Bryan :)
--- KaiLi :)
Jiayou le guys!
YangYang!!!! :D :D :D
He specially came back to the Gym to work out :) Yea. Chatted for a lil while then yaodong drove him back shortly :)
Zilian series:
------Pic with the rain :) haha. it rained after i sang, believe it or not! haha!
-----This was taken long long time ago & i really love this shot :)
Argh. i am not having good time when everyone else is.Totally Sian-ded. Someone, yes, just anyone, make me HAPPY,make me SMILE can?!?
HAIZ. byeeee. I miss Dearie.
Kaileng wrote
8/08/2008 05:18:00 PM


Wednesday, August 06, 2008
:D :D :D :D :D :D :D
Yeah, just by seeing the no. of smileys above this line, you can tell how happy i'm.
*Remember to read my entry on lemonboy's part okay?*
Yeap, yesterday was the birthday celebration of someone special to me! My Dearest LuoYi aka Louis! :D :D
Thanks to Tricia tgt with Jiemin for makin this possible. Thank you gals.
Happy Birthday again my dearest, wherever u go, wadever u do, you have my support always. Most importantly, wish you success in wadever u do! You are totally Loved. Infact, i love you till eternity. hehex!
Before tat i went to meet Jae Bro to find lemonboy.Haha.Oh Bro came up with new song ideas which is yea. cool!Dont worry about song style similarities dude. I support your compositions. Did i mention my lemonboy seemed to grow more sensible already? LOL. working society for him now.hehex. although he's still as crazy at times. haha. shall talk more about him later. haha. He's really cute yesterday!
Yea, so 3 of us was thinking wad to buy for dearest Louis, finally settled with a tee :)
Hope he likes it :)
Neeway in between lemonboy finds himself time to play drum mania. wah lao! the way he play, makes me think tat his drumsticks is going to break anytime! OOps. But yea. He's good at it okay!
Yeap, so 3 of us went to city hall to meet the gals to head to seoul garden for birthday dinner.
Reached settled down, Louis reached shortly too.
You wonder why Jae & Clement was link to Louis? hehex. Mayb it's affinity tat they meet one another somewhere sometime & got along well so they're invited to the dinner as well. It so much happen tat the 3 are special to me. hehex! Well, Louis is really happy to see the two & of cos everyone whom attented yesterday.
Pictures of me & Birthday Boy, my ever dearest Louis:
I have so much i wanna write about this dearest, but somehow i dunno where to start. My heart just felt warmth whenever i see him. Make it simple. He is loved alright. Thanks for admiring my vocals,thanks for all the very touching words you've said. I was really happy to see you too, just like how happy you are when u see us :)
hehheh. I like his look when he gets serious in thoughts. Shuaiz!
haha, i like it when he quotes, ppl with small eyes are usually smart.
Hehe. thanks! But yea, smart but LAZY.
There are certain words tat wont get thru my mind from whoever i've spoken to, but i'll specially remember words from him, yes, basically anything :)
Luoyi=Love many!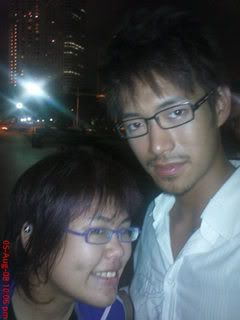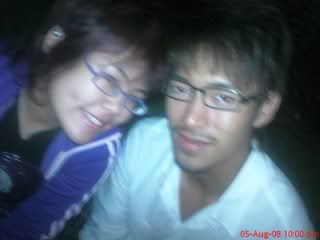 Solo Pics! Bad quality but hehe, somehow he finds it nice?
Esp those shots with thunder effects. :)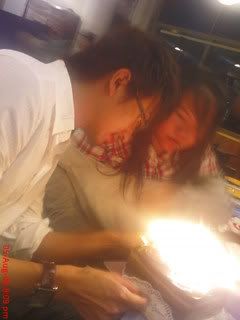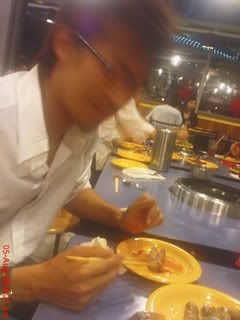 Yea, he was very touched by the efforts put in for this celebration, infact i'm touched too. it wasn't easy to get everything going i guess :) Well, so long as he likes it, we're all happy!
teletubby loves you many!
Best part of yesterday's celebration is tat he got tricked tat there wasnt a birthday cake prepared for him. It was replaced by a pandan cake. His reaction was cute la! Ohmy! He actually believed it. hehex! Even asked why we dun even hav the heart to buy candles. LOL! But in da end, there was a cake for him lo, & he was sabotaged by the candles tat will take you years to blow it off. haha. In da end, coke was needed to get the flame off. haha! Hope you have fun dearest!
Some Random gaying around between JaeBro & LemonBoy!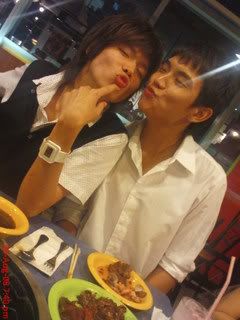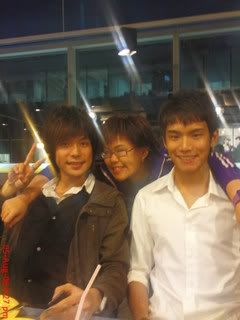 ----Finally they looked much more normal now. Oops. hehex!
I happily took pics with the 3 musketeers too! Bigbro,Louis..Jae the 2nd & the smallest of all..Clement..
woah so much of coincidence tat i'm connected to these 3! :)
You guys rocks!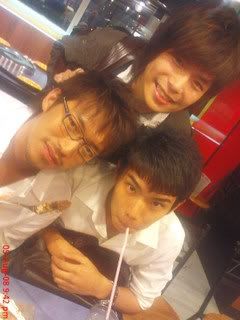 --Oops my face!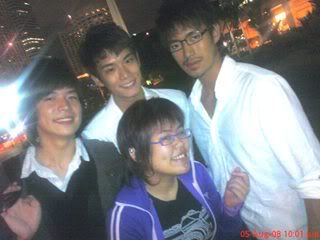 -----Dearest Luoyi says my camera flash is not strong enuff, at first i dun agree but yea, once i see the effect from my computer..ohmygosh! It's worst than he mentioned. =_="
You guys shall be my 3 musketeers always yea? :)
Pics with JaeBro:
----Ohmy! Why do guys looks so good when they play pool?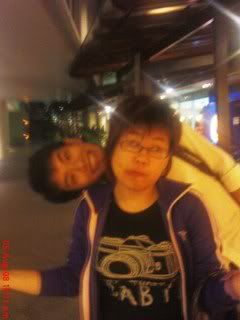 Okay I admit nth good happens when we got tgt. LOL! We just love taking crappy pics!
& i must say this bro is really good at making music! GOOD music okay! no play play!
Plus we make good duet partners. Dun believe me? Hear us then, if u hav the chance! :)
I'm finally talking about LemonBoy from this pt of entry..haha! This boy really left me speechless la. After so long nv see him, still as crazy. PLus, haha. I tell u a lil secret..He's secretly jealous of Dearie huan. HAHA! I wouldnt know if he dun talk about it yesterday. LOL! Jealousy is written all over his face. However, he looks cute when he's jealous! The topic starts when he suddenly talk about asking zhenhuan out. I somehow got his hint. LOL! then he move on to say i've removed his name from my msn nick and things like tat la. haha."Dearie huan makes life beautiful.." instead of the usual lemonboy=love.. wahaha. Then i asked if he's jealous he said yes, to a very much extend. AiyoO. my boy! You're so cute la. I didnt totally forget u okay. U'r still loved. hehex. So now to compensate his loss, i put back his name big big lo! haha!Being random, My lemonboy loves to sing okay, ppl stop saying he doesnt sing well. OOPS!
to make up to his supporters/fans whom haven heard about him for a period of time.. i specially took many pics of him yesterday :)
btw,LemonBoy is happily working now :)
Yea. final note, i'm organising a get tgt session with lemonboy aka clement tsang.Date to be fixed at a later time when i gathered all interested parties. So.. Interested parties, do leave me a note at my tagboard with a link to your email or u can email me @
ai_ni1314@hotmail.com
...yea i know my hotmail is so childish. ohmy!
Lemonboy says, chiobus most welcome, gays not allowed. Nah..just kidding! Allarewelcome!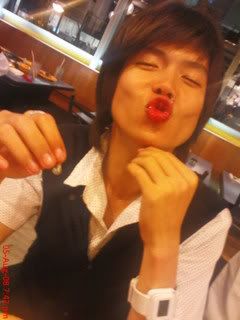 --Look @ this crazy boy!
--& totally different when he's deep in his thoughts :)
---Emo King.
---he got so into his song :)
----LemonBoy takes the cue. :)
& of cos Pics of me & craziest LemonBoy whom always hav this magic element to make me SMILE.
----Nope we'r not drunk. :P
----HAHA! Our 10 dollars watch. How come he says 10 when i can get it at $5?
Neeway, lemonboy says he anti-purple. LOL. So i asked, do i have to change just for the sake of him? haha. No way. Nobody gonna stop me from loving this international gay colour.OOPS!
Time for Zilian!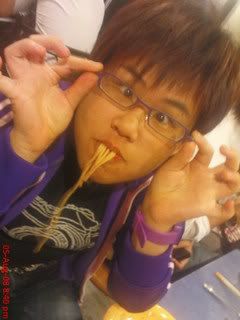 ---This person is ever so dear!Amigooooo! :D
Think tats all, my dear Rah! i realise i have couple of shots at your hp. Do send me yah? Esp shots of 3 of us! :) Best friends lehz. hehex!
Yea. Super long entry has come to an end. Yea. Finally. Neeway!Thank you Deariehuan! You made my day yet again! Lovesssssssss!
Happy Birthday dearest LuoYI! :D :D :D
*To tat dirty-minded taxi driver, you sucks! To think you can stretch your thinking tat much. Yucks.
Kaileng wrote
8/06/2008 12:17:00 PM


Tuesday, August 05, 2008
Hello! For the start, Kaileng is really fortunate to have ppl she can call true friends :)
Just yesterday, i met up with one of them, none other then my dearest Amigo lah!
Oh mine! I love you many yah! :)
Ppl like Amigo,Kazaf,Kevin Bro,Dearie Huan, just to name a few are the ones whom really wont give up on me & consistantly showing their care & concern in one way or another.
Oh mine! all guys LOL!I have gal friends whom are also very good to me too! To the rest i've yet to mention, am sure they know who they are, I love you darlings!
Though some i may not meet as often, but once i meet these people, they nv once fail to ask about my updates :)
Neeway, talking about dearest amigo, i very much wanna apologise to him cos he has been asking me out pass few days yet i'm always held up by some other things therefore unable to meet him.
& this super nice dude wanna meet me for a reason just to pass me something tat he got for me . Okay, he knows me pretty well, so when he says it's something i like means i'd really love it. :)
True enuff, that 'thing' was a purple watch! Ohmygosh! Purple=Love la! :)
Thanks my dearest, Love the watch many :)
Yeap, yesterday he specially came to superband to catch J3's Jacky, his long lost bro. hehex.Actually to acc Rah & I.. Btw, their resemblance is argh! I dunno wad to say. LOL! Actually everytime he comes to mdc, is not for the show but for pure catching up with friends :) He's really popular among us for being Mr Nice, easy to get along.. Can u imagine once he step in to mdc recept, he was received by warm hugs from us? Yea, tats how much everyone loves him. This dude is easily contented. He likes it when he's being remembered. :)
Missed out results show yesterday for SB, went to supper with Rah & Amigo :)
Congrats to Sanyue! :D :D :D Fionnnn! Sad tat DreamFactory was out. They were good for the obvious.Supper ended @ 3 am. LOL. we spent the whole nite chitchatting. we did talk about myself. Hehex.Contents is exactly wad my dearest Kazaf said before.
Something happened between Amigo & drink stall uncle in between. We ordered 3 drinks @ 2 dollars each. Rah paid for hers($2),Amigo paid for ours with his ($10).Story goes, the uncle passed rah's $2 to amigo, tat uncle passed tat $2 money to him, Then Amigo passed another $10 to the uncle. Thing is, uncle returns with a 2 dollar for amigo. Where's da other 2 bucks? So the arguement goes on until the uncle finally gets it & gives him back the money!
It's not a matter of the 2 bucks, it's the principles.
Well, 2 bucks is nothing to him lo. for him, getting his principles right is the most important factor :)
Enuff of talking. Let's see some pics!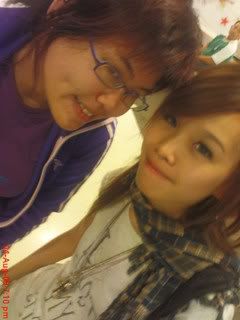 ---With KaiLi :)
With J3:
I was so surprise i like them so much after yesterday's performance.They were SOLID. I love their rendition of caihong. Hehex.Btw, Joined the J3 fans @ moshPit, held J3 banner, & i got so high can. Totally unlike myself if it's not the band i'm supporting. But this strange atmosphere got me so high tat i was eventually screaming for J3!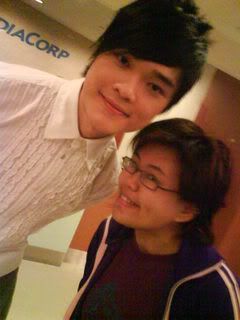 ------Took quite a few pics with Jacky. Hehex. Shuai! :D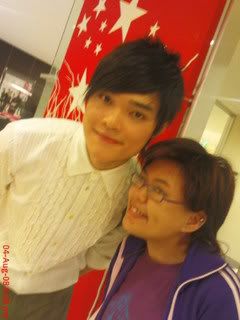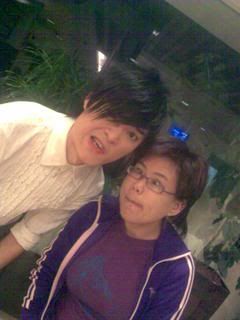 -----Our Monster faces :D :D
----Jacky VS Amigo, LOL!
----Alex :)
---Nique :)
------He was holding his twin bro's poster. LOL. he was so shy when he sees Jacky can. aiyoo!
Tat was all about us @ tv theatre :D I'm so looking forward to next week! Jam hsiao! ohmy!!!!! :D :D those who wanna catch Jam live or support your fav band do email to
superband08@mediacorp.com.sg
:)
Next Part of da PIcs, Our late nite supper which ended @ 3am! Only 2 though the rest is my zilian production! LOL!
----It looks like early in da morning but it's not :P
-----Best Friends forever :D :D
Zilian Time with Amigo's Hat :D
----------------------------------------------
Shall end of with precious gifts Rah & I got from our dearest Friend whom will always be there no matter wad..
----Our most precious gifts ever :D
Amigo, You'r loved!
Neeway, I miss dearieHuan so so much! :(
Kaileng wrote
8/05/2008 02:01:00 PM