Thursday, July 24, 2008
Hello! Back to update, Sianz..I tink i'm down with some weird flu which comes & goes. SCARY.
I'm praying it gets better soon. :(
Neeway, yesterday after work, we specially waited for pretty RuiEn knowing tat she's still not back from filming :D :D
Yeap, she came back shortly after we chit chat to past time..Yea, as she was in a rush, we took some pics & let her go off le :D :D It wont be nice to hold her for long too :D :D
This babe has to report almost everyday for filming, from early morning till sometimes late night..Yes, her filiming has started for new show :D :D I do hope she'll have enuff time to rest though, Jiayou le RuiEn :D :D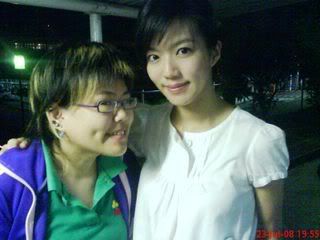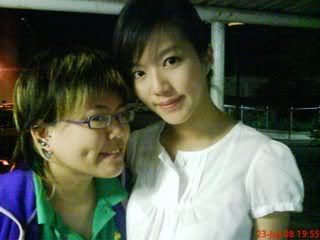 ----Such a pretty Babe :D :D :D
Saw Dawnie the day before too :D :D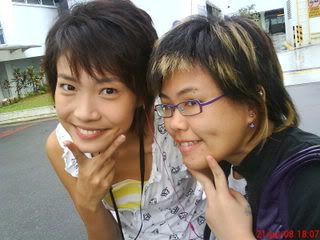 --Quick Pic before she rushes for her scenes :D
While waiting for RuiEn, we saw Feli too :D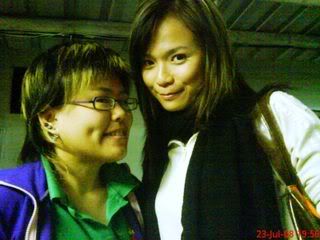 ----She was really hardworking,after almost all her fellow cast went off she stayed by to..eh.. i dunno wad she's doin but she left later than the rest :D :D
Elvin was around too! Omgosh this dude always look better each time we saw him :D
I suppose he has some scenes with Ruien on the new show :D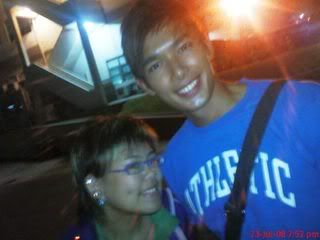 -----Bad lightings covered his handsome face...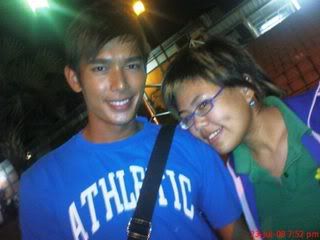 ----So we go for another shot :D
Btw, i once used to dislike Elvin cos of his on-off attitude, but he's actually one nice dude afterall :D :D
Jiayou to all of them! Happy Filming!
Shall end off with Random Zi-Lian: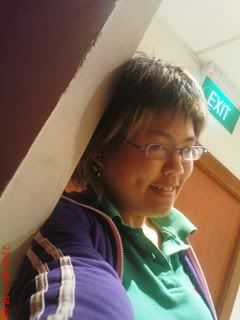 ---Love this shot many!
Olivia asked me to do this test, so here am i posting this up just for her!
20 people that comes to my mind:
1. Kazaf
2. Huan
3. Ruien
4. Clement
5. Olivia
6.Fion
7.Christalle
8. NatH
9. Luoyi
10. Jasmine
11. Ailing
12. zhouchuanxiong
13. Li SHeng Jie
14. Yihan
15. Andre
16. Yishan
17. Rah
18. Weiling
19. JonB
20. Jon T
How did you meet 14[Yihan]?
ITE college east school of ICT :)
What would you do if you never met 1[Kazaf]?
Life would be PLAIN.
What if 9[LuoYI] and 20[JonT]are fated?
haha.no harm becoming friends?
Will 6[Fion] and 17[Rah] date?
Erm, they'r straight.
Describe 3[RuiEn]
Well, she's a cool babe.
Is 8[NatH] attractive?
Yea,absolutely. :D :D
Describle 7[Christalle]
Big eyed babe, intelligent :D
Do you know any of 12's[zhouchuanxiong] family members?
HAHA. I wish i know.. :P
What if 18[weiling] confess to you he or she likes you?
hehex, i love her too!
What language does 15[Andre] speak?
English & Mandarin lo!
Who's going out with 9[LuoYi]?
I dunno! aha!
How old is 16[yishan]?
22 yrs old?
When did you last speak to 13[lishengjie]?
haven had a chance to tok to him :(
What is 2's[huan] fave singer?
F4..LOL..
Would you ever date with 4[Clement]?
nope, i like older man. LOL!
Will you ever date with 17[Rah]?
She is Loud & can protect me..yeayea. LOL!
Is 19[Jon Bro] single?
Yeap.
What 10[Jasmine] last name?
Ng.. :)
School of 3[Ruien]?
eh.. i dunno. :P
Where does 6[Fion] live?
SG.
What is your favourite thing of 5[Olivia]?
Ever so supportive of Jiaxi :) Oh & she's nicey!
Have you seen 2[huan] dance?
Yeayea. Damn HOT. OOPS!
5 ppl I choose to do this testAny 5 volunteers?
LOL.
p.s: she changed the last question, cos it was gross =.=
Tats all! I miss dearie Huan as always! :D :D :D :D
Kaileng wrote
7/24/2008 01:01:00 PM


Tuesday, July 22, 2008
Randomly did a personality test & yea. it's rather true :)
Go & try it for yourself :)
Your view on yourself:
You are intelligent, honest and sweet. You are friendly to everybody and don't like conflict. Because you're so cheerful and fun people are naturally attracted to you and like to talk to you.
The type of girlfriend/boyfriend you are looking for:
You are not looking merely for a girl/boyfriend - you are looking for your life partner. Perhaps you should be more open-minded about who you spend time with. The person you are looking for might hide their charm under their exterior.
Your readiness to commit to a relationship:
You are ready to commit as soon as you meet the right person. And you believe you will pretty much know as soon as you might that person.
The seriousness of your love:
You like to flirt and behave seductively. The opposite sex finds this very attractive, and that's why you'll always have admirers hanging off your arms. But how serious are you about choosing someone to be in a relationship with?
Your views on education
You may not like to study but you have many practical ideas. You listen to your own instincts and tend to follow your heart, so you will probably end up with an unusual job.
The right job for you:
You're a practical person and will choose a secure job with a steady income. Knowing what you like to do is important. Find a regular job doing just that and you'll be set for life.
How do you view success:
You are afraid of failure and scared to have a go at the career you would like to have in case you don't succeed. Don't give up when you haven't yet even started! Be courageous.
What are you most afraid of:
You are afraid of things that you cannot control. Sometimes you show your anger to cover up how you feel.
Who is your true self:
You are mature, reasonable, honest and give good advice. People ask for your comments on all sorts of different issues. Sometimes you might find yourself in a dilemma when trapped with a problem, which your heart rather than your head needs to solve.
try the quiz @ http://quizbox.com/personality/
Yes, i'm still missing Dearie :D :D
strange huh..when he's far away i rant tat i miss him, & even when he's back, i still miss him! haha! Dearie = Love many!
Kaileng wrote
7/22/2008 02:50:00 PM


Monday, July 21, 2008
Hello! Here to update with pictures as promised from yesterday's entry :)
Neeway, changed blog song as requested by XT.wahaha. Wo bu nan guo is a demo i did from LWSSOM open hse :)
It's really nice entering recording studio :)
Yea, WWDZ has been over for like a mth or so le, for ppl tat are interested to know any updates, recently xin.sg came up with a interview for them, i dunno how long it's been there, but still big thanks for having the guys on your webbie :) Nice to see their news..
Click on the video links. Pretty funny & cute :)
http://www.xin.sg/article.php?article=18980
Yea..& here's a pic of dearie & I plus xt,aha!
Credits to xin.sg
Didn't know we were captured.aha! But it's a nice shot :P
Those were the days!
Pics from yesterday: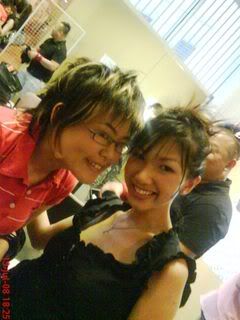 --Pretty Cheryl, whom did the make up for us :)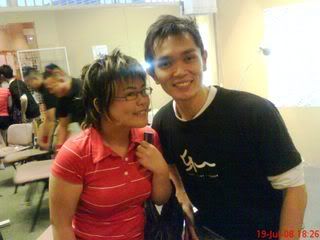 ---Jay, one of da instructor from LWSSOM :)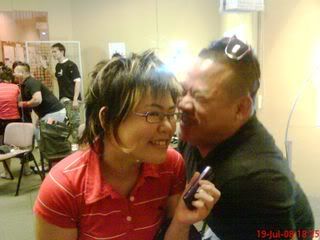 ----Andy, the dude tat is so good with hairstyling! :)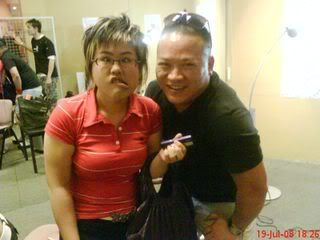 ----This dude was so cute la, kept laughing at my jokes which i guess only i understand wad i'm saying. LOL!
Pretty Cool Reflection series: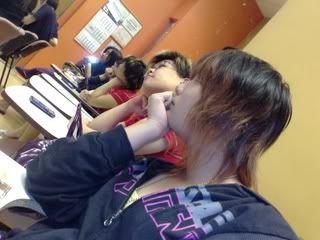 Some random Zilian in da makeup room: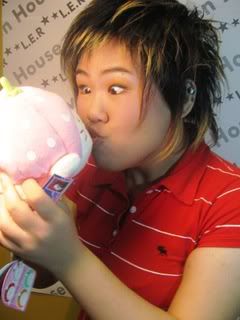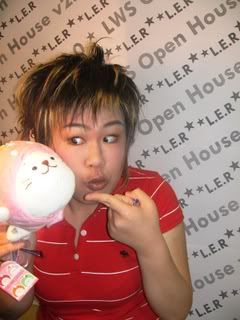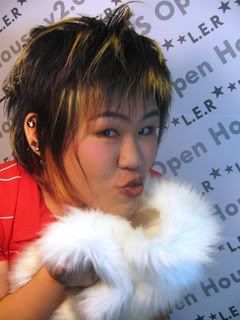 With Xt:
had a pic with 90 too, but i guess somehow it wasn't bluetooth over, if you see this msg, do send me the pic yea :)
Pics @ Cine BBQ Chicken with dearest Kazaf: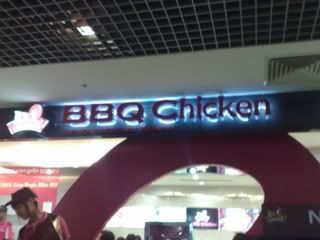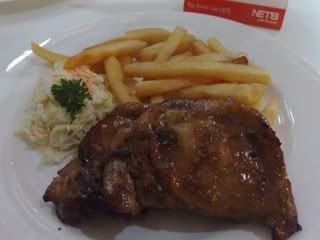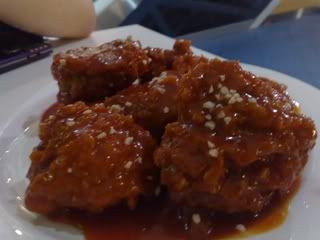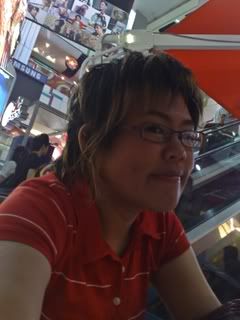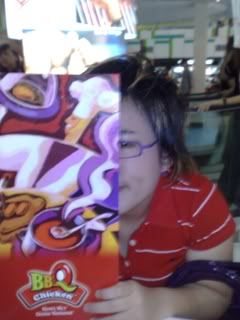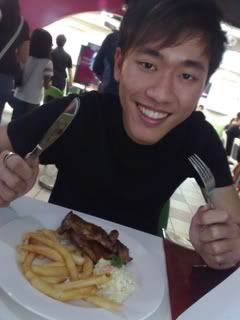 @ Finally Pics @ PLAY:
Dearest Amigo..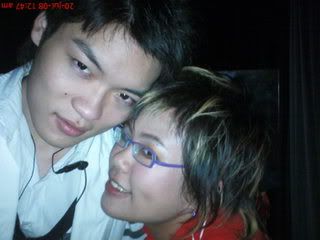 Omgosh. Sorry i promised you not to post up our pics..BUT i continued to do so..hehex!
----Nicer shot :)
Pics of Kevin Bro & I:
& this is the super Nice Bro one could hav :)
I Love you! :D :D :D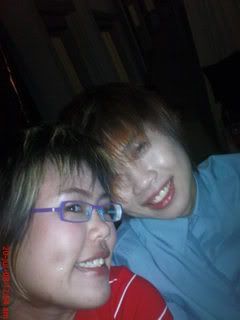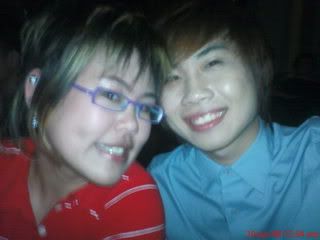 Two pics of AhDawn & I when we met her @ Canteen some days back..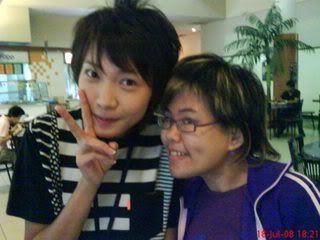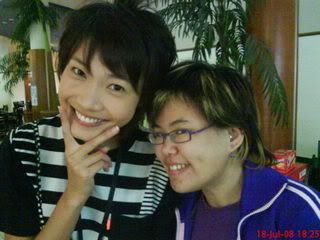 No more le, hav a nice day to all! Get well soon my dearest Kazaf.wahaha!
IMISSDEARIE!
Kaileng wrote
7/21/2008 11:28:00 AM


Sunday, July 20, 2008
Thank you all for the concern :). My sickness is getting better? I dunno. LOL. Still feels a lil dizzy. HAHA. Plus have ya seen ppl takin medicine with honeylemon, lemontea,lemon barley? It's omgosh la. Dunno if i'm trying to harm myself or wadsoeva. HAHA. Neeway, still praying tat i'll get better soon..
Random note, water doesn't work for me, i seemed to get better after a few sips of whisky.waHAHA. plus vodka. LOL.
I'll blog with words first yea. Tmr i'll upload those pics to this entry :)
First up,I especially wanna thank Dearie! Thank you so so much for your concern.Was in the midst of workshop , yes, some workshop at LWSSOM open house(shall talk about tat ltr), when suddenly someone SWEET sent a lil msg asking if i'm feeling better yea, tats dearie.You may not know but every lil msg from you keeps my day going :) Thank you for keeping me in mind despite you might be busy with your own stuffs... just like how i've always had you in my mind :) Thanks Dearie Huan :) :) I Love You :) Thank God for you, my dear friend..
& so yesterday met up with so many ppl.. First met Stephanie, cabbed down to Cine to find 90 & XT, then 4 of us headed to Lee Wei Song School Of Music(LWSSOM) open house to take a look :).. I supposed XT wanna look for chen liang tats why we'r there. Hehex, it's nice to support friends in their open hse :)
So a we had lotsa fun yesterday lo. Learnt a lot from workshops. Esp like the talk on song choice :).. Got to know a lil more about vocal ranges too. Alto? soprano? Interesting..So which category are you? Well if you sing like Cyndi,Rainie or Angela, then you belong to the 2nd...& if you are like ahmei,yanzi, then the 1st...Well, basically, a lot was taught la. Just hope tat i'll put those small lil details to my singing the very next time i go ktv.. :)
Yea, we had a chance to enter recording studio & makeover studio too! Record a song for free, & free makeover :) Yet to hav tat song sent to my mail.. guess good stuff have to wait? LOL. & all of us sounded different from our usual tones!Neeway it was fun, & the openhouse was considered a good one. We were even entertained by songs from their students,aHa, almost everything covered was Yanzi's songs? :)
Ltr on @ evening time met up with my dearest Kazaf lo...Walked around,then had dinner. Woah, delicious BBQ chicken!Ohmygosh nice!
Btw, he lost his voice today! it's omgosh funny! :P
After dinner was thinking if I shld acc him to PLAY, aha! tink i really took long to decide, but finally i went along..Cos i wanna dance & see ahump! LOLx!
Reached but no more free entry sianded.But well, they got lobangs de la, so many boyfriends so eventually one of the friends signed us in..
Saw couple of familiar faces...oh did i say amigo dearest was there also? Kevin bro too.. aiyoo.. their grp so many ppl, take me ages to name all..
Nice to see bro after so long! I so ohmygosh miss you can? haha. Yea. Thank you for acc me when the guys are still dancing yet i feel tired & wanna take a break..
Thanks for chatting along with me talking about settling down with a career i like, something tat is going to be permanent, & tat i shld start thinking about my future. Thanks Bro. I really like the way you speak.Enjoy your nite @ St James! I gonna give it a miss cos working the next day
:(
Love ya Bro!
Yea. Yesterday party till 4 i think but of cos i went out a lil earlier cos was too tired, & yea reached home only at 5 plus.Straight away turned to my bed.HAHA.
Before ending entry,Just wanna Thank Dearie-Huan,Dearest-Kazaf,Dearest Amigo,Bro-Kevin so so much! Love you guys many!
Actually there are so many ppl i shld be thankful for,they know who they are! :D :D
Kaileng wrote
7/20/2008 01:27:00 PM