Wednesday, April 09, 2008
Alright... I'm back to update..
Yesterday was a really bad day for me. Yeap.
Happen to break down cos of some incidents.
Prolly i'm just being too emotional tat i see things machiam very big like tat.
But hrs before i break down i was a happy soul, thanks to seeing Luoyi :)
It simply brightens my day again after such a long period since SPOP :)
Anyway, also thanks to Tricia for making this possible. Oh it was Luoyi's gathering btw. To find out more about his updates & stuff like tat. I was super late i guess. Cos i gotta work, & he met the rest like in da afternoon? So yea..after work, was thinking of whether wanna get down to join them cos i'm busy with something else. BUT truth to be said,Luoyi keeps popping on my mind la, so i drag Rah along to Music Garage. Yea, they were singing there. Yea. Shall talk more about it on later part of this entry :)
Today i shall be a lil bit more random, by writing about couple of friends since i have their pics with me :) , before moving on to idols, or friends as i called them :)
To start of, this is the ultimate best friend cum special friend, Kazaf :)
-----He's really nice la, yea..We will go crazy tgt lo...& somewhat he knows me da best. Even i myself finds it hard to understand wad i'm thinking but he seemed to know everything. Nv have i met someone tat knows much more about me than i myself do.So yea, indeed to me he's damn special. A gift from GOD :) Haha, random note, he dislike me from the first look when we were in school! wahaha! Interesting eh? From enermies to best friends. haha.Oh i remembered there were once i dunno wad i did tat really pissed him off, then we stopped talking for a mth or much longer. lolx. Thankfully everything's resolved :) AHA. I learnt to become more careful with words liao. hehheh. Anyway, yea. I Love this special friend :)
& This is my 'Dearest' marcus :)
----He's really nicey too! Haha. from complete strangers we become like so on good terms :) Nice to talk to & occasionally share our problems :) It's either he listens or i listen :) Life is pretty good with this boy around :) I love you! :)
& my New Buddy, Amigo
-----Another nice soul, met him @ PLAY, migo's friend :) He's really very nice la. Can't believe we got bonded in a day! haha. Somewhat reminds me of Ryan Bro, cos we got bonded in one day too!haha! This guy here is really good at reading ppl's heart. Strange enuff he knows wad i'm thinking. And he can be damn sweet alright, went all da way to get me liangcha when he knows my throat is down with infection. & all da herbal sweets :) Really nice friend one could hold onto. He cares for his friends alright :) So if one day he has any problems, i won't walk away :) He's got great vocal btw! Love ya too!
-------------------------------------------------------------------------------
kk.. so back to idol stuffs. kk, i rather call them friends just as well, it feels much closer to heart :)
Didn't i mention i was going to post up Mr Jon's handsome pics on my last entry? So here goes:
Always da most charming, Luoyi :)
Thank you Tricia again for organising the gathering though i couldn't join you guys earlier, but you guys must have enjoyed yourselves yea? :) It's really nice of you gal to organise the gathering so tat his supporters will get to know his updates & wad he's up to. Thanks gurl. Appreciate it loads. Thank you for telling him i'll be there & asked him to wait. Am really touch for your gestures. Thank you so much. Anyway, this dude is busy with family business,& film making which is kinda cool :) Wadever he may be doing, he has my 101% love&support! :) Anyway, yeap i reach Garage rather late, sang couple of songs, of which 1 of them requested by Luoyi :) Not bad lah, just tat my vocals are really on bad condition. Thankfully managed to pull thru. He was shocked by the way i sing i guess. haha. Anyway, yea, after singing he transform himself to become judge & gave valuable comments :) haha. So i passed the round la. hehex. tats about all ba..he was high all day long i heard. lolx. so yea. after singing the last song, we left tgt with him with the rest of the gurls continuing their k session. :) Guess i won't be seeing him tat soon but hopefully i will be updated about his events & stuff :) Will miss him many! wadever he's really very very nice, kinda regret supporting rather late. But it's better late than never yes? :) LUOYI=Ultimate LOVE! Dude,Thanks for waiting for my 'grand arrival' lolx!
Anyway, i wanna say, Thank you Rabbit for da consoles. You know wad i mean..when i'm down you'll be around to sort things out for me, teaching me to be more understanding towards ppl, how to see things & stuff like this. I really love your matured thinkings. If only things can be easy. All i can do now is to wait & see if things gets better though :) Xie xie ni! I love you Rabbit!
Yes, everyone shall not think many many :) F8 F8 F8 F8! all da way!
Thanks for everything huan. Words couldn't express how thankful i'm towards you. Sweet gestures like observing tat i'm feeling down and showing your concern in a way makes me feel very touched. Xie xie ni!
---------------------------------------------------------------------
Okay i better get going.
XOXO!
JON TOH & LUOYI = ULTIMATE LOVE! :D :D :D :D :D :D :D
Kaileng wrote
4/09/2008 10:15:00 AM


HelloHello!
Randomly saw this dude when he came for radio interviews.Actually i wouldn't know who he is if my colleagues nv mention. Cos i was nv a fan of english music. wahaha. noob!So Sean Kingston was here!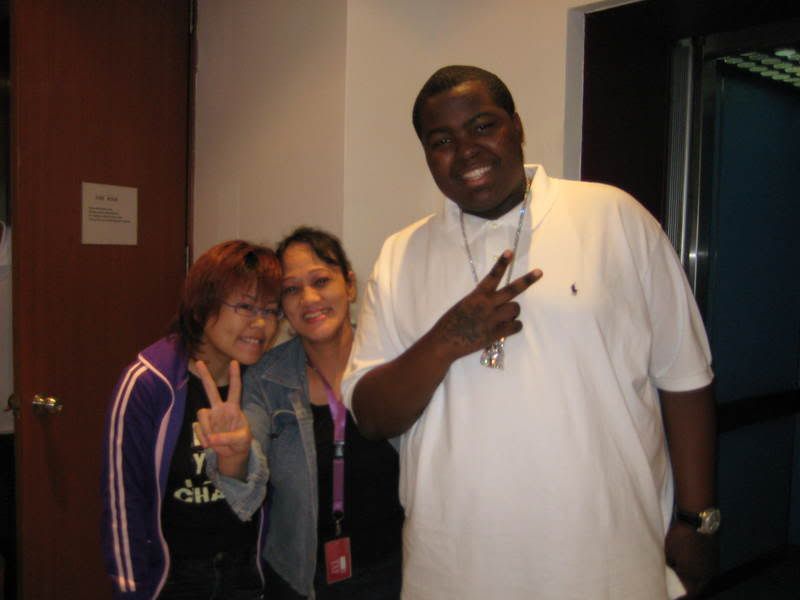 -----He was in da house! AHA. I see my colleague takin pic might as well join in the fun.haha!
Have a safe trip back dude!
Sorry ain't feeling good so yea..F*ck!
Damn tired, restless.. Haven been grabbing nuff sleep. :(
Dark rings coming out, deep eye bags.. =_="
Yea, i haven been grabbing nuff sleep cos past 2 days had been a really long day. I wasn't even at home yesterday went to Rah's home. Went clubbing at 'PLAY' then following day sing k until 5am hang around till 8am. argh! went Rah's home slp for a while, damn tired so neh catch the gals reporting..
But it feels great when i got to see someone after one straight week never see him :)
If you guys knows who i'm toking about :)
Anyway, i was damn unlucky TODAY!
took train to work, left home pretty early..But was damn tired, so grab some slp on da train, and i overshot all da way to City hall when i'm suppose to alight at Toa payoh. :(
So took train back to Toapayoh, with time running up, going to be late for work, jiu msg boss saying will be late. Damn sianz. Took cab again lo. :( :( Reach mdc, the uncle din turn on his meter, he collected $6 dollars from me which is i think quite cheap bah. Cos plus peak hr shldn't be tat cheap. Anyway. Yah.. Damn tired to say anything now.Hen bu shuang. Need some sleep desperately.
Thank God there's still couple of ppl tat whenever i see them, i'll brighten up. Special People Like Jon T :) Yea..even simply seeing Lemon & huan or rabbit i feel so happy liao. Though i can't hold them for long, but at least just by seeing them i feel so so happy :) Esp. haha you know who lahz. JT=LOVE!
And i have friends that are always around to show their concern & Play around joke around with me. Ppl like Rah & gang :) New friends like Amigo or ha mi gua. haha. My owner, whom i'm his so called philipino maid. wahaha! anyway. Amigo aka ha mi gua does resembles Jacky from J3. Nice friend one could have la. He can be an entertainer.wahaha.Omgosh. Did Jacky just found his long lost bro? aHA.
On a happy note, kaileng saw1 of her dearest 5 again! haha! Jon T= Ultimate LOVE!
Too bad my pics are not uploaded yet, cos i'd very much like to let you all see his handsome face again..hoho! Anyway, thanks to Peiyi, rah & gang, for helping me to shout out to Jon tat 'Kaileng ai ta many many!' inside the TV theatre. Incase you'r wondering why he's there, he's one of the guest judges for the female episode of wei wo du zun..Hopefully i can see him every alternate Monday..Please Please :) anyway,haha.. this is how it goes they went' Jon Toh..' a couple of times(which i dunno why must plus surname which sounded so formal), then shouted'Jon Toh, kaileng ai ni!' Haha, i was hiding for the obvious.hehheh. The expression must be damn cute when he looks out for me. wahaha. Anyway yea :) Jon T = LOVE LOADSSSSSSSSSSSSS! haha. Kaileng ai Jon many many many!
Day before went to 'PLAY' again, you know, Gays are really pretty/handsome & good looking. Omgosh. It only gives me heartbreak everytime i saw them with another guy. :(
Met new friends..Saw many new faces :) Liew is really handsome... hump..too bad lah :P & wth he's only here for holiday? Means i won't get to see his pretty face anymore. omgosh. Btw, he's from Thailand tats wad i heard...Seen some celebrities there too. Oops!
Yeap, clubbing goes on all da way till 4am. After tat went to have some food, walk to S'pore River, Watch scenery..etc
kk.. Some pics from 'PLAY' & on our way to S'pore River...
---------Migo,Amigo & 'Dearest' :)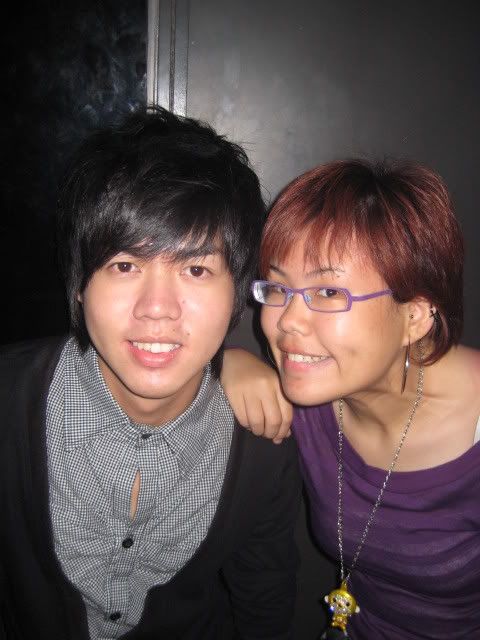 ----------Migo :) LOL. i still tink he looks like wu ke qun really.
--------------This is the Liew, i'm toking about on the right hand side with my bro Ryan.Hen shuai right? argh! JUST TOO BAD. :( I had pictures with him too but have yet to be uploaded. Sianz.
------------------I really really love this shot! Aww Sweet! :) Ryan my bro :)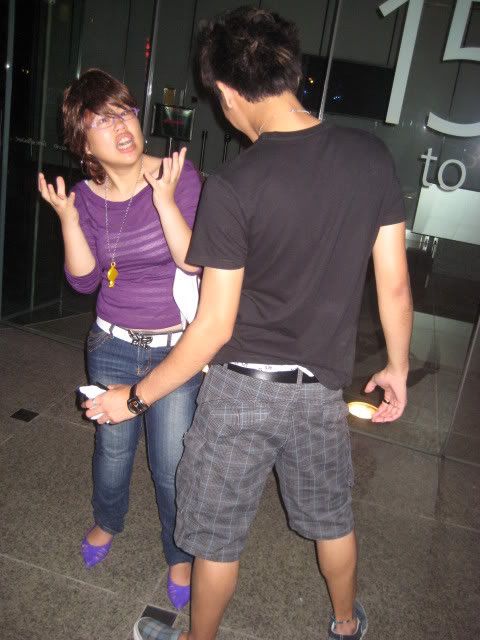 ---------Me with amigo's wig. omgosh. Damn Aunty! Oh wads Kazaf Doing? =_="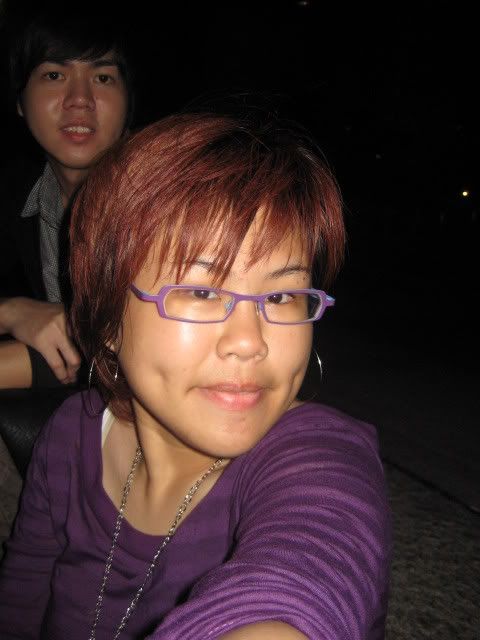 ------------Migo?!? I am zilian-ing. you acting as background behind for wad? haha. kidding la. So coincidence u r looking at the cam too! haha!
----------Migo & Amigo :)
--------------Same old people :)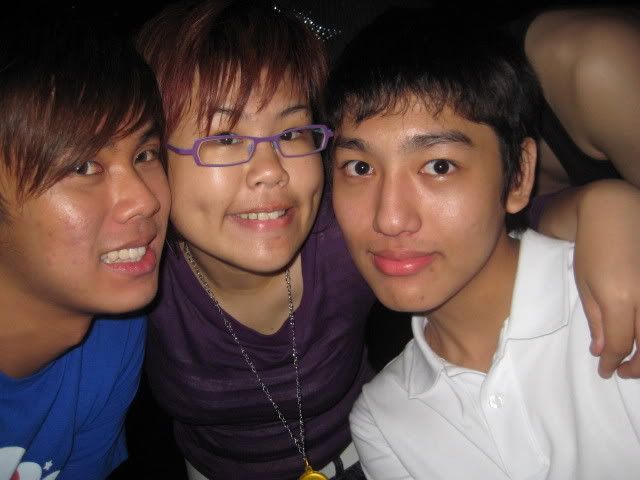 -------------One calls himself my DiDi, One calls himself my dearest. Am i xin fu? :) I think kind off. :)
Tats not all the pics taken from clubbing but i guess it's more than enuff liao. haha. Watch out for more, i'll post them up if i have the time. haha.
Some random Pics taken yesterday,the day before,the day before before! lol!
As usual i would love to put Lemon's picture up first.wahaha. Call me biased i dun care! wahaha. Clement Tsang=LOVE! Nuff said. *SHhhhhhhhhhhhShhhhhhhhh* haha!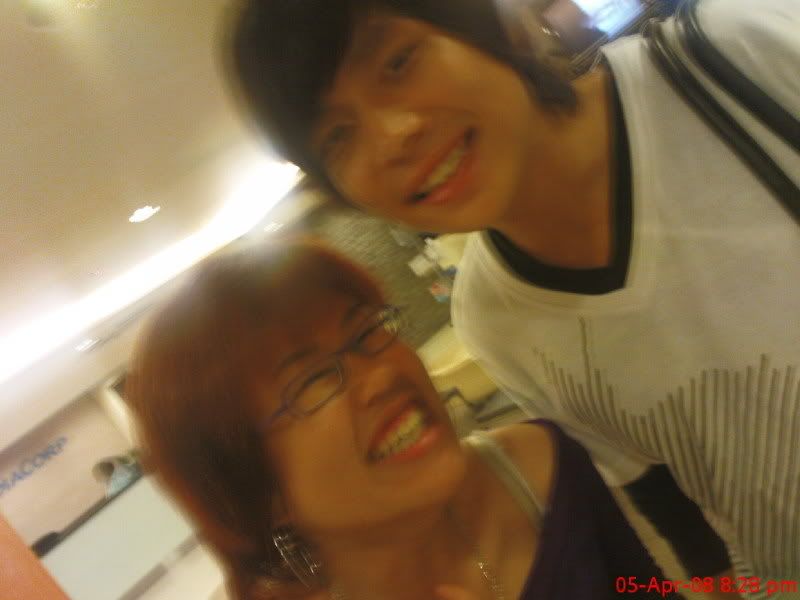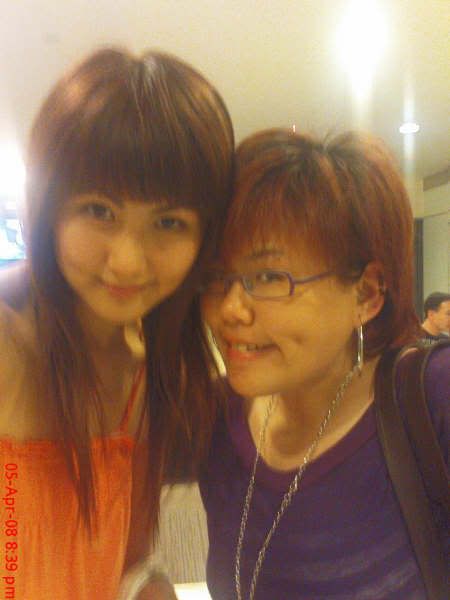 ---------My dear Rabbit :) Oh yesterday in the theatre Rah,myself & kailin got interviewd. haha.like who we are supporting, why we are supporting & how the person is like as a person.. Of cos we all gave positive answers!!! rabbit is nice, Straightforward, knows wad she wants, go for her own rights. :) Wadever she is nicey! Funny thing is kailin kenna sabo by us to come in for the interview. haha. She's shy! & we actually told the person she's the fc president or incharge stuff like tat :) Really funny i think only Rah looks at the camera me and kailin was staring at each other from time to time. lolx.
Yea. & most zek ark part is when they asked which guys are we supporting, for the obvious, we named out different guys. Names starts pouring.. I was damn zek ark..i tink i meantion huan before clement's. :( Nvm lah.. I love them all alright. :)
----------Nah... I always like to take our happy family picture. It turns up especially nice when these two comes tgt :) haha. he is her certified MAN :) xinfu oh! Well, jiayou to both of ya!Whether for your competition or for your future, All the best!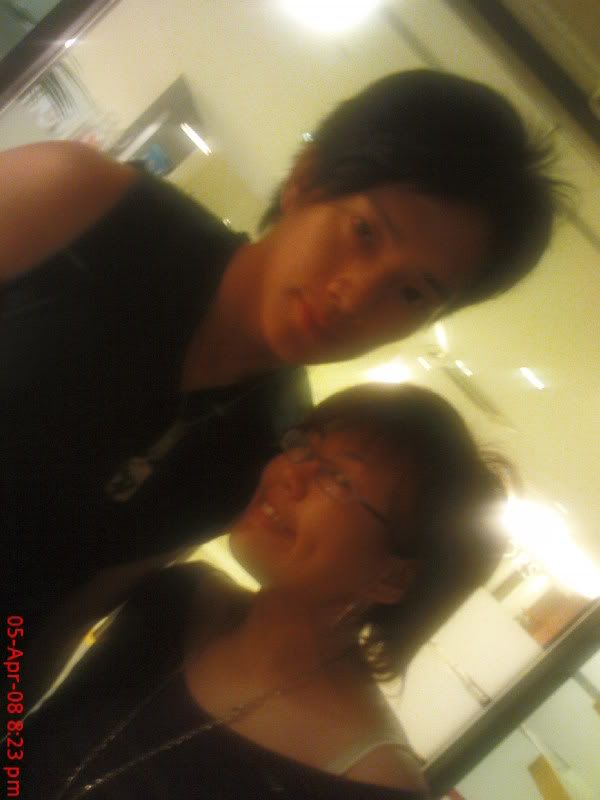 -----------ShuaiShuai Cute & caring guy :) Sometimes he dun express himself doesn't mean he don't care, he use actions to prove it instead..Really nice Guy. Jiayou :)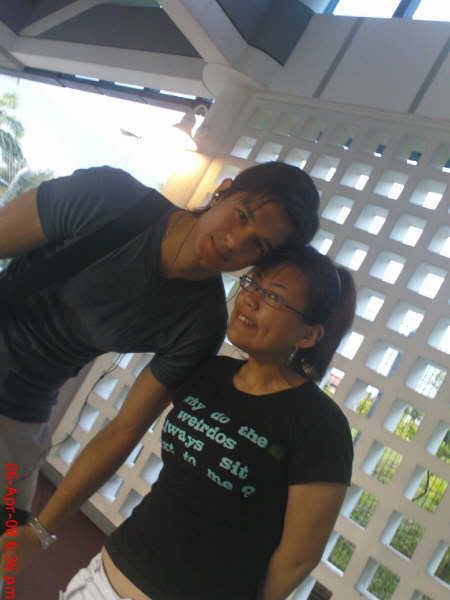 ----gavriil..I can't help but think of Kelly when i saw him :) hehheh. He's getting more good looking each time. Wads his secret? :)
----Louis Bro! Actually can you tell me wads bollywood all about? I'm still kinda blur and interested to know..haha!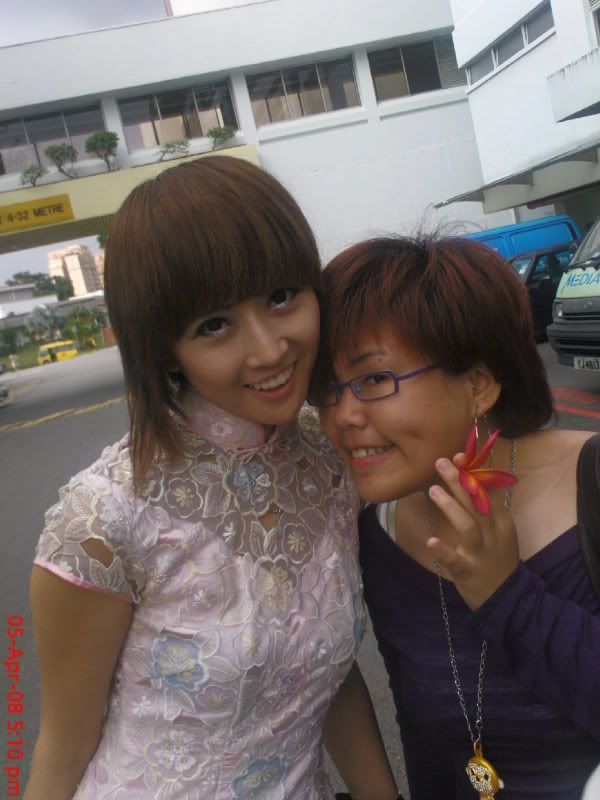 -------------yanYan :) Pretty lehz!
I know i'm mean from this point onwards. BUt who cares, i have my rights to voice out my unhappiness & bu shuang..Wad i wanna say is yesterday's results for Ms sexy babe is RUBBISH to me. I dun care if i'm gonna get sued or wad but i gotta say. F4 Germaine Doesn't deserved the honour though her dance moves i might give a lil credit.From the way she speaks, all the sexyness are gone oh pls. argh! Damn pissed. Anyone can win except her. JUST HER alone alright. B*itch. Was shocked when majority of the judging panel i mean from those superstar contestants chose her. =_="Sorry but for me it's a big NONO!
Sorry no offence but i admit i'm an anti-Germaine. You call this standard sexy? Then i dun understand wads Mable's standings then.Or rather the rest of the babes who, are so much better. GOSH.
Well, in my eyes, Rachelle is still da bomb. :) Sexiest. Well done babe!
Being Random, i got no huan's pic to show, though as much as i wanna show. :( Cos pics yet to be uploaded. I always got my friends to upload for me, so wadever you see, credits are either to Joyce or Xueting. Cos w/o them these pics wouldn't be possible. I would show you whole lot of Huan's pics next time yea? :) AHA. Huan=LOVe too!
For now make do with this picture which is one of my favs :)
I'm beginning to feel very zek ark cos if i ever write a letter to Lemon or Huan, Huan's one will be more heart felt type whereby Lemon de is quite rubbish. HAHA. prolly i've written too many love letters to Lemon tat i dunno wad else to write tats why Huan's contents are more. ahump. more close to heart :) Anyway both equals love lah. so no worries!
Yea..Lemon,Rabbit & Huan still equals LOVE!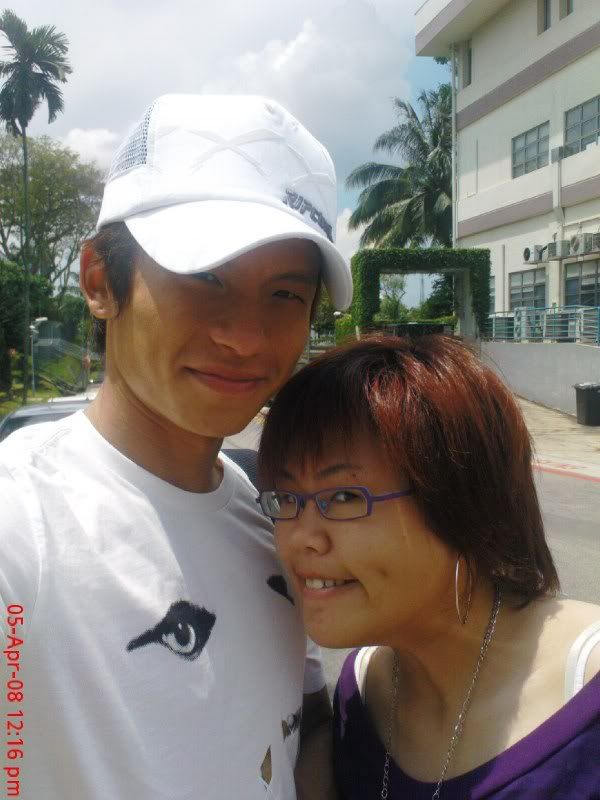 ------Daren, long time nv see him liao :) Strange thing i called him after like he walked some distance away liao. haha!
------------Joanne :) She's nice but i got no feel. hehheh! AND i gotta say she's really photogenic! Ermz. did she won miss photogenic during her year of MSU? i supposed she did. :) Can't recall.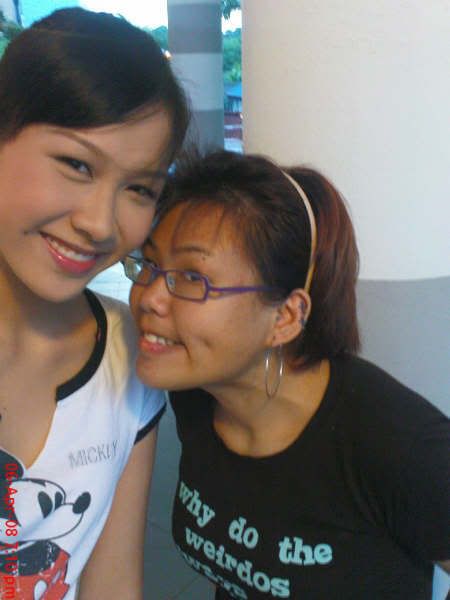 -----Yahui!! haha. Long time nv see her too. Doing good for her filming. Way to go gal!
-------------Terence, :) Shuai oh. Anyway being random, his PA very nice. hehheh. :)
I shall end off with my zilian pics...Please bear with me for my Zi Lian level. wahaha!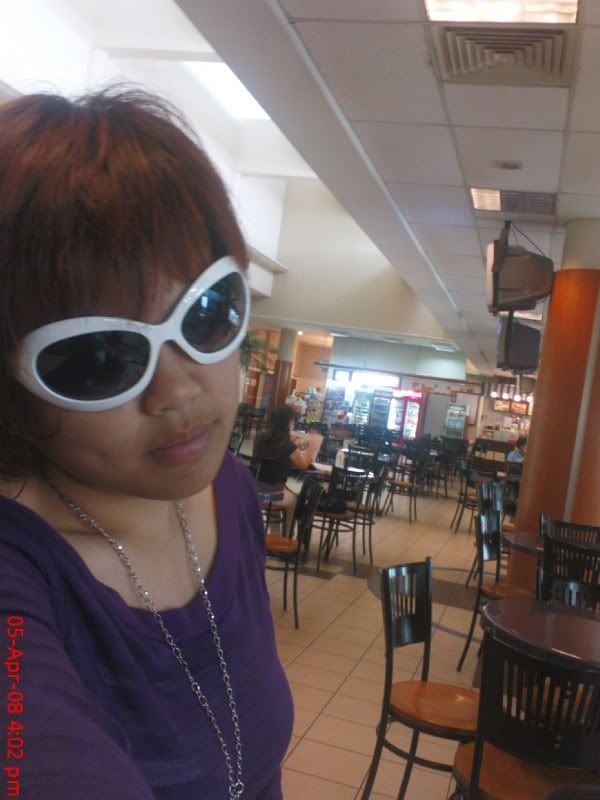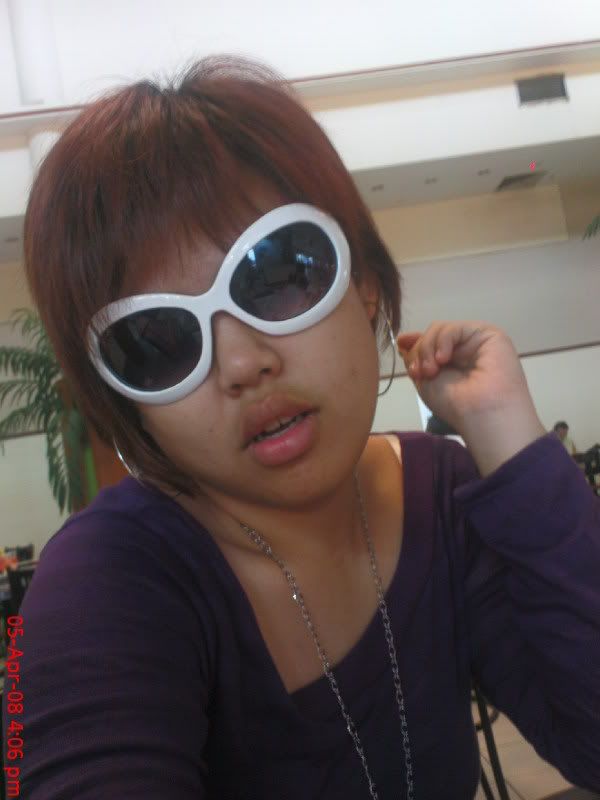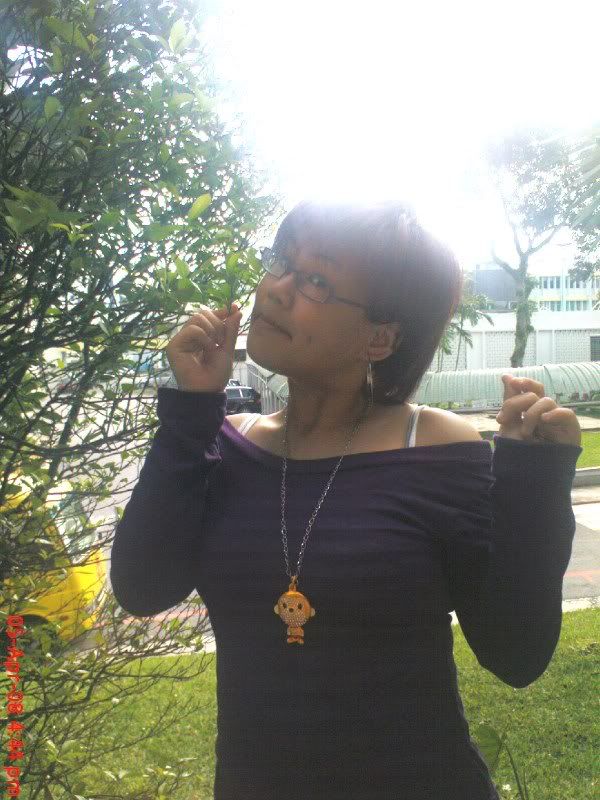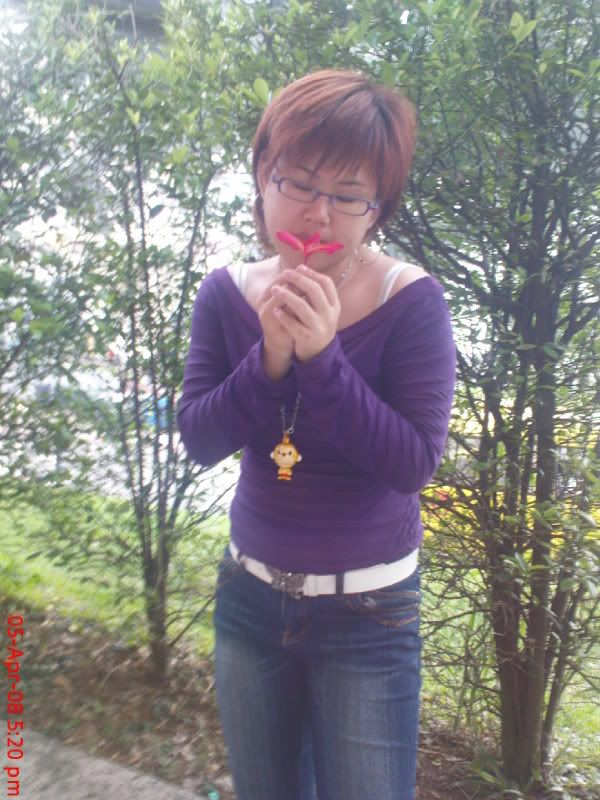 More pictures next entry byee :)
xoxo!
Kaileng wrote
4/08/2008 01:28:00 PM