Friday, September 19, 2008
Still on a happy mood! LALALA!
Esp after yesterday.
I felt so blessed to even meet strangers that are so nice to me/us.
Neeway. I salute myself. This is the only entry whereby i took some effort to combine different pictures tgt to make posting easier.Lesser picture in a way. AHA!
Took da whole morning to do so though.
Neeway story goes. Yesterday, basically i was on a high mood cos of Donnie Yen LOR!
HAha, like him since i saw him from da movie 'Dragon Tiger Gate' co-starring shawn yue & Nicholas Tse. Yeap, read from mypapers tat he's coming over to promote new movie painted skin & they'll be in town @ Orchard Atrium first while later on proceed to Great World for Movie premiere. Yeap i went for the 2nd.
When i reached,i was slightly disappointed cos we cant get into the enclosed area(reception area) specially catered for those with invitation only. So sianded lor, i thought i can only peep thru the glass panel already. :(
After some point in time, some really kind-hearted uncles approached us & asked if we would like to catch the movie.Well, we very much love to except we hav no tics. So they passed us some tics though the seats are scattered. We cant be thankful enuff for the kind gestures.. :) They were even so concern about whether we can get up in time the next day for school/work. :)
Yeapyeap. wad add on to my day was Deariehuan lah.AHA!Didnt expect he'll be there. He came with colleagues from mdc, yeap. Took some pics, did some catching up :)Check out our NG pic which i find it 'cute'. Heex.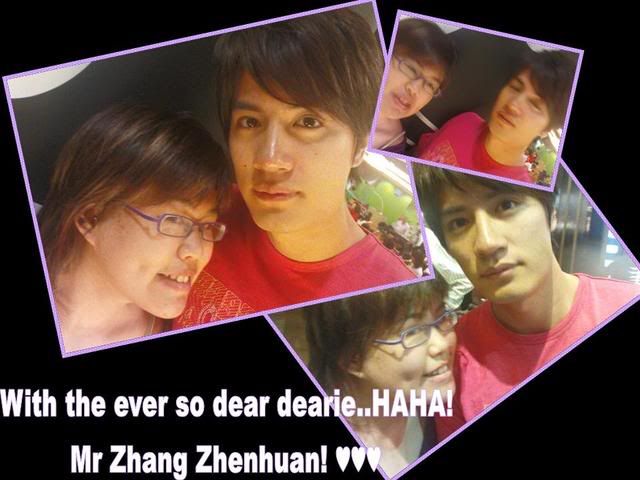 Loves!
----DONNIEEE !!!! 'Real Bullets!'LOL! Translated from his chinese name! =_="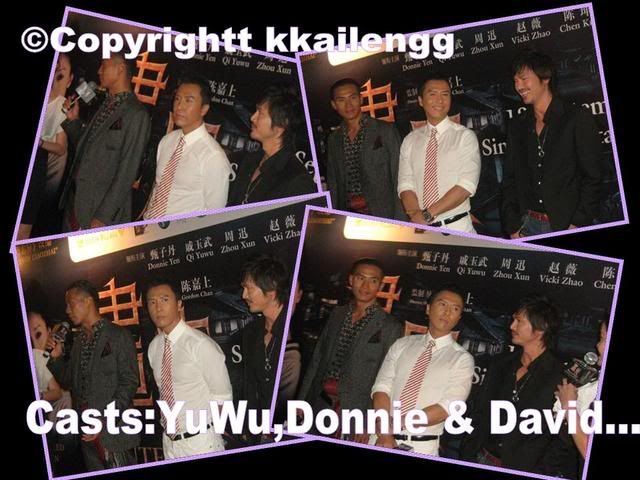 Picture Credits to Xueting :D Thanks babe!
Stars Spotted:
Without them, I'd be all alone for the premiere! Friends are loved... :D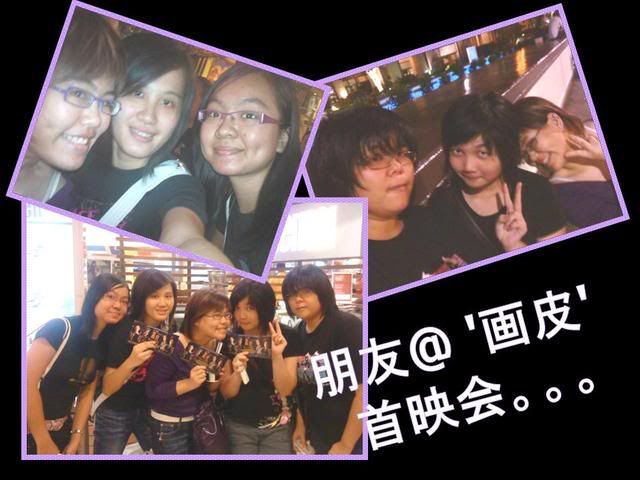 Tats about all @ the movie premiere. Neeway, go supported painted skin yea? Nice movie, nice casts. Finally we got to experience how a movie premiere is like. It feels good to be in da same hall as the artistes whom are there. & yes, i was in da same theatre as Donnie la! aha! His wife is around too! :D
Afterwhich, Pam & xueting left for home while I acc Daevon & 90 to iRumour wait for Wenhai.Oh, we really kenna surprise there heheX! By looking at the pictures i dunno if you can figure out who were our surprises ? hehex.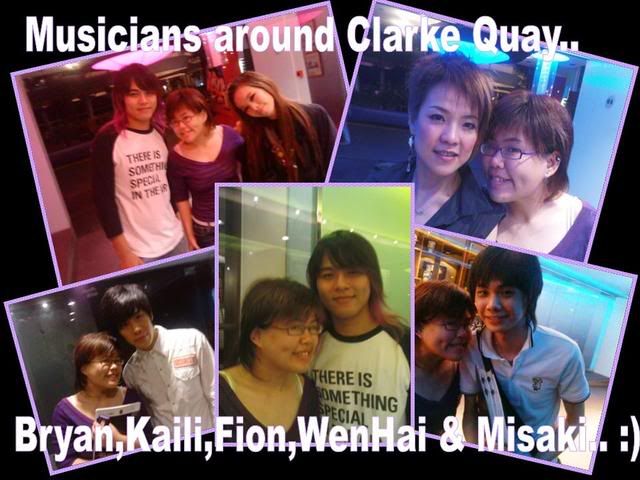 Yeap, they came out round 12.30am plus like tat, after finding them,went to grab Mac & cabbed home. Reached home @ 2am :) Heex.
Wow. I know this entry is as usual lengthy BUT to me it somehow was one of da shortest le.
Shall end off with Zilian Pic again. I love Purple I really do.
BYEE~! *Painted Skin...Donnie!*I wanna see owner of carplate 123! :)
Anticipating!
Kaileng wrote
9/19/2008 01:53:00 PM


Wednesday, September 17, 2008
Heeha! Kaileng's happy :)
Today i saw Mr W again. Finally after so long lah.
I thought he went MIA for some time.Heex.
Well we were on da same bus.AHA.
BTW, RG became very strict & check staff pass one by one when you tapped in?
Woah. I hav no idea why they do this, but err..Really a lil scary.
His back view which i can only look at from far. :(
Neeway. I feel pain when i saw my mum using her teeth trying to tear open a letter. Haiz. So i help her to tear it.Yea, stroke patients cant really move their muscles so yea. :(
Yesterday after work, went to wait 4 Princess RuiEn :D :D :D okay la, better known as LP. :D :D while Joyce waited for Elvin.
Okay, i know somewhat my link gonna appear at mdc forums again after today's entry. Heex.
So, there was wedding scenes going on for both of them & LP is so pretty lor.
Talking about tat, thank you Tanat for all da picture msges.Heex! You nv fail to update me esp when you know i'd love to hav them. Thanks!
Prettiest Bride i've ever seen. Not some bootlicking okay. Heex. So yea. thanks dearest for stopping for us for a pic in your gorgeous dress. Heex!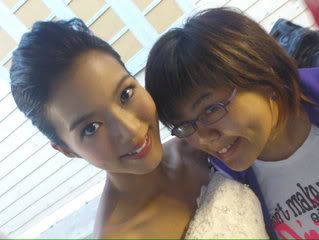 ---It feels especially good to hav a pic taken with someone special...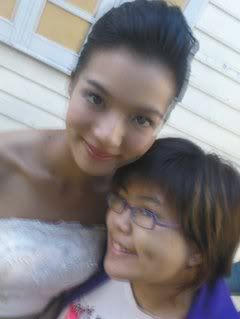 ----A Pity this pic is blurred.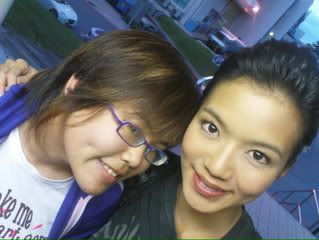 There's really nth much to say about this dear Princess, cos to cut it short everything's good about her. :D :D :D :D You cant agree more, can you? aHA! Well, I just hope tat she will grab nuff rest apart from all the filmings & perhaps the album preparation if it's still in da midst of production :D :D Heex, hopefully we can all grab her album by end of this yr! Very much looked forward to. :D :D :D Jiayou le babe! Do send my regards to JonBro if you happen to see him. :D
*You would agree tat LP smile's really nice yes? So, smile aplenty pretty!*
Neeway, i thought you might be interested to know how the term LP came about.
Once upon a time, a self proclaimed Marion Cotillard's Fan dropped a message to her "Dearest Assorted Rebels, Rockstars and Rabble-rousers" "who turned up at Star Awards and yelled their lungs, bladders and hearts out. (I promise next year I'll buyyou guys lozenges)"
Since then, she has been 'pestered' for lozenges. Eventually (I guess), she decided to call herself "Lozenge Provider". But the term has 15 characters, 3times more than her name, so lazy fans decided to abbreviate it, and Tadah(!), the term "LP" was hence coined.
Credits to RBKD @
http://www.rbkd-online.com/
Yeap, shortly after Elvin came back lor.
----I suddenly think this man is really good with expressing himself, & of cos good with words. He shared alot which woah, requires some knowledge to understand them.Heex but i totally agree with wad he shared.
Day before saw yangyang! The ever Mr Nice.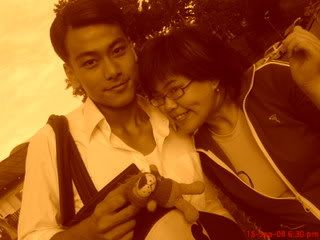 I told him we'r back to the 70's in our pics & he agreed. Heex. Yea. You see the bearbear from da 2nd pic? It's a soccer bear as he named it.He was catching soccer at particular country & saw this cute bear & he bought. ahA! Wadever, it's always nice to exchange a word or 2 with this young man :D :D
Oh yea, saw Sky..erm..nope Julian. AHA...while waiting..but he's in a rush. :( Hao Jiu Bu Jian he still looks good. Neeway, hope to see him around soon!
Some Pics taken with friends: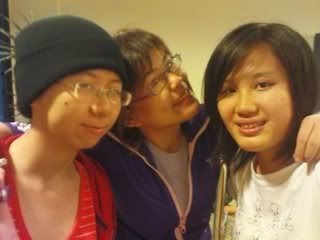 ----XT insisted on a pic of 3 :)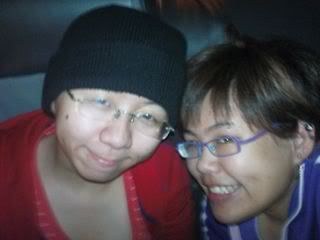 ----This looked terrible but it's our best shot as of tat day! LOL!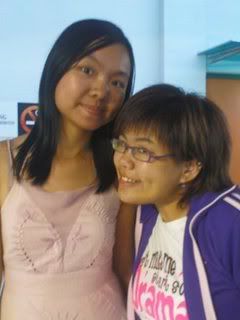 ----Call Her Princess Pam.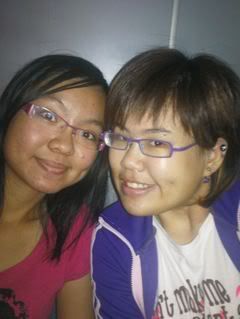 Random..Random...Chengying got me stunned when he requested to take Pam's solo pic. AHA.
& Finally some self-designed zilian pics...Wad i do when i'm super free. AHA!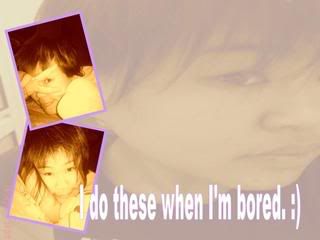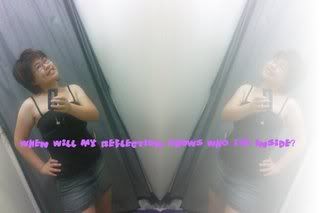 Till then have a great day Lovelies.
* Slight issues shouldn't bother us, we should just ignore those damn issues cos you know it's nv ending... Chim.. I also dunno wad i'm trying to get to BUT yah..Certain things just let it pass lor, You'll feel happier.. :D *
Kaileng wrote
9/17/2008 11:19:00 AM


Monday, September 15, 2008
Been long time since last updated.
Hope my new pictures doesn't scare ya off.Hehex.
In da midst of getting new blogskin, but hav yet to find something i really fancy.
Infact all blogskins looked similar.ahaha.
Neeway, work has been fine, except family issues bothering me.
Now not only i hav one stroke patient at home, the other one is down with stroke too.
Yes, tat man whom i mentioned in my previous post.
Haiz. Anyway, it doesnt affect me much la, since he doesnt bring in money for the family before he suffered this illness. so yea.
BUT! He has been complaining to my relatives i've been bad lah..dun even wanna look after my mother & stuff like tat. F*ck! Always saying my money is spent on idols. argh!
I'm much more happy with my idols than staying under one roof with you & looking at you alrite. At least they wont say something bad about me like you always do. BOO!
Wadever. I just dun like my home. Seeing them just simply spoil my mood. One keeps mumbling the other keeps complaining. JUST too bad, she's overall somebody whom brought me up & nv complains when i asked for money. So perhaps sometimes when she needs my attention..just give lor. Haiz.
I was thinking..
If i hav the capability of settling down in da society alone, would I?
Well, I would...
Oh yea, sidenote, dearie has a new drama coming up :) !
tgt with Zoe,Fann,NanXing,Pinghui & Feli! :)
Big production! Jiayou dearie! I would be happier thinking about dearie & the other loved ones except my family. WHY?!?
Kaileng wrote
9/15/2008 04:50:00 PM