Friday, February 22, 2008
Hello!
Well, sianz, can u believe i am missing someone whom i barely knows? I mean my encounter with him was only once, since then i nv really tok to him liao. haha! Yeap, & i REALLY miss him. Strange human feelings. ehh..
Anyway, yesterday was my off day, I went Bugis Street shopping for new clothings lo, knowing there'll be so many variety down there. Yeap bought quite a couple of stuffs. I think i bought two pair of shoes, 2 tee shirts, 1 cardigan, 1 Jeans :) Yea, 100 over dollars gone! Much more than tat i suppose! & yea i hereby announce i AM OMGOSH in love with purple. & yes, i went to work IN PURPLE today! haha! Like purple shoes,purple outfit! :) Yea, tat shoes is like so striking, bright purple lo, ppl can tell me they can already see me from far! lol! & one of the tee shirt tag line was 'Don't stand beside me, I'm not your dear..' So cute eh? haha! Okay.. I got some purple-ish diesease!
------See even when walking i got so much fate with purple! :)

Tats about all bahz, my shopping done, went back to Woodlands, prepare myself then cabbed down to catch yu zhong & JJ @ Spop recording, XT manage to pop out tics last min, so jiu tagged along with them to the show :)
Pics of JJ & Yuzhong:

JJ Was good lahz..But i've got no feel towards him, His bro very handsome haha! Yu zhong very shuaiz!

Yah..then interview went on, JJ was damn funny, i recalled the segment whereby he said he work so hard for a singing comp, he won $3000 over dollars, But his bro, whom happened to be in the audience got pick to play soem game & he won $6000 over dollars. & JJ was like haha, he worked so hard only get tat amount of money while he bro just play some game & manage to get tat amount! lolx!

wads more hilarious, JJ took part in singing comp during his teens, OMGOSH! His looks is so cannot make it lahz. damn funny. Esp his curry puff hairstyle & the way he emote the song! Damn funny! Actions so big! & he looks so much better now lahz! haha! Stay tuned to SPOP every mon, channel u, 8 pm for tat episode. Damn funny. Can't help but keep laughing!

Yahz..then Yuzhong & JJ was tested on the spot on their chemistry on song composition & they were made to compose a song specially for yifeng. She was damn high can.haha. :) Wadever it is, stay tune to SPOP :) We din stay for the singing segments cos it was getting late, so yea, we left after the interview segments.

Yahz.. & i saw Darling Shauna & ever friendly ASH! before i went for recording :) Din manage to chat much with them cos they were in a rush, dunno reporting for wad, i quickly ask for a quick snap shot lo :) Yahz. Hope to see them soon. They are really nice lahz, despite rushing for time, still stop for a pic with me :)
-------We look like happy family don't we? :) I love them loads esp Shauna!!! :)

Yahz..after we went to reception, Zhengnign & lingyi came out lo. Took some pics, asked lingyi to record 'fa shao' & zanny to record 'dong jie'..nice nice! oh..luckily i manage not to bring up the xing guang incident to lingyi, guess she's still not getting used to not flying there anymore. :(
Well, luck is playing with her on her visa problems which caused her not to be able to make it there.


---------Zanny :) Dong Jie is nice! :)
-----------LingYi, haha her SPOP song the more i listen the more it's nice :)
Yahz..then today saw Renfred, Weilie & CLEMENT!
yea, Renfred came back for filiming lo. Yeap.
---------Haha, dun need touch up bahz, so shuaiz liao..haha!

Weilie! haha. Joyce was so sad when she couldn't get to see him. Cos i think the guys went to tv building to get change instead of the usual wardrobe near radio gate. erm..yahz. but luckily for her, i saw weilie again while we were going back to work. So i say she damn lucky lo yah. took pic with him :)


Then we were damn lucky when we were in da lift! haha. Clement stepped into the lift! wad a surprise! haha! i was like ehh..until damn loud..haha...then asked for pic lo. he was like alighting already @ 1st flr, we told him nvm we'll get out of the lift haha! then took some pics. Yeap. He's still cute as usual :) hehheh. Ask him smile he says he did already. hehheh. cute lahz. Nice guy. :)
Kaileng wrote
2/22/2008 01:56:00 PM


Wednesday, February 20, 2008
Harlow! shall blog now cos after this, i'm going to be damn busy with work stuff, so many things to do for the day for our team, mocca leads,'today' calling,deleting ads,uploading images. JUST so many things! haha! yeap. so yea.. Anyway, my house internet connection got cut off liao! :P Neh pay tats why!
Yesterday went to movie gala..yeap. Let the pictures do the talking bahz!
& so Nat wasn't there for the gala :( haha, dunno why ar, seemed like very blog post will have his name eh? hehex!
Anyway, pictures posted up are not in sequence of whoever i met/seen for the day! :)
-------Saw these guys first, weilie & Andie :) This pic so um-so-so, meaning dark lahz, so got feel! haha!
-----------Clearer one :) Kailings with Andie & Weilie. Shh..we kept saying 'weilie shld have been the clear cut winner of Star search!' :) well, true lahz, the 1 mark difference still stays on my mind. aiyOo.. neh mind, they'r still bros & good buddy so no pt bcos of tat ruin their relationship :)
-----Haha, this is funny..having both of us leaning to one side. hehheh! Well, this is kailings with bang bros! :)
-------JS got this cropped from the pic above. :P
-------Weilie came first, so took a pic lor. :) He is still as lame i guess, the way he talks, haha! sometimes i wanna bash him up. wahaha. so qian bian! :P But i know he's just kidding lahz, Act cool seh! lolx!He was funny, say wad ' guan jun hai mei you lai......' i forgot wad he said liao. lolx. something like Andie haven come he can't go in??
-----------Me with Bangjun :) & Thanks ar weilie for your special appearance. Nice shot anyway! :)
Tats Bangzhi :)
------Surprise to see Kelly there too! Nope she din went for gala, she went movie with laoshi & her BF :) Haha! Told her Marcus likes her yi miao zhong de yong yuan! i love it too! we must like sing it so many times when we went for ktv sessions! haha!
-----Another one, Aiyoo..gal pls put on some weight bah! so slim! :P Anyway, dunno when she's going back to TW again, so yah, nice to see her in person, the very last time i saw her, PSS winner single' auto session :)
This picture taken possible only with the help of KAILIN! big enuff your name? :)
Yah, it was funny the encounter, cos i was like keep saying i wanna take pic with tat thai actor, then no chance, but while looking at CDs at MJ, they suddenly shout out so loud..tat eh! isn't he tat guy i was looking for, so Kailin went to tap his shoulder & says i wanna take a pic with him :) He's very shuaiz lei! haha! & a very nice person. He was like okay sure when they help me asked for a pic :) His name quite chim haha! Mr Ananda Everingham :)
Yah then i went back to camwhore with the board with his face on it. :P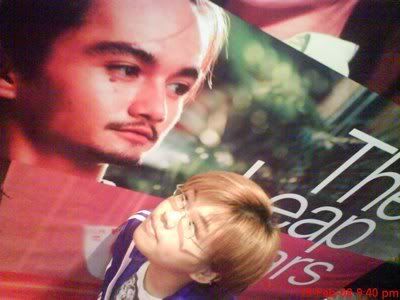 Think tats about all bahz,
Byee!
Singapore's F4 :)
Andie & Weilie with us :)
Kaileng wrote
2/20/2008 10:02:00 AM