Thursday, September 11, 2008
Yesterday.. went to send Nicole Laoshi off & to see her for the very last time.
It was very emotional though we all know we ought to be happy for her cos she's up there at heaven's home..
Well, even if we teared, it was all happy tears :)
Okay lah, to be frank there's still sadness which lies in those tears cos our loved one has left.
Yes, i got to hold her hands when we see her for the last time. I felt warmth. I really do.
Tat was how she was like when she's still around..always putting on her smile & being really nice to all that was around her.
I heard that is even till the very last minute of her life when she was in pain, she didn't want to show any pain from her face, & still puts on tat very bright smile..She even made everyone tat visited her felt warmth by trying to sit upright & talk to them.
Laoshi, you'r really one of the nicest lady i've come across.A Legacy.
I hope we'll all live the Nicole's spirit, tat is be passionate about every lil things we do. Most importantly, when you'r on da verge of giving up, press on! Eventually, you'll work out something. When there's FAITH, there's hope :) I believe Laoshi would want to see everyone of us working towards our dream & gives our best in wadever we do.. :)
Actually,I was touched when Yanzi came to see LaoShi.
Over the past 10 years or so, they've worked tgt, shared a close relationship.
She even shared a very good testimonial about Laoshi during the last service @ Mandai.
Actually not only Yanzi, but when i see so many of Laoshi's close friends coming to pay respect to her, i felt really happy. Tat simply reflects well on Laoshi's character. She's well received by all! :)
Neeway, Nicole Laoshi shall live in our hearts always.
Pics from Laoshi's wake: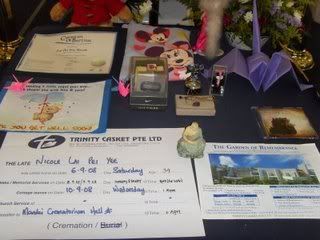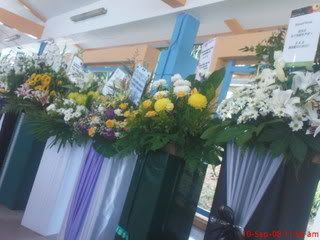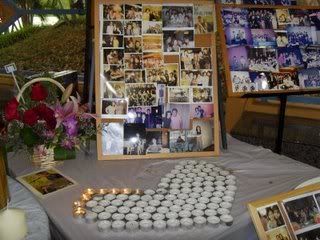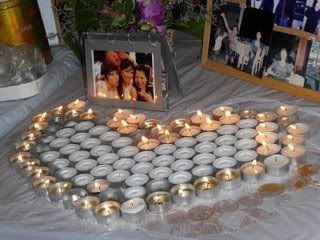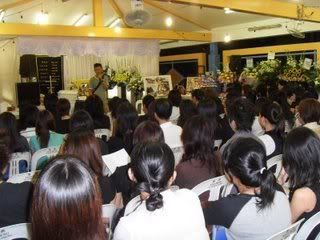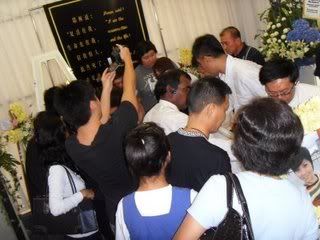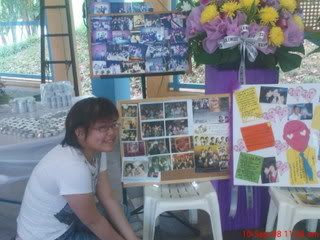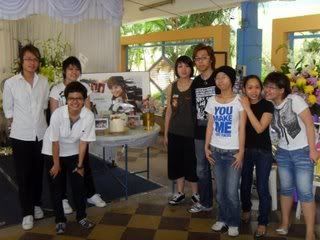 ----------------------------------------------------------
Wadever, i think life is really unpredictable. Really cant help but whenever i see Carmen & Aunty broke down, i feel the pain.
I hope GOD will watch over them & yea, stay strong.
I know they feel pain but,they've been trying to be strong, such tat in front of Laoshi's friends they try to refrain themselves from crying.
shall leave you with s beautiful picture of Laoshi :)
------So pretty, tats Nicole Lai :)
* Life- Don't Let Life Discourage You.Everyone who got where he is has to begin where he was :)
Kaileng wrote
9/11/2008 09:51:00 AM


Tuesday, September 09, 2008
Updates from Nicole Laoshi's Wake.
*Picture Courtesy of Joey*
I told myself i must get down to visit Laoshi for the very last time.
So yesterday after work, i went down with Joyce.
Well, I realised it doesnt really takes much effort for one to be remembered for life.
Nicole is one of da best example i've encountered.
My encounter with her was only once or twice but this sweet lady got me connected to her so much to da extend i broke down naturally yesterday.
Imagine, I'm not her student, neither am i her relatives, how could i feel as much as they did?
You'll understand why in a moment when i write out some of the testimonials by her students & loved ones..
Well, you'll nv imagine all she ever did to impress me was giving valuable comments to contestants during a variety show. :)
Since then, i grew so fond to this musician & wanted to know more about her. Now tat she's left, i somewhat wish i've known her longer.
Neeway, yeap, i went there, saw laoshi. She's still as pretty as always, resting with a bible on her. :)
There were some performances going round by her best buddies in music later on in da night, some also sisters & brothers in Christ.
Started da night with Amazing Grace, singing praises to Lord, following some demos Laoshi once work tgt with them, & then Hymes again.
In between Nicole's dear ones came up one by one, grp by grp dedicating their speech, some sang her fav songs & then giving testimonials on LaoShi.It was a heart warming moment. Tears rolled down some faces.
Some testimonials i really think reflects well on Laoshi.
-She has always been passionate about wadever things she does
-She lives to learn, learn to live
-makes an effort to help everyone in need
-she was a great student, tat makes a a greater teacher :)
Alot more actually, But i'd love to put nicole's spirit onto myself tat is
Dare to dream, if you have a dream..go for it..nv give up & be passionate in wadever things you do...
I think i shouldnt be writing this much, just remember while you can, do wad ever you like with PASSION ya..:)
Well, i shall end off with two really wonderful song, one of which is Nicole Laoshi's fav.
Because He Lives
God sent His Son, they called Him Jesus
He came to love,heal and forgive
He lived and died, to buy my pardon
An empty grave is there to prove my Savior lives
Because He lives, I can face tomorrow
Because He lives, all fear is gone
Because I know who holds the future
My life is worth the living just because He lives
Teach Me To Worship You-Nicole's Fav
Teach me to worship You
Teach me to adore You
I want to love You with my whole being
To learn to praise Your name
Each day to do the same
Teach me O Lord the way to worship You
I want to worship You
I want to adore You
I want to Love You with my whole being
To forsake my sinful ways
To Look upon Your face
And understand Your grace
O Lord my God
I remembered Carmen sang this to Laoshi on her bedside just before she passed away having the lyrics changed to something like..
"Mommy you must stay strong.....Mommy You must hav faith...."
This just makes me teared even more. Well, But the young lady is as strong as her mother.
Something i'm really glad to see...Carmen you mommy really loves you! :)Will be going down today again..& tmr as well.. Tmr is da last day.
Laoshi's body is resting at 129 KimtianRd. Get down to see this great musician,mother,daughter,friend..etc if you would like to.
Laoshi,same words to you...一路走好。。
会想念你,也好想念你。。
Kaileng wrote
9/09/2008 10:26:00 AM


Monday, September 08, 2008
Haiz. Life is unpredictable.
Nicole Laoshi, 一路走好。。
I'll miss you dearly...
Blog Song changed in memory of NicoleLaoShi...
Song wrote by herself, titled: '你我的自由'...
Though You & I may not be familiar with each other,
but I'm really glad we've once crossed our path during '你我的自由' launch sometime back..
Infact, i liked you since variaty show 'Music in da air'.. :)
You shall always be my musical inspirations...最伟大的音乐人。。
You wrote the song, 你我的自由。。I'm really glad for you'r finally release from all your pain,got all the freedom & called home to be with Lord from the day you left us.
However, I'm a lil worried for your dear one, Carmen.
Hope she's doing well, & may God watch over & take care of her under-takings cos i understand you gals shared a close relationship, now tat she might feel a part of her missing. :(
Hope She'll stand strong under God's arms. Will Keep her in prayer always.
I guess your only regret will be the launching of your singles' incident. Wadever, that jerk should at least do his bit to publish your singles around.Having you to pay is already worst than the worst cos he shld be paying not you, & then you've paid, he shld be distributing your CDS around yet HE DID not.Haiz...
Well, your contibutions to da music industry is still greatly appreciated.
May you take care, wherever you may be..
Missing you as always,
Kaileng
Kaileng wrote
9/08/2008 11:31:00 AM