Thursday, July 17, 2008
Argh! Kaileng is almost dying... The bad flu is killing me,blocked nose sucks, makes me feel tat my nose gonna drop anytime. Then my head is spinning like hell. :( :( Medicine i took all doesn't work, even if i take double as instructed..:(
Been long time since i fall sick. Argh!The feeling is unbearable.I'm praying tat i'd recover soon!Neeway, my days this few days just simply rocks. I'm lovin it!
Btw, today is crasiest LemonBoy's Birthday! Happy 19th birthday dear!
May the sweetest things comes your way! Have a blessed Birthday my dear!
Love ya! You are encouraged to leave your birthday messages for LemonBoy.
To leave birthday message for Clement, you may go to his Yahoo grp & do so.
http://launch.groups.yahoo.com/group/clementfc/
Many days since the end of WWDZ, but am sure up till this point in time clement is still loved by many :)
----------------------------------------------------------------------------------------------
Btw, the day before i managed to meet up with Dearie after he came back from China. It was nice seeing him after a mth. Went to grab some stuffs as needed for interview. Yeap.
Below is a pic of dearie & I when he came to mdc for interview yesterday :)
Glad that his interview was okay. :) Hopefully if nth goes wrong, we shld be hearing good news from him soon :) Jiayou le my dearie! Yea.. 'Words Simply Cant Express How Much He Meant To Me..' :D :D :D cya around!
---------------------------------------------------------------------------------------
Finally this part of entry! haha. Happy birthday to Dearest Kazaf as on 15th July :) Haha. Only managed to meet up with this special friend yesterday..Initially for a movie, dunno why ended up walking around CWP & got some gifts.HAHA. The cute monkies! Omgosh.
Actually i thought of buying a set of clothings for him which totals up to a hundred dollars, but somehow dunno why, ended up din buy. OOPS.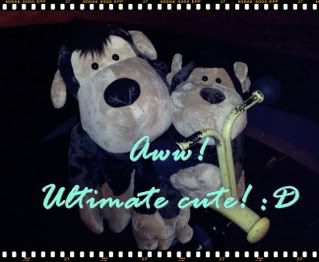 -------He saw the big one first, & then i thought i'd get him the smaller one as a prezzie.haha! So he has two!Pls go & give it a name yea? :D :D
-------Birthday Boy with his Monkies!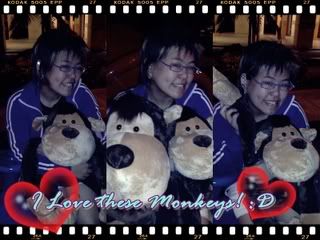 -------& before these cute monkies goes to the rightful owner, they'r So cute tat i have to hug them too! :D :D :D
-----Pic with the birthday Boy! :D :D Really Thank you for being ever so special :D :D *love ya!* Omgosh. As i type, my hair stands. OOPS.
Haha, so izzit going to be like wad you say..after today our pics are up, it'll become newpaper headline? LOL!
HAHA! Happy Birthday Mr Special! :D :D :D
--------------------------------------------------------------
Met 3 lovely peeps yesterday too!
-----Adam was the first we saw, still looking good!
------Paige was surprised why we'r always seen :) haha, got affinity ma..tats why we always saw her!She does looks like Yahui, & most importantly, they'r both nicey!
---Ah Dawn! Thought she running for time, but she's not! Hehe,so took a pic with her DIY maomao file & managed to catch up a lil with this babe! :D :D
--------------------------------------------------------------------------------------
I really love all the beautiful people in my life. Thank GOD for them. From Friends to Ultimate Close Friends, i thank GOD for these people.
Being random, We're all irritated by this guy Louis in our office. OOPS.
Love ya all...take great care.
-----Thanks Dearie for the Smoothie @ Starbucks, & yea, i had great time @ Seoul Garden with Joyce too :D :D
Kaileng wrote
7/17/2008 02:19:00 PM


Tuesday, July 15, 2008
LALALA!
Kaileng Is Feeling Very Good!
Happy Happy & much more happiness! :D :D :D
Random, i'm looking forward,well cos somebody is going to be in all white.
Oh gosh. 白马王子驾到!hehex!
shouldn't i be dressed in white as well, haha. snow white. kidding la. haha!
omgosh, the feeling is simply good when you see someone you longed to see!
Life is extremely beautiful with YOU around :D :D :D
Joyce says she is jealous of Pamela,Xueting,88 & 90 cos weilie talk to us & he is uber sweet! :D :D
Kaileng wrote
7/15/2008 08:27:00 AM


Monday, July 14, 2008
Hello :)
Sorry random a lil, i wanna see dearie!I guess to many ppl wanna meet him up, so i'm waiting for my turn to come! :P
so yesterday i went to IMM cos XT was kind to inform me tat sweetest Nat was around.
So i went down to see if i can catch him,so when i reached, he was there tgt with Jiaying to support Diya for the 41 hr tvb marathon. The moment i reached the marathon was over. Congrats to Diya for making thru :) All for charity,great job gal. Hope you've had enuff rest when you go back :)I actually wanna hav a pic taken with sweetest but he was too tired, so yea, i respect his decision not to hav a pic taken tgt :) Poor sweetest looked really tired. Pls pls grab enuff rest for yourself while for work or while having fun yea. :) Kaileng heart pain lehz.
Yea. so there was this TVB meet & greet session going again.this time 5 came. Lokyi really very handsome la. Omgosh. So yeap, i snapped specially loads of pics of this dude, though the resolution sucks.haha..shall post them up shortly.Oh & my friends & i queued up to get their autographed photos :) The whole process was COOL. :)
Yea.so after the session yesterday i went to meet with ex band mates too. Argh! I must say i miss band loads.I miss my baby trumpet/cornet :( :(
Neeway, nice to see the juniors & alumnis :)
Congrats for getting SILVER for NBC :) Just a lil more to GOLD, tat makes a good silver. Way to go..haha. i wanna go back as alumni lehz, i miss my instrument way too much! I miss YTWO, I miss ITE band :( I miss reading scores!
Heard Ytwo got silver too! Congrats :)
Let me show you my babies alrite? :)
----Cornet
----- Trumpet
Yea..Personally like trumpet better la, easier to pitch, but cornet has a rounder sound :) smaller in size too! Argh! I so much wanna hold them now! :(
-----Random music score :)
Wadever, i miss Band.
---------------------------------------------------------------------
Here comes pictures from the TVB meet & greet session!
You will see especially loads of Lokyi's pics! ahaha! At least i know i wont be the only one going gaga over him.hehex!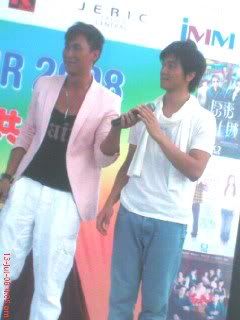 Lokyi Series: :D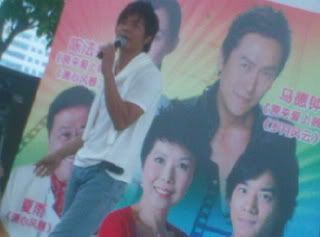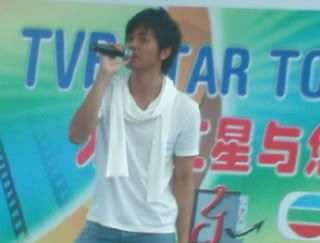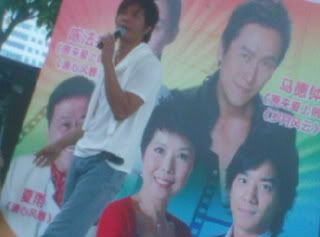 HAha..Didn't i say there will be many Lokyi's pic..haha..I din realise i took so many. It was ohmygosh. haha.
Neeway, mentioned tat we queued up for their autographed photos yea? these are the photos:
Of cos i'll show his first.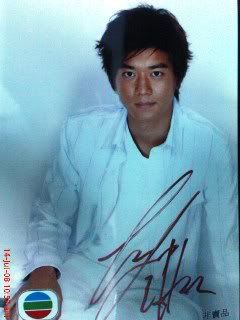 This dude can be warm & cold? On & off?
She is Nicey!
Cute!I din use the wrong word. AHA.
Lastly, her mandarin is better than mine.I mean it. Oops.
KK..no more..end of entry! Take care yea! :D :D
oh before that! Congrats Diya!
Omgosh. I look TERRIBLE. Yucks.
Kaileng wrote
7/14/2008 11:50:00 AM