Thursday, September 04, 2008
Before the entry starts, Amigo is loved. :) This dude has really gone extra mile to help me ever since i got to know him. Thanks!!!!!
Actually am happy to start the day..but yea.. some sh*t family issue somewhat spoil my day.
I'm not being bad, not being mean, But i dun care if he's hospitalised or wad. I simply dont give a damn!Anyway, he once was sent to hospital & then we waited & waited, it was nth serious. Fuck la. Waste my time. Sorry i simply hate bastard tat live in my house & doesnt even contribute, yes, not even a bit to the piling BILLS.
Why must you one by one call & ask me to attent to him? Wth. I have reports to rush & i seriously dun like to hav anything to do with him. Infact, truth is,I hate him for always asking me to help him settle his bills using those self service machines,thinking i hav so much american time to spare to help him settle his stuff, & if i miss the due date, he'll give me a hell time out of tat matter.. WTF la. Pls bear in mind i'm not paid to do those for you alrite. argh...
Neeway, happy note, I saw ShuaiShuai & of cos DEARIEHUAN while on da way to office today.
I thought i saw two familiar faces & yea there they were right in front of me as i walk closer.
hehex. Shuaishuai puts up a happy face, smiled @ me & when i got closer to the guys he eventually greeted me with a high five to go along! Oh man! i miss WWDZ! Shuai is still as nice.
OF COS MY DEARIEHUAN too :)
So long didn't see them, i grab this chance to take a picture with them each, & chatted a sentence or two. haha. I asked shuai if it's exciting(ci ji) to start work..he replied something really cute."Imagine waking up @ 7am, of cos it's exciting(ci ji)! aha! Cute answer.Well, he was somewhat surprised why i was all in purple. HAHA. Just when i was about to tell him tat i was always in purple, dearie sort of wanna answer for me too, aha, but cos i answered myself, i think i cut his speech. :P
Well, catch the guys on teevee soon! Variety show :)
Pics: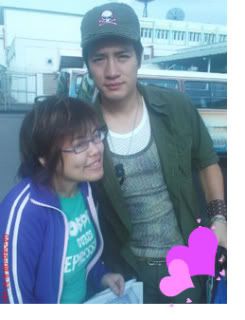 -------HEHEX. Always da dearie in my heart :) Omgosh, he looks good! JIAYOU JIAYOU! :D :D :D
------The ever nice Shuai. ShuaiShuai, my gurls really miss you alot lehz!
Tats about all about the two dudes whom just started work. Hope they'r adapting well & can hav lotsa opportunity coming their way. Esp. Hehex, DearieHUan :D :D
Well, yesterday, darling lemonboy called me & asked me out again, tgt with some other darlings...haha!We sang at Cine then headed to Club Sake after that. :)
It was so much fun. We should do this often, BUT! Wait till i get my pay alrite darling? hehex.
Better pics are with my dearest Ryanbro.. which have yet to be send..so be patient..meawhile make do with mine!
KK, pics!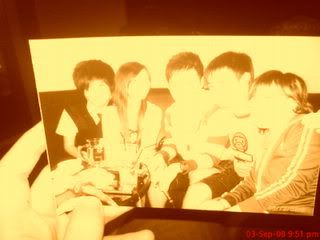 ----You cant see this but it's a promotion by kbox. This damn picture cost $2. :)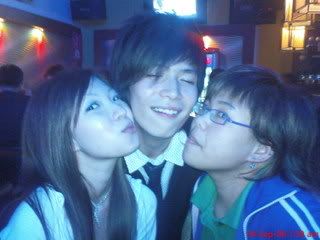 -----LemonBoy is damn fortunate to hav US lah! LOL!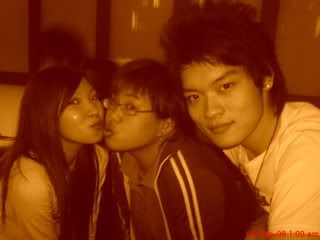 ---Eh. I tink i can easily crop out Gillian & myself. OOPS.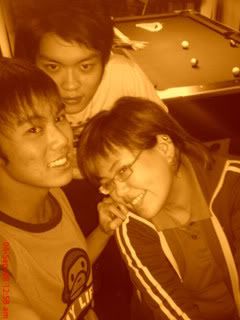 Took many many With Dearest Bro haha!
---Woah. This one gt feel. So artistic somemore.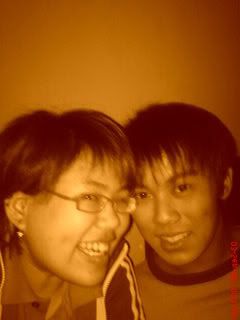 --Most natural shot.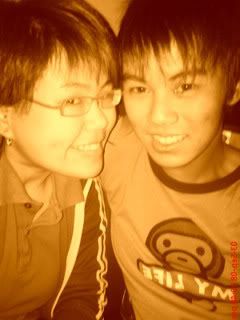 --omgosh. I put on weight.
---Cute Shot with Amigo!
With Gillian: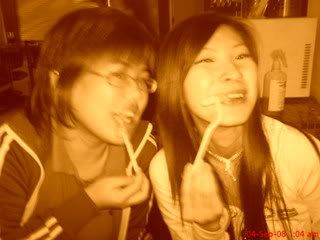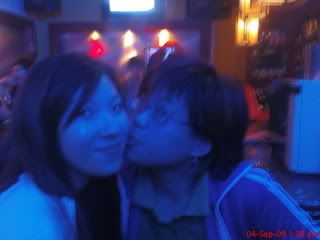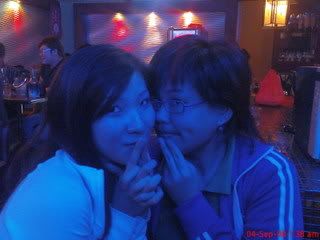 With Vincent:
Randomly end off with Clement Tsang's picture. Wosh! Nice shot!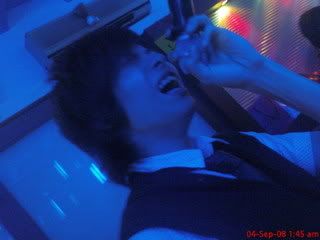 Well overall, we had lotsa fun :)
oh yea..Daren was around today during lunch time too! :)
--AHA! Shuai :)
No more updates. LALALALA! Family Sucks loads with the exception of the Lim's :)
Kaileng wrote
9/04/2008 01:38:00 PM


Wednesday, September 03, 2008
LALALA! Two random person made my day yesterday :)
LemonBoy & Ryan Bro :D :D
HAHA. Prolly they wouldn't know wad they've done to make my day..haha!
Well let me just say simple lil call within few mins they make, can easily make me SMILE.
Shall talk a lil more about it ltr.
Thankiew Loved Ones!
Like to say sorry to this Bro:
Really sorry i couldn't make it to your show yesterday.Well, I believe it must hav been a great show put up by you guys, budding future musicians..It was raining heavily & i got stucked @ mediacorp taxi stand. Shit! Should hav brought an umbrella then i might as least make it there at a later time!Yea, but i did try to go after lemonboy's call,saying how much bro wished my usual gang was there to support. Therefore, I fought with the rain, got myself drenched, then finally decided not to go. Was feeling cold & uneasy.Yea. Messaged LemonBoy as well as JaeBro saying i'm really unable to make it there le. :( :(
I promise to be there for future performances! Tat's my promise to you! :)
Neeway, i was so happy i found new way to get home with new bus services. Actually old, just tat i only managed to find out the route they take yesterday, so i labelled them NEW. aha.
yea. First i took a 157 from the shell station.
Somewhere inbetween i decide to stop..Look around the bus services,saw170.. Didn't know it'd stop at Woodlands Checkpoint where i can walk back. So yea, took it. :) :)
Omgosh la, i've took 157 so so many times & i dunno i can stop inbetween & take a straight bus back home?!? So yah, happy tat i discovered a new way back.
Kk..I was saying LemonBoy & RyanBro makes my day rite? I shall explain why simple things they do can me me real happy. I'm easily contented :)
Shall talk about Ryan First.
This boy called me i supposed after the concert is over while i was sleeping. His sentence woke me up. hehex. It goes:"Zac, you wanna join us for for dinner? Clement & gf is around too..."Yea, as much as i wanna go, it's way too far & it's late in da nite le, so i have to give it a miss lor.Well, i appreciate tat i'm remembered at tat point in time :) Heart warming. Neeway, been sometime since i meet up with this sweet bro. Tat call came a lil unexpected. Wadever, it's always nice to be remembered. The main point which touches me most, he has requested to dine near my area. How nice. Omgosh. Love you many,my bro! aha!Cya around... <3!
LemonBoy <3
Aha... Same thing, i guess shortly after I got Ryan's call, i received lemonboy's call. I was like in my dreamworld when he calls. So i couldn't really pick up the contents he shared. But it's something to do with, sorry i got you drenched in da rain earlier on & are you okay sort of content. It was again heart warming to receive care & concern from somebody tat cares. :) Simple lil gestures can make me happy.
These guys are LOVED.
Nth much to blog about...Just wanna share & say big thankiew to these two darlings tat made my day with their simple gestures. LemonBoy & Ryan, i love you guys many many.
take care all~! Lil secret, i still miss dearie even though...LOL! :)
Kaileng wrote
9/03/2008 12:05:00 PM