Friday, August 01, 2008
Back to update!
Finally i've completed the status report,the ppt slides are already handed in for submission. Woohoo!
Currently stress-free, but i heard there are more projects to come! =_="
More projects to come, but ppl are leaving one by one.Sianded! The reason i'm not leaving is simple la, i love Mediacorp cos i can see my fav ones. hehex!
Neeway,thank you dearie for nv failing to put on a smile to my face! You know what?
It's always nice to hear from you! Hehex!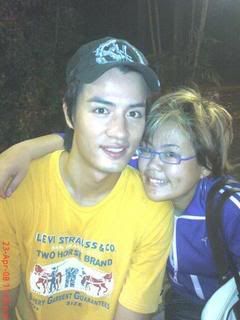 I Love ya! Do take care as usual :)
Yesterday went to the usual place again to wait for Princess No. 1 as for me la..
Rui En :D :D :D
They came back the same timing as the very last time we decided to wait for her :D :D
Poor Elvin gotta cross over to another team to continue his filming, hope this dude got enuff rest then..As compared to last time,he's really getting better in terms of attitude. :D I'm really impressed.
Neeway, here's the pics with my No.1 Princess Ruien! Da coolest too!
-----We especially likes her when she SMILE with her teeth shown,hehex. :D :D :D :D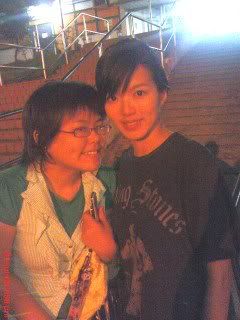 ---This picture got so much 'Feel'..hehex!
It's always nice to see her, she made our day.Though always rushing for time, she nv once reject our photo requests & makes the effort to do a lil catch up. Do take care lots esp next week when u are starting your afternoon shift which usually end filming after midnight. :D :D :D
Happy filming, dear princess!
While waiting for No.1, No.2 was around too! Ah Dawn! :D :D
Yeap, she is going off for dinner, so yea, took some a pic jiu let her go off le :D
Happy Filming to Dawnie too! Catch Qiu Ai tonight! Last Ep! :D :D
& this is the Mr Nice whom i'm so impressed with :D
Elvin!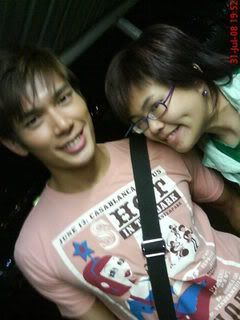 --------Despite rushing for time, he made an effort to hav a pic taken with everyone whom is around. Not even tat, when the shot is blur & he heard it, he requested to have another one taken. How nice is tat? I think he's nice. Really. Jiayou le, elvin!
No more le. shall end off with zilian pic of me & chacko(Michelle's adorable Rabbit) .. :)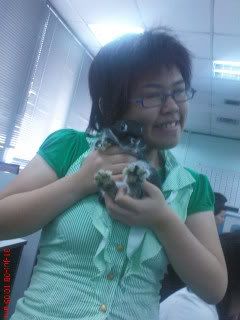 Bye! I miss dearie & the many loved ones! :D :D
Kaileng wrote
8/01/2008 01:42:00 PM


Tuesday, July 29, 2008
Omgosh. Wads happening to me? I forgot to zip my pants all da way till work place. Luckily i was on a cab!
Finally i got some data done/clean up, came up with a chart, yes it's part of my work/job. :(
I suppose tats wad data-entry needs to do. & FINALLY i know wads data entry all about! Omgosh! Dont like! :(
Sometimes i tink my brain cant function as well as others do leh.
Simple things also i dun seemed to be able to work out something, I'm always needing help from others.
THANK GOD i got beautiful ppl around me tat will always help out whenever needed :)
Neeway, My throat is getting worst! Losing my voice real soon, coughing non stop too! Argh! Dunno wads happening to me. Sianded. Oh, being random, dearie went MIA le. haha. No news i almost thought he went missing but since he has been accepting friend request on the net, he shld be fine la hor.Or perhaps, perhaps It just so happen tat i miss him again. hehe! :D :D Dearie Dearie just what are you doing now? HAHA!
Yeap, so yesterday i went to VivoCity GV, to catch sweetest Nat for moneynotenough movie premiere...Dont ask me why i know sweetest would be around hor..it just so happen tat i hav a feeling tat he'll be there. :)During Movie premiere one or two of 'my ppl' will be seen as always,hehex! though i hope JonT would be around too.haha! But too bad la, he was not seen.Xueting says he's busy selling cars. LOL!
3 yrs already still busy selling cars ar?!? I hav no idea wads he doin now, i guess he went MIA too like dearie. haha!At least dearie is often on da net but! JON jon, are u doin well out there? I hope you are!
A pic of u & me to show tat you are always on mymind! HEHEX!
Nuff said, Sweetest is still as sweet! Love him!Oh yea, this is the 2nd time i missed superband recording, most importantly sanyue's performance! argh! I wanna hear Fion! But i guess gotta weigh which is more important, so i went for movie premiere instead :) I promise to be around during her next performance. I wanna hear her live! :)
First time i missed her's was when i went out with dearie, so yea. Wad a coincidence. :(
Pics! Of cos sweetest's pics will be up first!
---Always my sweetest, He looked much refreshed than the very last time i saw him which is at diya's TVB marathon when he looked really tired :D :D
-----Another one! Natho=Ultimate Love! Hehex. I told him tat i'd leave once they go in for the movie but in da end, sweetest asked why i'm still around when their movie ended, so i told him i'm waiting for him just to say goodbye :D :D :D
Pls take good care of yourself sweetest. :D :D Kaileng Love & support you in wadever u do! JiayouJiayou!
* I was trying to snap pics of sweetest, but was too far away i guess :( *
Yang Yang!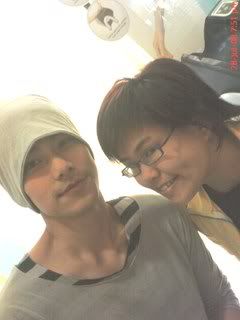 ----Hehex, was a lil surprise to see him there as well, yangyang is on iweekly. Do support! Fans of Elvin also can grab a copy! They are on cover for some sports theme :)
-----Always da Mr Nice :) I hope he'll stay longer this time @ Sg! Happy Filming! :)
---Twins Effect..Paige & Yahui Really bears some resemblance :)
----Nicey Paige! :D
-----Nicey Yahui! :D
----Taking a pic with the twins :P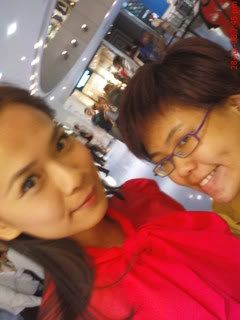 -----Feli :D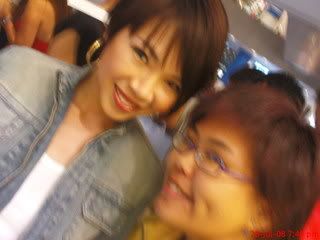 ---Carrie with her rocking new image! :D
----Pretty Joey :D
--Joey! :D She was so nice to remember 90!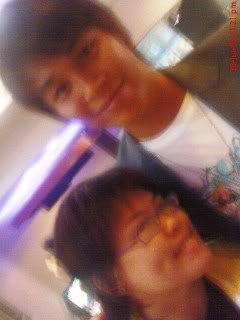 ---Chengxi, one last shot before he went off with grandma.. :) Such a good grandson...
No more le lor, yeap. Have a nice day! Dearie Huan & Mr JonT, i miss you guys!
haha. end of with a random pic of Pam & Baoguang. So funny they way they communicate. LOL!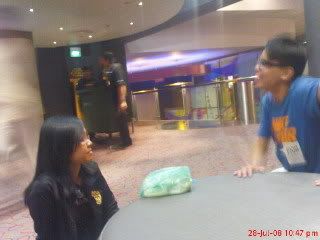 They way he speaks is damn funny la, & he's always in the same outfit! LOL!
Kaileng wrote
7/29/2008 12:43:00 PM


Monday, July 28, 2008
Woah..I haven update for days! hehex!
I nearly thought i was about to burn my house down yesterday when i got home, i was trying to get my handphone charged, so i switch on the switch, suddenly all i heard was one loud blast with a spark tat happened lo,the smell of cable burning is unbearable.. then whole house electricity tripped i tink,.. :P
Neeway, i had nice weekend spent with loved ones, how bout you guys? :)
Must be pretty fun as well yea?
Yea..Finally nth much on idol stuffs on this entry,
but there might be still a lil bit la cos i bought xiaogang laoshi's concert DVD!
Omgosh..Kaileng is so in love with zhouchuanxiong aka xiaogang laoshi!
His soulful rendition of songs & everything bout HIM,haha! i just love xiaogang! Omgosh omgosh! LOL! I first knew him thru huang hun lor, then to his older hits when he sang when he first release album known as xiaogang back then with his song wo de xin tai luan :)
HAHA, i'm happily watching his DVD now @ my office, haha when i'm suppose to be working! Okay la, i do my work while watching him :P This DVD is worth my money! Love xiaogang!
-------------------------------------------------------------------------------------------
(Sunday)
went to catch SP band concert lor to support my granddaughter, his sister. :) I think we went off during their intermission :P The concert was not bad la. their student conductor got me laughing. LOL. Been long time since i saw big actions coming from conductors. HAHA like tat more feel huh...hehex! SYF got alot if i can remember. LOL! Wadever he's cute when he conducts...Yea, & i din know i didn't reply your message means i'm going leh, Mr Kazaf! haha.. I know i owe u money dun come after me la..okay? PLS? haha! Shhhh.. It's always nice to hav u around la!
-----Concert titled 'I Believe In Music' :)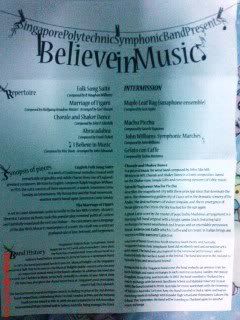 --Front consists of Band's repertoire plus short intro of the musics...
--Back consists of Band's history,conductor's Bio,player's names etc.. :)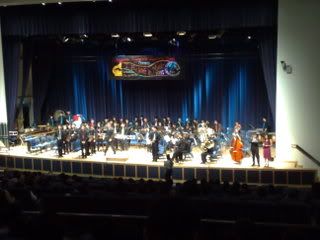 ---Their Band :)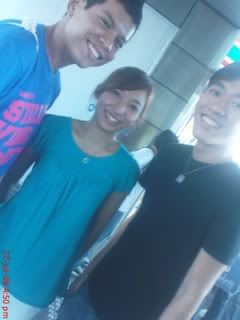 ------Saxophonists reunite :)
----His Sister,my granddaughter :) LOL! This pic looks like some graduation pic :) See tat flower on granddaughter's hand? It's specially got for her :) :) Sorry no orchids? hehex!
Neeway, we went off during intermission to Orchard :) Do what lehz, initially wanna spend off his Taka vouchers, but somehow ended up in K-Box Cine for K-Buffet :) Argh, cos of the karaoke session, my throat hurts & i nearly lost my voice. :( But i had lotsa sashimi! Love Love Love sashimi! Nuff said, let the pics do the talking..
Of cos i'd love to put my zilian pics first? LOL!
----- Actually i love this shot. haha! Thanks ar!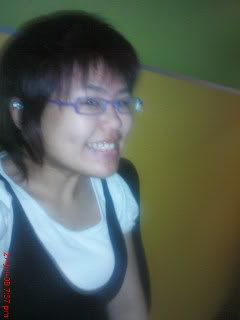 ----Blur Blur pics are the ones with most feel! haha!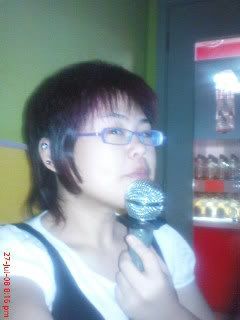 ------I love microphones!
-----Anything wrong with my eyes? got diao teng?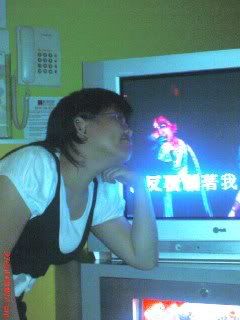 -------I Love Xiaogang :) tat i've to look into his eyes! haha.
----This is his only solo shot tat can make it.. LOL!
& dunno why, we dun seemed able to take nice nice pics yesterday! :P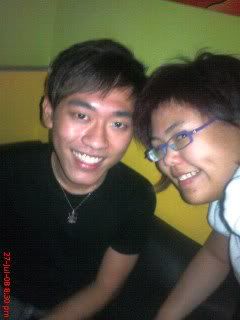 --- I looked so retard :X
----Same goes to this shot. :X
-----My Favs! Liquors :) Chivas,Martell,Vodka..the list goes on!
YEa, tats bout us @ SP concert & KBox :)
-----------------------------------------------------------------------------
(Saturday)
Suddenly have the feel to go down to visit my darlings-Relatives @ Tampines :)
So i went down on Friday nite, met them at Ikea after shopping around, we went back to their house :) Had some pratas. NICEY! It's so nice to see everyone once again. HAHA. Been months okay! hehex! Glad tat everyone's doing good :)
Yea, the next day went to have some dinner @ ECP, woah, extremely stomach filling. The whole table was filled with food, Curry chicken, Rojak?, Chicken Wing,Satay,Satay BeehOoN..Woah! & sugarcane juice! Can u imagine how much we've consumed? Omgosh lot can!After dinner, went to walk around :) AiyoO. I'm so lazy to type let the pics do the talking lah!
----Haha, ahger jie tagged on my facebook 'Pikachu' tgt with me & Chevy..I was laughing out Loud :P
---& this pic she tagged yiyi as 'extra auntie'..LOL..
---Trios :)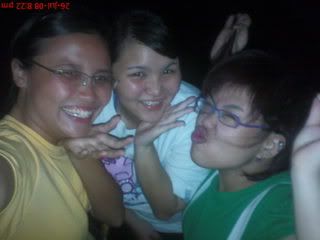 ----SiaoChaBors!
-----I like this shot with half my face instead cos tat makes her the focus :)
----Cousins for life :)
-----:D :D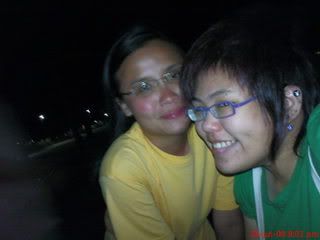 ---Why her face so red & my nose so red??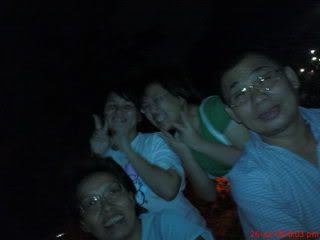 -----My Darlings!
---Another SHot!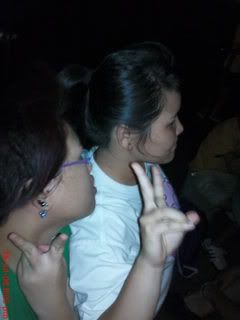 ---Wads this? Artistic Shot?
-----Zilian Pic 1 :)
----Zilian Pic 2, & i really love wind blowing on my hair!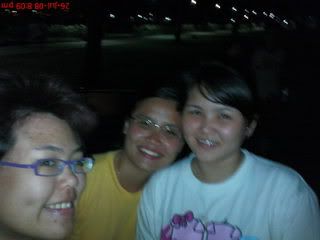 -----Ehh....My zipai sucks.
-----This seemed a lil better!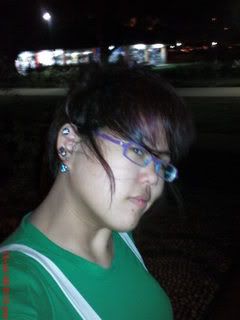 -----Dun look like me!
-----I love making funny faces :) :)
----Monkey ahling!
----So dark! But got feel leh!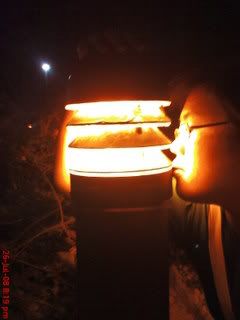 -----I can camwhore like nobody's business :) :) even with a lamp-post :) :)
--------------------------------------------------------------------------------------------
To end off,
I miss Dearie!
So here's a pic of US :)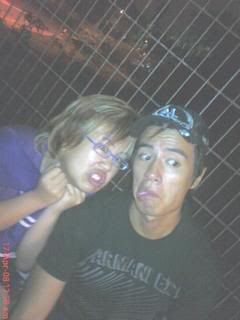 Hehex, i miss YOU!
take care too all & hav a nice week start :D :D
Kaileng wrote
7/28/2008 09:50:00 AM