Friday, November 14, 2008
Haha. Finally I
舍得
report to work place le.
It's like 3 days? haha. Weds, i took
MC
for my dearest BFF
Jasmine's
20th.
Then today, i came to work only like lunch time.
Actually i've been
thinking
if i would like to stay on this job. Seemed to me it's getting
boring
.Nth much to do, & yah, dun hav the urge to come to work every morning. & to Me MC means rest at home, not as if i really go see a doctor.
So today while i reach, my
sup
called me for a discussion regarding my
absence
. So i explained lor. Using
excuses
such as family probs & etc which obviously i think i'm makin all up cos i simply just dun feel like coming to work? Argh. Okay, so we had quite long discussion & i really think she made her points there la. She's not
scolding
me or wadsoeva, she's just trying to bring across her
regards
as a supervisor. & yeap, i
know
&
understand
. Therefore, I gave her the
promise
tat at least I'd be more
responsible
to my job yah.. i dun tink i am
resigning
until perhaps chinese new yr over bah, now so
difficult
to find a job, you know thousands of ppl are sourcing for job & yet cant get one? tats how difficult to look for a job outside says my ex sup when we met up for lunch sometime back..
*Well, i guess not many agrees to the way i work, but i guess tats how it shld be & the way to get things gg. It takes two to clap.So sometimes, pls undertstand if the call volumes gets too high or i want something to be done in my way? :)
*
Neeway,
wadever you may be doing, be careful, cos people are watching. :)
kk.. Nth much these few days except my dear gurl's 20th, & my usual jogging routine.
We celebrated dear
Jas's
20th at
Sakura International Buffet
! =)
The food was err... not bad lah, normal lor.
Sashimi
still rocks. Had whole lot of it. haha.
Then headed to
clarke Quay
,
Lunar's
Weds Girl Nite Out.. :)
Lychee Martini
sucks. Not nice at all. So we left after first drink, walk around saw this club
Attica too
, ladies nite too. Went in. Woo! So smoky! haha. If you gals are
game for drinks
, tats the place you should visit!
5 free drinks
alrite, & when you order vodka, the vodka volume is definitely much more than the mixer. Heex!
Piceys!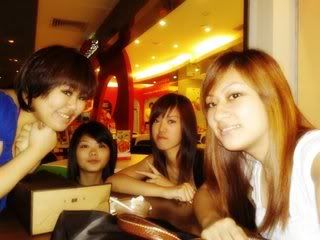 -----My
BFFS
! =DDDD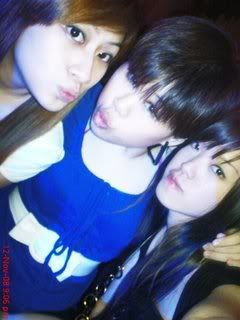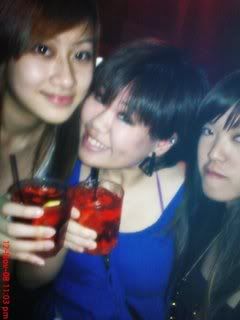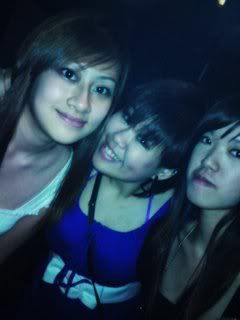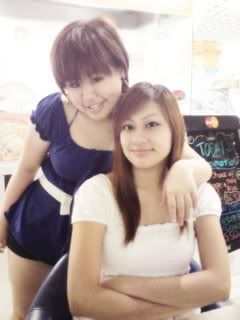 ---Fav pic out of so many!
-------The
gurl
tat loves GOLD color. heh!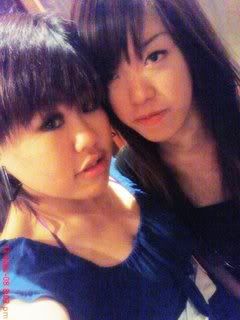 -----Oh. the perfect eye sight gurl. haha!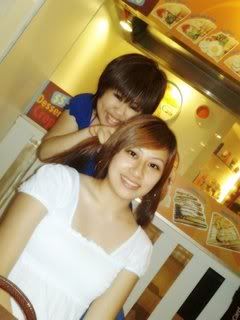 ----Her Hair is almost messed up by me!
For full set of pictures, visit
http://www.facebook.com/photos.php?id=748941489#/album.php?aid=84965&id=748941489
=DDD
Okay, i know my
thighs
are kinda
"FAT"
, or rather i'm kinda
plump
, BUT! Please dont remind me again & again ! :(
Sad lehz...
HAHA. shall end of with random zilian again!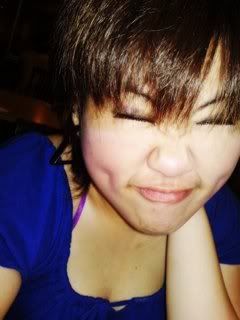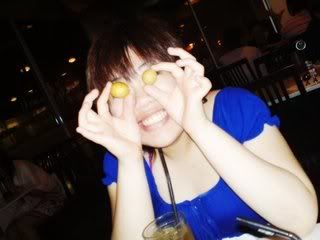 --From eyes...
----To nose...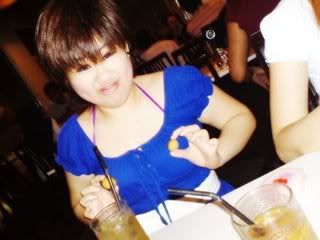 ----& then! LOL! They dared me to do this!
Tats about all bah, i NEED to learn to LOVE MY JOB. Teach me ppl, how to do tat. =DD
Random alil bit,
Jasmine,Ailing,Sharold
are my loves! =DD
Not forgetting! You know
who you are
. =DD
Kaileng wrote
11/14/2008 02:34:00 PM