Thursday, September 11, 2008
Yesterday.. went to send Nicole Laoshi off & to see her for the very last time.
It was very emotional though we all know we ought to be happy for her cos she's up there at heaven's home..
Well, even if we teared, it was all happy tears :)
Okay lah, to be frank there's still sadness which lies in those tears cos our loved one has left.
Yes, i got to hold her hands when we see her for the last time. I felt warmth. I really do.
Tat was how she was like when she's still around..always putting on her smile & being really nice to all that was around her.
I heard that is even till the very last minute of her life when she was in pain, she didn't want to show any pain from her face, & still puts on tat very bright smile..She even made everyone tat visited her felt warmth by trying to sit upright & talk to them.
Laoshi, you'r really one of the nicest lady i've come across.A Legacy.
I hope we'll all live the Nicole's spirit, tat is be passionate about every lil things we do. Most importantly, when you'r on da verge of giving up, press on! Eventually, you'll work out something. When there's FAITH, there's hope :) I believe Laoshi would want to see everyone of us working towards our dream & gives our best in wadever we do.. :)
Actually,I was touched when Yanzi came to see LaoShi.
Over the past 10 years or so, they've worked tgt, shared a close relationship.
She even shared a very good testimonial about Laoshi during the last service @ Mandai.
Actually not only Yanzi, but when i see so many of Laoshi's close friends coming to pay respect to her, i felt really happy. Tat simply reflects well on Laoshi's character. She's well received by all! :)
Neeway, Nicole Laoshi shall live in our hearts always.
Pics from Laoshi's wake: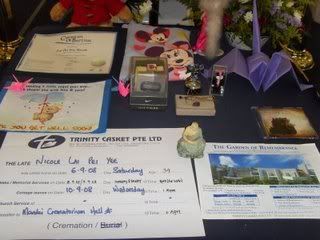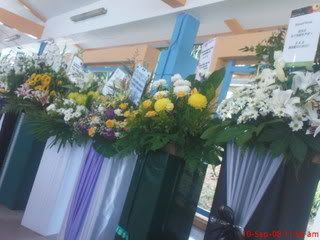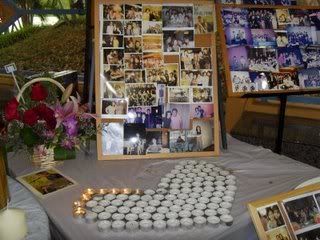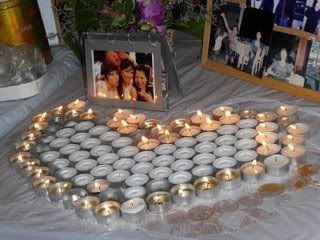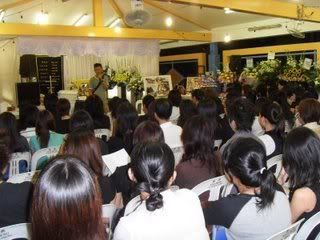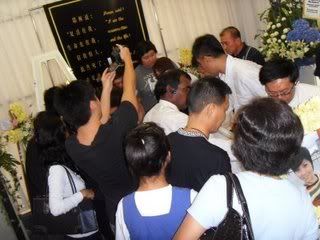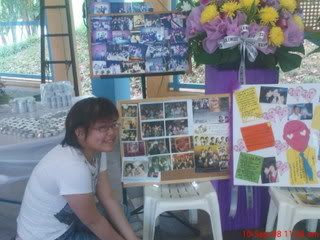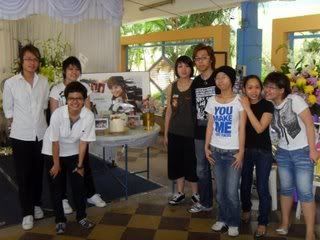 ----------------------------------------------------------
Wadever, i think life is really unpredictable. Really cant help but whenever i see Carmen & Aunty broke down, i feel the pain.
I hope GOD will watch over them & yea, stay strong.
I know they feel pain but,they've been trying to be strong, such tat in front of Laoshi's friends they try to refrain themselves from crying.
shall leave you with s beautiful picture of Laoshi :)
------So pretty, tats Nicole Lai :)
* Life- Don't Let Life Discourage You.Everyone who got where he is has to begin where he was :)
Kaileng wrote
9/11/2008 09:51:00 AM