Friday, September 19, 2008
Still on a happy mood! LALALA!
Esp after yesterday.
I felt so blessed to even meet strangers that are so nice to me/us.
Neeway. I salute myself. This is the only entry whereby i took some effort to combine different pictures tgt to make posting easier.Lesser picture in a way. AHA!
Took da whole morning to do so though.
Neeway story goes. Yesterday, basically i was on a high mood cos of Donnie Yen LOR!
HAha, like him since i saw him from da movie 'Dragon Tiger Gate' co-starring shawn yue & Nicholas Tse. Yeap, read from mypapers tat he's coming over to promote new movie painted skin & they'll be in town @ Orchard Atrium first while later on proceed to Great World for Movie premiere. Yeap i went for the 2nd.
When i reached,i was slightly disappointed cos we cant get into the enclosed area(reception area) specially catered for those with invitation only. So sianded lor, i thought i can only peep thru the glass panel already. :(
After some point in time, some really kind-hearted uncles approached us & asked if we would like to catch the movie.Well, we very much love to except we hav no tics. So they passed us some tics though the seats are scattered. We cant be thankful enuff for the kind gestures.. :) They were even so concern about whether we can get up in time the next day for school/work. :)
Yeapyeap. wad add on to my day was Deariehuan lah.AHA!Didnt expect he'll be there. He came with colleagues from mdc, yeap. Took some pics, did some catching up :)Check out our NG pic which i find it 'cute'. Heex.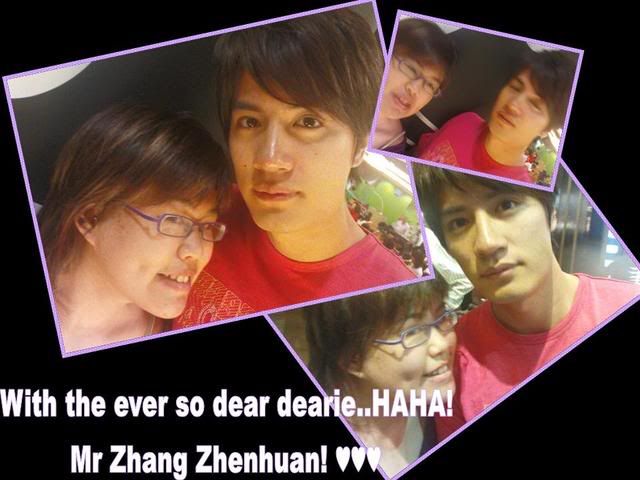 Loves!
----DONNIEEE !!!! 'Real Bullets!'LOL! Translated from his chinese name! =_="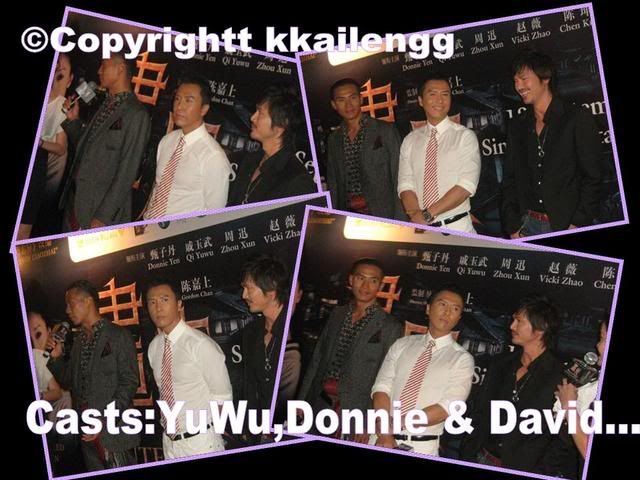 Picture Credits to Xueting :D Thanks babe!
Stars Spotted:
Without them, I'd be all alone for the premiere! Friends are loved... :D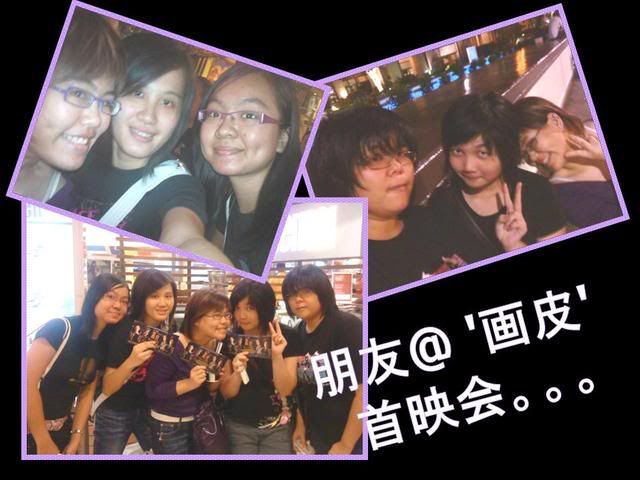 Tats about all @ the movie premiere. Neeway, go supported painted skin yea? Nice movie, nice casts. Finally we got to experience how a movie premiere is like. It feels good to be in da same hall as the artistes whom are there. & yes, i was in da same theatre as Donnie la! aha! His wife is around too! :D
Afterwhich, Pam & xueting left for home while I acc Daevon & 90 to iRumour wait for Wenhai.Oh, we really kenna surprise there heheX! By looking at the pictures i dunno if you can figure out who were our surprises ? hehex.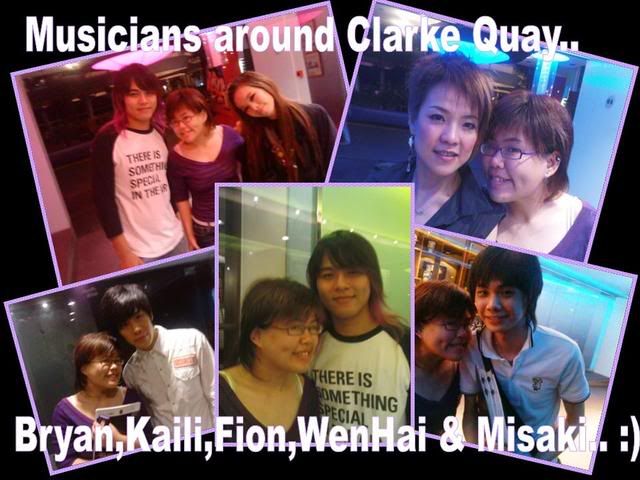 Yeap, they came out round 12.30am plus like tat, after finding them,went to grab Mac & cabbed home. Reached home @ 2am :) Heex.
Wow. I know this entry is as usual lengthy BUT to me it somehow was one of da shortest le.
Shall end off with Zilian Pic again. I love Purple I really do.
BYEE~! *Painted Skin...Donnie!*I wanna see owner of carplate 123! :)
Anticipating!
Kaileng wrote
9/19/2008 01:53:00 PM