Tuesday, August 19, 2008
I am happiest as of yesterday :D :D :D
Yea, all bcos of one special person,Dearie Huan!
Btw, congrats SanYue! *Fion!*
Finally i got to meet up with this special one,
you know wad? It's extremely difficult to ask him out lah.
Probably there are just too many babes & even dudes asking him out every now & then..haha! Dearie is almost popular among his group of friends alrite...hehex..
Btw, Dearie is single & available, so babes, i'm promoting him, go after him! WAHAHA!
Hopefully dearie wont kill me for promoting him! *ShhShhhhhShhh!*
Yeap, he came back to mdc,Some formal discussion going on!Everything was good, yeap.
After He's done, met him for dinner @ the canteen.Thanks for the treat my dearie!
It's so bad of me lah, everytime he tat he asked wad i wanna have for dinner, i'll go, your treat ar? HAHA.Neeway, he's meeting his friend, so we didn't stay for long.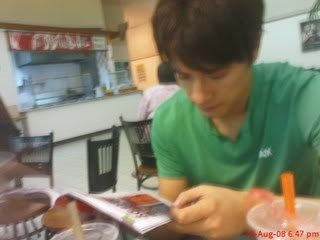 ---He finds it amusing tat the magazines he bought always not much things to read, while magazines others bought usually has much more things on them.
---I love this shot, you dun hav to see my entire face, cos he shld be your main focus :D :D :D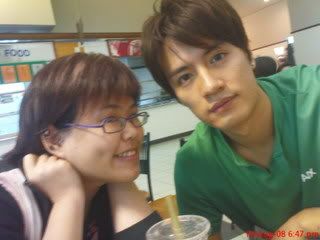 ---Joyce says got tree in between us, okay, got GAP, so we retake another one :D
---- :D :D :D
As we walked out, i went to collect superband ticket lo, i thought not to waste the tics i've reserved. I dun really hav the intention of catching the show la, since he's meeting his friend & i am accompanying him there.
But yea, he shocked me when suddenly he said he wanna catch SB recording? :D
Neeway, this is da first time i feel watching superband is so meaningful cos somebody is beside me.hehex! We left after AMPs performed. Great Job guys.*Ngak!*
SO funny when the judges comment, Ngak's expression very 'Jian(4)'!
Dun wanna write too much, so yea. We went separate ways when he met his friend :D
Along the way, i guess he miss shuaishuai too much, tat he keep singing lang hua yi duo duo!& i almost thought i brought him to take the wrong bus. HAHA.
Wadever it's really nice to catch up with this special one after some time.hehex, Love dearie loads!
Shall end off entry with my zilian's as usual :D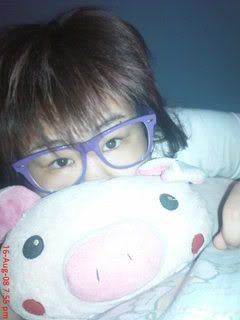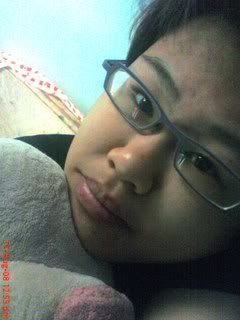 Byee. DearieHuan= Love many.
I'm still crazily thinking about meeting Lin Dan whom dearie has been correcting me the correct pronounciation to this name. Oops! I kept calling Lin Dan, 林旦(4), instead of 林丹(1)..
Kaileng wrote
8/19/2008 09:15:00 AM