Friday, August 22, 2008
hohoho! I just feel like blogging lah! hehex!
Well, i'm almost blogging on daily basis unless i've got no pics to show!
Or at home on weekends when my network is SUPER SLOW.
Oh. our only hope now lies on Jiawei, and tat is if she can get a bronze medal. But chances are unlikely, cos she's facing World No.2 Guo Yue? But well, she ever won her before lo. So Just pray hard she is not on at her best. just like how she lost to fellow team-mate world no 5 wang nan, something quite unexpected. So yea. GOGO Jiawei!
Neeway, i really feel tat i'm a fortunate gurl.Everyone i've met are so so good to me!hehex. Just yesterday I just got a drink treat from meifeng JIE, yea, mdc canteen staff. I frequent her stall quite often la cos the food is nice! hehex. Thanks Meifeng Jie! I felt so loved la, the staff from mdc canteen are just too NICE! :D :D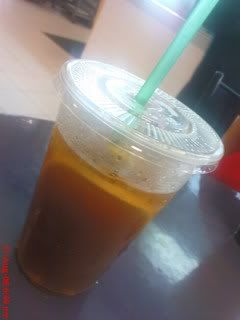 ---The sweetest Lemon-Tea-O I ever had :D :D MeifengJie saw me not having anything for dinner so she offer me a drink treat :D :D
---There she is, da super nice meifeng JIE! :D :D Tat was her with ShuaiShuai :D :D I owe her this pic! Oops!
Yeap, yesterday i got the chance to catch up with friends i've not seen for sometime :D :D
Tats Kendric,Songxian & Angela! :D :D
Infact i was quite suprised to see the guys there, asked them wad they were there for & they said they were waiting for Angela. So i waited tgt with them lo, since long tym din see them. Chatted quite alot, glad tat they're all doing good :D :D
& Angela is there to pei Xueting wth?!? & i asked her why she said she has been 'pestered' by xueting. okay. Not quite a good word here, i shall just say XT has been asking her out but she's not free.So yesterday, she make herself come lor. BUT my dear Angela, sometimes when you really cannot make it or dun feel like going, just decline her alright. Prolly you'r very much like me, dunno how to reject ppl. hehex. So yea.
Neeway, pics with the lovelies!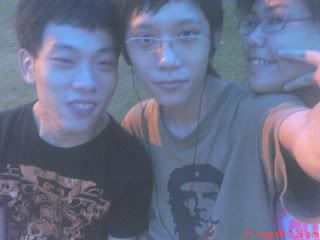 ---Songxian,kendric & myself! Took us so many shots to get a proper one!
---Angela Babe! :D :D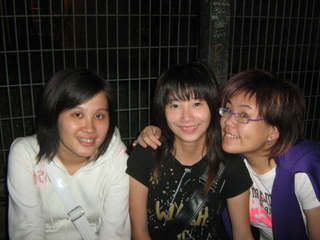 --Xueting,Angela & mie.
Btw, we were waiting for JY tgt with Xt, but sad to say lah, we missed her when she drove past. So yea. & this XT, aiyOo, i nth to say lah, those tat know her go imagine the senario!
Well, so for xueting she keep repeating da same sentence, "today came to see Leeteng!" =_="
Well, for me i saw Pinghui & Gary while waiting for xt's grand arrival!
---Nice dude! Me & DaXiong @ Canteen :)
--Gary! Stephanie's senior.. hehex!
& yea, while waiting for JY, leeteng was seen, poor dude suffer leg injury? Get well soon :)
& yes! 88 was a blur queen yesterday. she mistook a group of senior citizen as some 'stars' la! HAHA!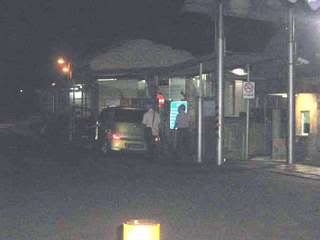 ----HAHA! The situation was so embarassing la! the gurls were laughing at me when i mistook them for 'superstars'.. :P
Left soon after JY went off lor.Reached home at like 11.30? Then saw my sista doing some threading. SO i got curious & learn a skill or two from her! hehex. & my end production?!?
Tada!
--Kaoz. Threading needs skill de okay.It may seemed easy, but i took two days! hehe! Thank GOD i manage to finish it!
-----Threads are the important materials! Neeway! Did you realise i used dearie's name? hehex! Nope, not giving to him, keeping it for myself! LOL!
Shall end off with my random zilian again?!?
---Getting really crazy @ radio gate!
--Kenna captured while i was recording my sound clip! haha!
No more! Neeway, everyone seemed to be having major exams coming up! Jiayou le!
Dear Kazaf, finally i'm saying i miss you! LOL!
Well, i miss Dearie too! :)
Oh Bro Jon has got an event coming up at esplanade! Do support yea. tink it starts from 10.30 pm?
hehex, I'm going there to see Ngak as well! hehex!
Till then, good day to all!
*30th Aug! catching JonT as well !*
LALALA.KAILENG is happy.
Kaileng wrote
8/22/2008 03:10:00 PM