Thursday, August 21, 2008
Hello! I'll enjoy blogging this entry today! HAHA! From morning till now, i haven been doing work in my office. I was happily surfing net & tagging facebook photos!
I think i've tagged more than a hundred pics. & these are all overdue ones. haha. created them like long long time ago, dunno why, i suddenly just feel like tagging these beautuiful peeps! So sorry if your mailbox is flooded by 'kaileng lim'! LOL!
Neeway, yesterday Joyce wanna wait for her prince Elvin, so we waited lor. hehex. i can wait for No.1 princess Ruien too! :D :D so we waited & waited, they came back round 7 plus 8 :D :D :D
While waiting, saw Feli & AhDawn too! Thanks Feli for your sweets! Oh my, how good it is to receive something from the hands of a princess. hehex!
Shall Show fav Princess de pics first yea?
Tats Rui En :D :D :D
---Hehex, we looked at each other & i went 'as usual?' meaning she's in a rush, and she said yes she is.. :DHaha,surprisingly she got wad i mean? So yea, took some pics & she went off le. Hope the Iced-Milo keeps you going for the rest of da day, dear princess! :D :D Happy Filming!
Ah Dawn:
----With her staff Pass, which dun look like her, hehex! We saw her while she's waiting for her damn nice manager whom always come to pick her up when she's done in da Gym :D :D
Jo! :D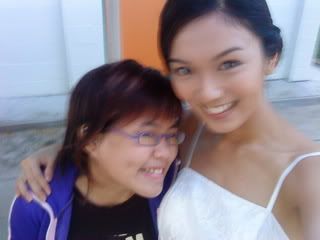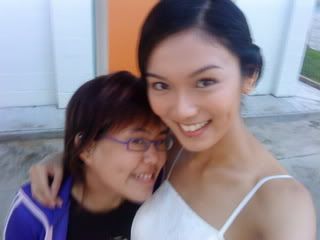 ----------Beautifully dressed up like a bride yet she says she's going to KILL? yeap. in her scene. I was like. woah. First time i see ppl wearing like dat to kill ppl?!?Neeway, dunno why i got so 'high' when i see her, our pics always turns up nice, & this babe is really good with cameras. Zipai skills rocks to the ultimate. :D :D Before she went off, i told her, 'Happy Killing!'. haha!
Feli: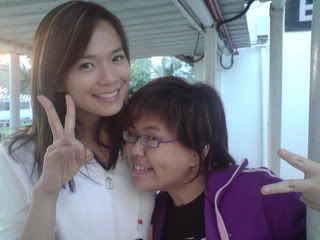 ---I love tat smile of hers. Sweet. Btw, she calls me MS Purple. haha. & she has this chemistry with Elvin, both told me they do not hav any purple stuffs on them & tat whether we can still proceed with the picture. haha. Of cos we can, my dears.After done with photo-taking, walk her down to her car & I left. She says she feels honoured tat somebody sends her right to her car. haha. It's my honour instead. Have Fun Filming! Haitong!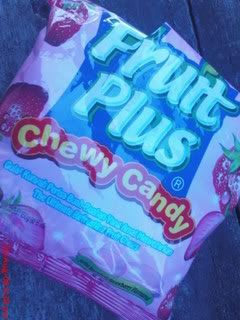 ----Sweet Treats from Princess Feli :) Thanks babe!
Elvin: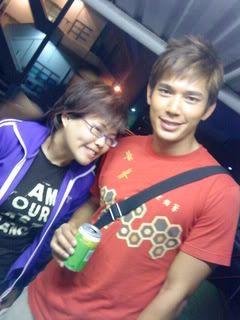 -----He really very nice la. Dunno wad to say about HIM. Only can say i prefer him now than before. Anyway, Elvin is disgusted by my purple obsessions. HAHA! Bag Purple,Jacket Purple,Specs purple, almost any other stuffs are in purple!
HAHA!
Call me crazy, i just got myself a purple belt yesterday. :P
This dude is really cute, Joyce told me he mistook Screensaver as Virus?!? =_="
Neeway, he thanked us for waiting for him for 2 hrs. How the two hrs came about? we waited for ½ hr actually, but there were 4 of us, so add up to 2 hrs lor! haha! Elvin's clever! :D Okay. Enuff of Elvin. Happy Filming to you too!
Pics with Michelle whom says i've not taken single pic with her.hehex. so we took quite a couple of shots! :D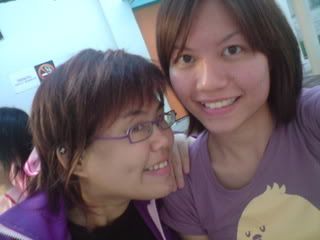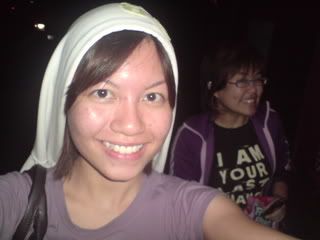 -----I tink this is really cool. On our way to bus-stop.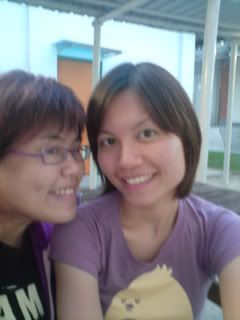 -----She dun like her 'square' face? I tink it's unique lehz!
Did some collages of those close to my heart too. They're also used on my blogskin.So now i'm giving you clearer view of the pictures :D
----This is the one tats really matter so so much to me :D
---Sweetest!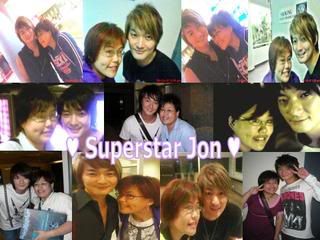 ---Superstar Always!
----He just has got something special in HIM :D
---Regional Star!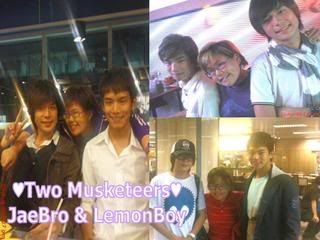 -----The two ultimates!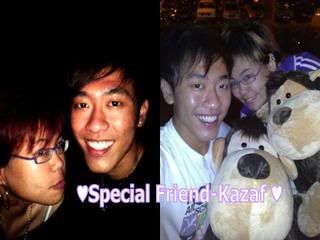 ---He's way too SPECIAL :D
---My darlings from YTSS!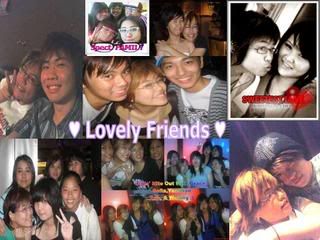 ----To da present grp of nv say die friends :)
----------------------------------------------------------------------
Well Today mocca lunch out tgt! haha, i guess 1st time i'm not so anti-social! took so many pics outside mdc inside mdc! It's also my dear Yuza's last day. She's so excited to leave media-corpse can! haha!
LEt's see da whole load of picsss! I'm not organising them in order! So yea...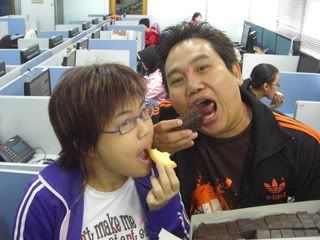 ----Delicious!
------The sweet babe bought for us this!
---Aww! Nice!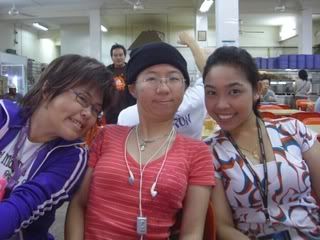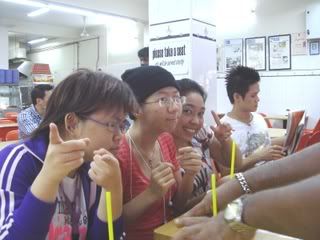 -----HAHA! I'm always looking at her camera! Camera sensitive la!
---Dun need to look for me! I'm not inside :P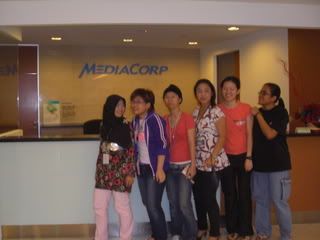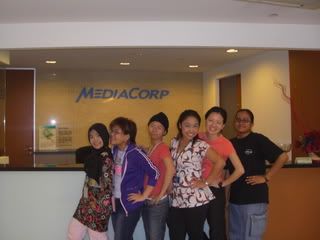 ----- I love this!
---It was meant to be a funky shot lehz! why liddat?!?
-------------HAHAHA! Candid seh!
-----Reflection with MISS Yuza. :D :D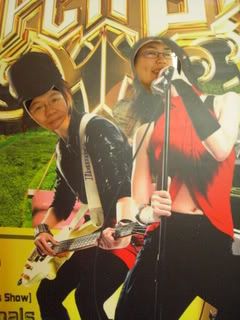 ---HAHA. Support us for superband! :P
---Ever Crazy Supervisor. Where to find such supervisors?!? LOL. we were singing to the tune tian mimi! haha! BTW, he's leaving too! Aww! Sian-ded.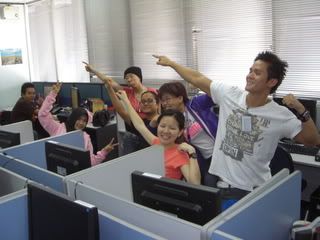 ---HAHA. Check out our matching pipes!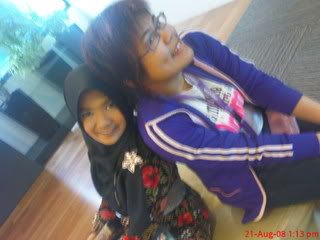 ---Me & Farihan :) Get well soon babe.
While we'r on da cab reaching mdc taxi stand, Joyce saw someone familiar! Yangyang!He was walking out of mdc. So i asked her to quickly stop him! haha. managed to & took some pics! I'm so glad tat he'll be working with Joshua Ang, yes, the i not stupid handsome young dude. HAHA on a new show! Jiayou le, yangyang! The show will be based on table tennis cos we won a medal. MDC is overall clever. HAHA. Neeway, i was just thinking how the Dai-shus, oh, yangyang's fans in China whom name themselves thay way, will react when they saw the number of pics i easily had with yangyang! Oops! Are they going to kill me? I hope not. YAngyang is still very nice as always! I wanna catch his new shows!
-----Yangyang, jiayou lo! :D :D
& as usual end of with crazy zilian!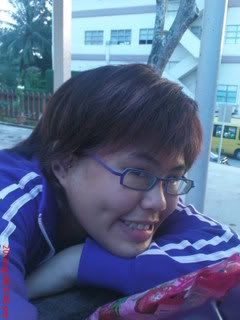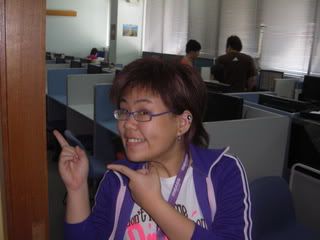 --Office!
----I hate numbers! Stop asking me to get the numbers right! Stepmother sucks argh! Why she is not the one leaving instead? aiyOOOOooooOoooo! haha. Dun like her means i dont like.
Neeway..END OF ENTRY!
I miss dearie as usual! haha!
Sorry peeps tat are affected by number of mails you got from me cos i tagged hundred of your pics. haha! cya!
Kaileng wrote
8/21/2008 04:11:00 PM