Monday, August 25, 2008
Hello! hehex. Great weekends for me again! :)
Friday nite all da way to Sun! :)
Neeway, i just wanna say thank you to somebody, none other than lemonboy! :D :D
thank you so so much. I'll talk more about him later on.
*Jealousy can make someone grow more mature, believe it or not.
Well, i seen tat from my dear lemonboy. :)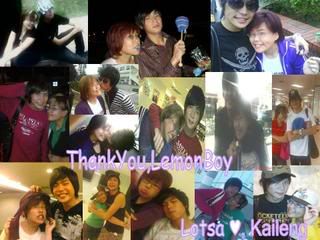 Omgosh. the above collage brings back so so much memories! Esp miss those days when we got crazy!
haha, i hav so much i wanna say about this boy la. Dunno izzit touched or wadever terms used to describe, i really feel warmth to note tat you actually care,& matter if my attention is spent on deariehuan. :)
Most importantly, thank you for making time off for the small gathering. It wasn't well plan, infact as an organiser, putting everything tgt for the day. I think i've failed. & I nv expected you'd be paying money, infact having asked you out, i think you shouldn't be paying at all! Neh mind, i've discussed with my darling friends, we'll give ya your treat one day, this time, you dont hav to pay a single cent okay? :)
You're still cute when ya jealous! :P
Lemonboy said something else tat at tat point of time i feel like breaking down, just tat one sentence. "Actually I'm really happy to see everyone :)"
Let's follow flow shall we? Let me talk about Fri Nitex first. Got a call from Amigo dearest, asked me go for a drink? Eh..actually i feel like declining..then he asked me to call random ppl..but they're all not available. Eh, with the exception of LemonBoy. So yea. I went on a cab, picked him up at vivo, head to the pub. Reached, started singing like nobody's business...cos aha! almost every song was ours. Sang until 2am, when then close for da day.
Pics @ the pub:
----Oh. Bar stand? :)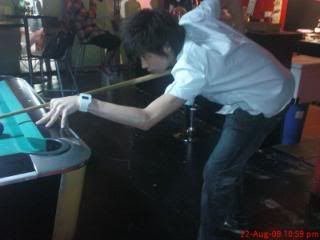 ----He takes his cue again. OOps. He met alot of strong opponents for the night. Plus, we play pool there totally FOC!
-----Artistic Shot.
------Shot of him having peanuts :)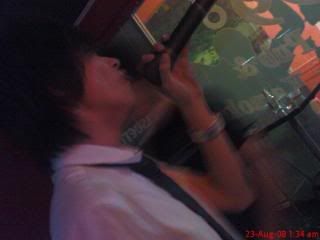 ---Blurred shot.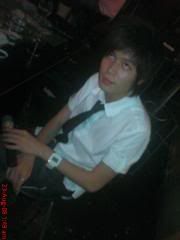 ------Wads wrong with his eyes?!?
-----So fierce!
------Finally he puts on the smile i love :)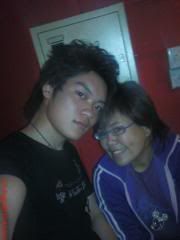 -----Amigo Dearest!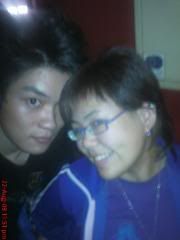 -----:) Poor dude, ATM card kenna 'eaten' by the machine!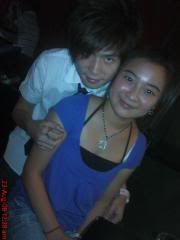 -----Clem with our new friend, mosquito aka wenzi :) I was thinking about JaeBro. hehex. wenziyaoyao! It'll be fun if they get to know each other. hehex!
-----LemonBoy! Y is this shot so blur?!?
----His Zipai is well known to fail. hehehehex!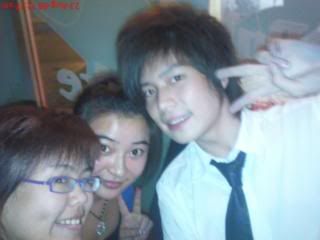 ------He says i cover her face. =_="
---His Zipai forever like this, if you get wad i mean.HAHAHA!
After helping out to close the pub, we headed to Club Sake again! aHA! Promised lemonboy i'd give them a treat, but i didn't hav cash with me & we didn't get to nearest ATM, so dear Lemonboy says he'd made the payment first :)
I always like the atmosphere there like how lemonboy likes it too. Almost everyone tat can really SING :) & yea, i saw some familiar faces. :)
Pics @ Club Sake: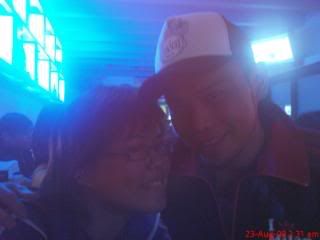 ----Ngak!!!!! Omgosh. hehex. their usual gang was there! :)
----I like this pic loads.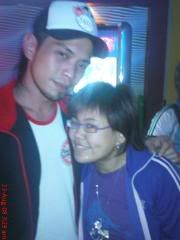 ---last picture for da day with well respected musician :)
-----With Jim Laoshi ..special appearance...by Dav..Oh my! He's good when he sings!
--Clem & LaoShi! :)
----I love it when musicians come tgt to produce great music! In da pic...Dave,Jim & Ngak :)
After finishing our beer, we left for home :) Sorry lemonboy, gotta make ya take cab home at such late hrs! Yeap, i went over to Amigo's hse to stay lo, until there's first train/bus. But i stayed longer than expected, left at noon time, cos i was sufing net. hehex! Argh! I shld really set aside one set of clothing at his hse so tat at least i can change? :) Neeway, thanks dear!
O.o i mentioned his atm card got eaten by machine right? So i borrowed him some cash & he return me with this: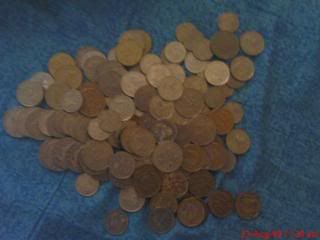 ------$50 dollars..haha!He was damn worried i do not hav enuff cash for myself la, so there he goes counting all da coins to make it to 50. :)
Went home, took short break left for event again! AHA! Superwoman, dun need much sleep! Headed to Esplanade to catch Dearest JonBro & Ngak. hehex!
----This is dearest Nat on stage :) I wasn't there to support. Argh! Thanks Tanat for your picture msg :)
Pics @ Esplanade Waterfront Stage :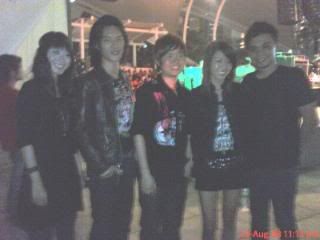 ---Awesome Musicians :) *JonBro looks at my camera* hehex!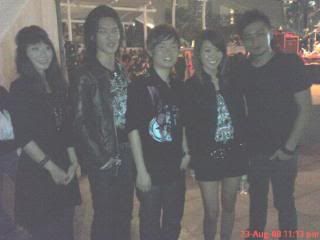 ----kaira,JonBro,JiaHui,Kewei & Ngak :)
----Ultimate Two! Clement & Ngak!
---Thanks Xueting for such a nice pic of Bro! :) :)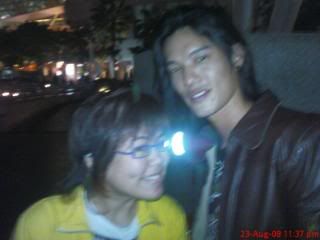 ---Dearest always! Forever my regional Star, JonBro! Bro is still bro, so sweet,actually told me I dun hav to get him stuffs everytime. & man, he was great. Esp like the closing. He was like a superstar infront with the rest supporting him behind for grand finale :)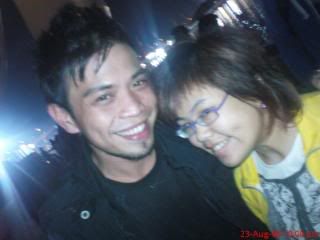 -----Oh my! I so so love tat smile of his! Ngak,you're loved. hehex. & he has got unique vocals.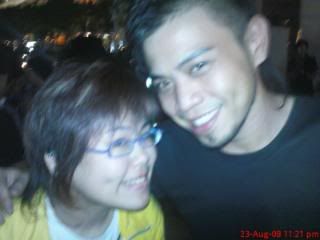 -----I like his music!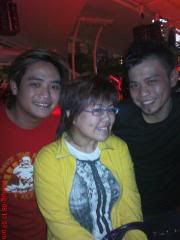 -----The ultimate two. great Combi. :)
----Jiahui :) the Yi ren yi ban was the best version heard tat day!
----Kewei Babe :)
--Kaira :) Shoo pretty.
& Finally Sunday. LemonBoy's mini Gathering. :)
Actually everything was so last min tat i felt F*cked up. LOL. Esp when i knew Lemon Paid much more than expected? Eh, infact, i shldn't make him pay anything, as he's considered an invited guest leh!
Neeway, settled everyone at HK cafe, had our lunch, played POOL,Sing K.
Wanna specially thank Rah & Olivia! You gals know why. :)
& to my dear friends whom attended the gathering. Fans too.
-----He looks cool when he's serious.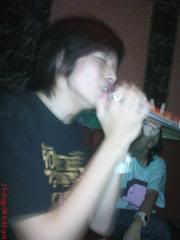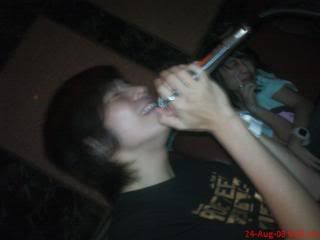 --Look out for mel. LOL.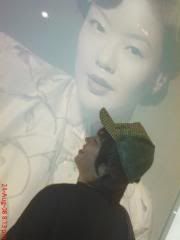 ---Clement & his woman. hahaha.
-----X-rated pic.
-----Artistic shot.
---He looks good! Argh@! why do i hav to spoil tat picture! :(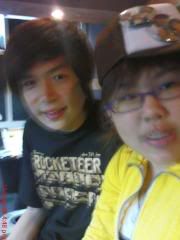 -----Another artistic shot.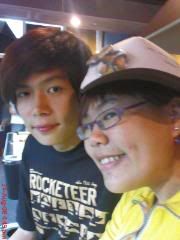 -------My face is way too big!
----Love this shot!
-----Chantrice! I love this shot! Thanks! :)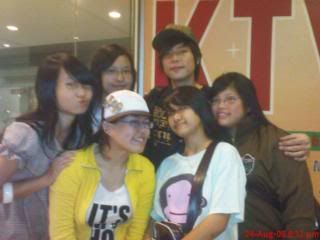 ----Grp shot :)
As usual, I'd very much like to end off with my zilian pics!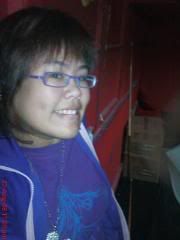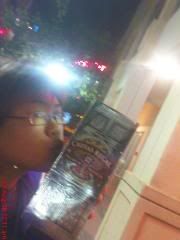 ----Chivas=LoveMany.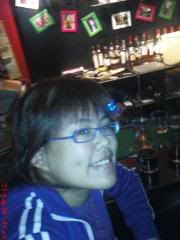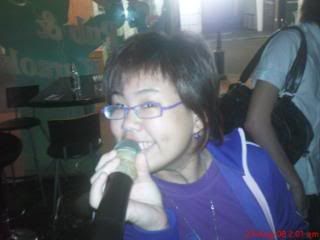 ------Banana.Kin Jio.Pisang. Wadever languang you like. I'm camouflaged! :)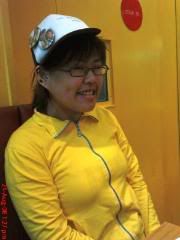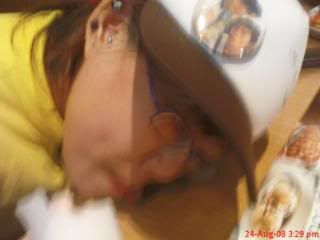 --Licking dunno wad.
-----This is nice.
:)
Bye. hav Fun guys! Thank you LemonBoy!
AS bright as a star ya shining, my dearest JonBro!
*I miss Deariehuan many many*
Kaileng wrote
8/25/2008 01:10:00 PM