Tuesday, August 05, 2008
Hello! For the start, Kaileng is really fortunate to have ppl she can call true friends :)
Just yesterday, i met up with one of them, none other then my dearest Amigo lah!
Oh mine! I love you many yah! :)
Ppl like Amigo,Kazaf,Kevin Bro,Dearie Huan, just to name a few are the ones whom really wont give up on me & consistantly showing their care & concern in one way or another.
Oh mine! all guys LOL!I have gal friends whom are also very good to me too! To the rest i've yet to mention, am sure they know who they are, I love you darlings!
Though some i may not meet as often, but once i meet these people, they nv once fail to ask about my updates :)
Neeway, talking about dearest amigo, i very much wanna apologise to him cos he has been asking me out pass few days yet i'm always held up by some other things therefore unable to meet him.
& this super nice dude wanna meet me for a reason just to pass me something tat he got for me . Okay, he knows me pretty well, so when he says it's something i like means i'd really love it. :)
True enuff, that 'thing' was a purple watch! Ohmygosh! Purple=Love la! :)
Thanks my dearest, Love the watch many :)
Yeap, yesterday he specially came to superband to catch J3's Jacky, his long lost bro. hehex.Actually to acc Rah & I.. Btw, their resemblance is argh! I dunno wad to say. LOL! Actually everytime he comes to mdc, is not for the show but for pure catching up with friends :) He's really popular among us for being Mr Nice, easy to get along.. Can u imagine once he step in to mdc recept, he was received by warm hugs from us? Yea, tats how much everyone loves him. This dude is easily contented. He likes it when he's being remembered. :)
Missed out results show yesterday for SB, went to supper with Rah & Amigo :)
Congrats to Sanyue! :D :D :D Fionnnn! Sad tat DreamFactory was out. They were good for the obvious.Supper ended @ 3 am. LOL. we spent the whole nite chitchatting. we did talk about myself. Hehex.Contents is exactly wad my dearest Kazaf said before.
Something happened between Amigo & drink stall uncle in between. We ordered 3 drinks @ 2 dollars each. Rah paid for hers($2),Amigo paid for ours with his ($10).Story goes, the uncle passed rah's $2 to amigo, tat uncle passed tat $2 money to him, Then Amigo passed another $10 to the uncle. Thing is, uncle returns with a 2 dollar for amigo. Where's da other 2 bucks? So the arguement goes on until the uncle finally gets it & gives him back the money!
It's not a matter of the 2 bucks, it's the principles.
Well, 2 bucks is nothing to him lo. for him, getting his principles right is the most important factor :)
Enuff of talking. Let's see some pics!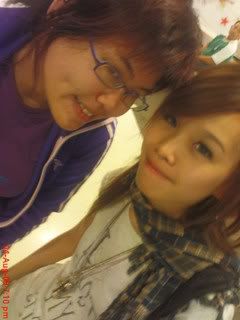 ---With KaiLi :)
With J3:
I was so surprise i like them so much after yesterday's performance.They were SOLID. I love their rendition of caihong. Hehex.Btw, Joined the J3 fans @ moshPit, held J3 banner, & i got so high can. Totally unlike myself if it's not the band i'm supporting. But this strange atmosphere got me so high tat i was eventually screaming for J3!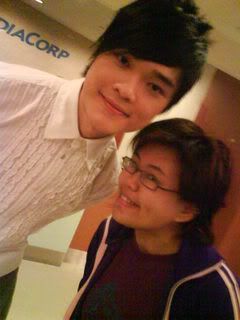 ------Took quite a few pics with Jacky. Hehex. Shuai! :D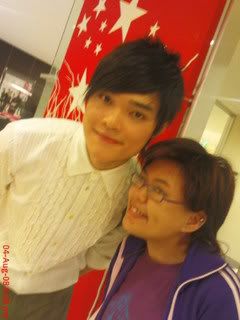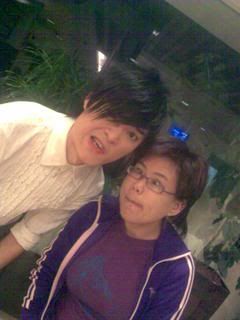 -----Our Monster faces :D :D
----Jacky VS Amigo, LOL!
----Alex :)
---Nique :)
------He was holding his twin bro's poster. LOL. he was so shy when he sees Jacky can. aiyoo!
Tat was all about us @ tv theatre :D I'm so looking forward to next week! Jam hsiao! ohmy!!!!! :D :D those who wanna catch Jam live or support your fav band do email to
superband08@mediacorp.com.sg
:)
Next Part of da PIcs, Our late nite supper which ended @ 3am! Only 2 though the rest is my zilian production! LOL!
----It looks like early in da morning but it's not :P
-----Best Friends forever :D :D
Zilian Time with Amigo's Hat :D
----------------------------------------------
Shall end of with precious gifts Rah & I got from our dearest Friend whom will always be there no matter wad..
----Our most precious gifts ever :D
Amigo, You'r loved!
Neeway, I miss dearieHuan so so much! :(
Kaileng wrote
8/05/2008 02:01:00 PM