Wednesday, August 13, 2008
Haiz.. So i do still feel a lil something for MR W :(
Too bad la, can only see him from few seats away on da bus(sometimes) & occasionally in da canteen.. & the worst nightmare, i'm carrying a torch for somebody tat is already happily attached? OMGOSH la. This Has to STOP. :(
kk, yesterday saw someone familiar after lunch, none other than Louis Bro! I almost couldn't tell it's him. AHA, cos of his image for channel 5 production Calefare. Yup. He looks good still :) Happy Filming Bro!
Saw Jo too,asked if she has some time to spare but she's rushing a scene in da studios & has yet to change, so let her go off lo, in case she's late :)
Well, saw this babe again during dinner time , she was really nice to ask if i wanna take a pic now since she has some time to spare :)
Jiayou In your filming gal!
After dinner, set aside some time to help xueting finish up her 6000 over straw-hearts for Kewei. It's just too bad we did not manage to finish cutting those hearts.
Neh mind. We head to where kewei is performing to celebrate her birthday in advance.Oh! I haven seen her for ages. So it was nice when i heard her sing once again. Still a diva in da making :) I mean from wad i see, it's really ADVANCE celebration cos there are still days to her birthday. Neeway, hope she likes wadever tat is put up for her. The surprise birthday cake,gifts from xueting :) Well, this Xueting really gotta speak up more lah. I am so bushuang when i see her quietly all by herself in one corner, & while the other ones does most of the talking. UNFAIR.
All da best in your singing career babe!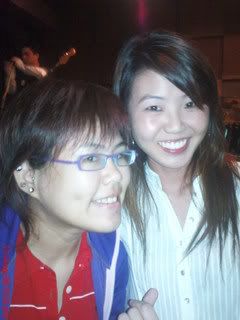 -------She kept asking if her face is red?!? hehex. half drunk. But it's okay lah. Once a year, you celebrate, you enjoy! Hav fun on da actual day babe!
After the celebration, joined 90 & Daevon to some getai...hehex...heard cast of 12 Lotus & the singers will be there, which means Ngak will be there?!? haha. yea went down lor.
Omgosh. As usual, you know getai's crowd la, so many ppl! yea. But yea, we saw boonhai & the various people from a distance.. :)
Waited for their performance to end, hopefully can catch Ngak :)
Yea, they did left after some time. Managed to snap pics with the handsome & talented dude. :)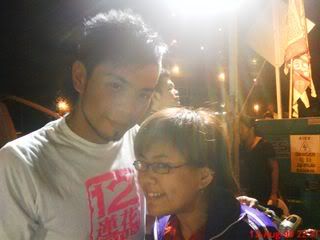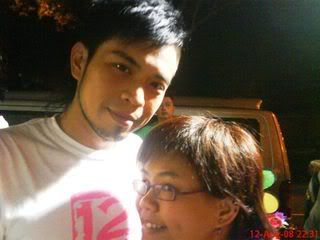 HAha. I didn't realise i like this dude since some time back.LOL! while my frens & I use to drink at Club Sake,from then i actually noticed him already but hav no clue who this person is until one day i saw a bus drove pass with his face on it... =_="
So tat is Ngak :) Hehex. Really a nice dude. Support 12 Lotus, support AMPs & most importantly, Ngak! :)
Yeap.
Pics with BoonHai & Xiaoping JIe :)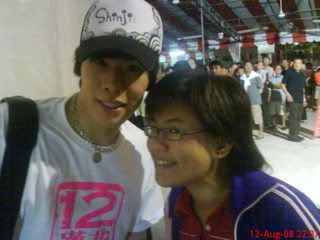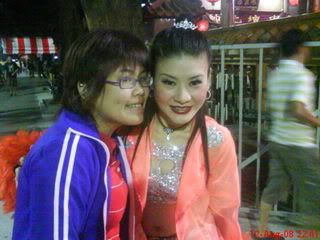 tata! No more already. Hav fun ppl!
Dearie Dearie, just wad are you busy with these few days? I've yet to heard from you, wanna drop u an sms but scare i'm disturbing you. Argh! Drop me a message or something soon yea :)
I MISS You dearie!
Support 12 Lotus, AMPs :)
Kaileng wrote
8/13/2008 09:55:00 AM