Friday, August 01, 2008
Back to update!
Finally i've completed the status report,the ppt slides are already handed in for submission. Woohoo!
Currently stress-free, but i heard there are more projects to come! =_="
More projects to come, but ppl are leaving one by one.Sianded! The reason i'm not leaving is simple la, i love Mediacorp cos i can see my fav ones. hehex!
Neeway,thank you dearie for nv failing to put on a smile to my face! You know what?
It's always nice to hear from you! Hehex!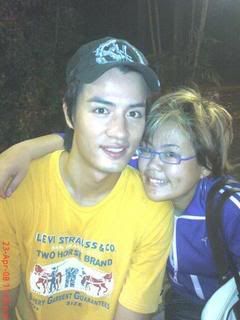 I Love ya! Do take care as usual :)
Yesterday went to the usual place again to wait for Princess No. 1 as for me la..
Rui En :D :D :D
They came back the same timing as the very last time we decided to wait for her :D :D
Poor Elvin gotta cross over to another team to continue his filming, hope this dude got enuff rest then..As compared to last time,he's really getting better in terms of attitude. :D I'm really impressed.
Neeway, here's the pics with my No.1 Princess Ruien! Da coolest too!
-----We especially likes her when she SMILE with her teeth shown,hehex. :D :D :D :D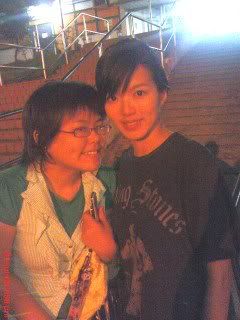 ---This picture got so much 'Feel'..hehex!
It's always nice to see her, she made our day.Though always rushing for time, she nv once reject our photo requests & makes the effort to do a lil catch up. Do take care lots esp next week when u are starting your afternoon shift which usually end filming after midnight. :D :D :D
Happy filming, dear princess!
While waiting for No.1, No.2 was around too! Ah Dawn! :D :D
Yeap, she is going off for dinner, so yea, took some a pic jiu let her go off le :D
Happy Filming to Dawnie too! Catch Qiu Ai tonight! Last Ep! :D :D
& this is the Mr Nice whom i'm so impressed with :D
Elvin!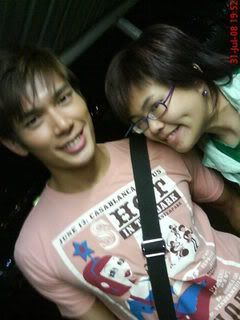 --------Despite rushing for time, he made an effort to hav a pic taken with everyone whom is around. Not even tat, when the shot is blur & he heard it, he requested to have another one taken. How nice is tat? I think he's nice. Really. Jiayou le, elvin!
No more le. shall end off with zilian pic of me & chacko(Michelle's adorable Rabbit) .. :)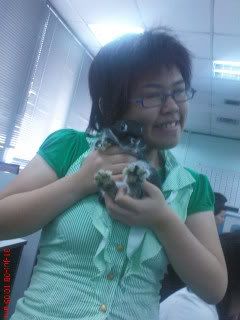 Bye! I miss dearie & the many loved ones! :D :D
Kaileng wrote
8/01/2008 01:42:00 PM