Friday, August 15, 2008
Back to blog :)
Mood is pretty good due to all da beautiful people around me..hehex.
Yesterday didn't went to work. @ home till late evening when i received a call from amigo dearest whom asked me to help him choose secondary textbooks for his dad's friend's son who is coming over to Sg to study.So we went J8's popular.
Woah been ages since i touch textbooks la.& then i hav no clue which books to pick cos i understand different schools uses different publisher's books. so yea. randomly picked a few most frequently used de for him to get lo :)
After tat he's hungry so went to Pizza hut to grab his meal. It was not his day. Wadever he asked for it's either wrong order served or dun hav already.Yeap. After dinner we went separate ways. I rushed off to meet the ever so special one while he took BUS home! BUS lehz! I almost couldn't believe it! haha! Cos he is used to cabbing around.haha! Neeway, he's going to Indonesia today? Hope he'll have fun!
So i reached home @ 10? Quickly get change to meet tat ever so special one, haha! Cos i'm like really late already? haha!Yeap, went to jog as usual. haha, dun play play. not a simple jog okay..some workout as well! Aiyoo,Exercising is just not my thing la. haha! BUt it's good to exercise once in a while lah!
Well after the usual thing, we went camwhoring!
Do you want to see his pics or mine first? LOL!
I shall be nice to show his 'handsome' face first la? HAHAHA!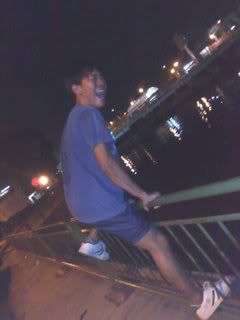 ----Jump lah! y nv jump?!? HAHA!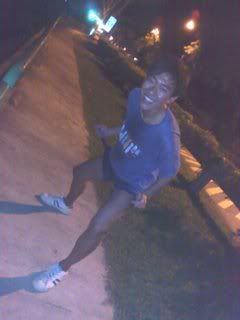 --Kaoz! Act seh!
--haha! I like this best! :)
Yes, somewhere near my hse i can see Johor Bahru. haha! :)
Finally my set of pics! :)
-----Ready,on your mark, GO!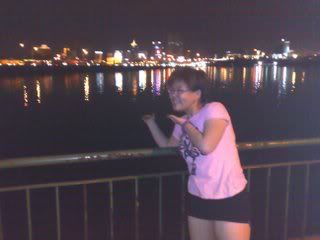 --Introducing Malaysia directly opposite :)
Tatoutie!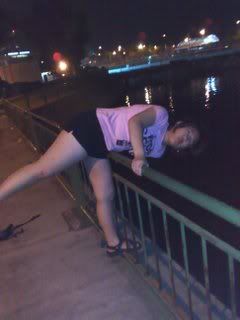 I also wanna JUMP! :)
Oh my gosh this set of pics simply rocks. Love them.
------Esp like this :)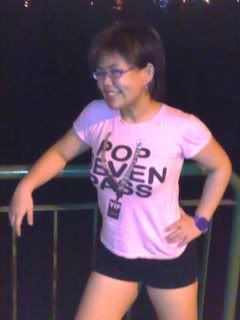 Tats all our pics after the jog.
-------------------------------------------------------------
Saw Ruien,Ahdawn & Andie on Weds :)
En! :D :D :D :D :D
You know wad? It's always nice to see her, though rushing for time, she always makes out some time for us :) & yea, she did ask me about Jonbro :) hehex. I'm so looking forward to Bro's album cos En penned down some songs for Bro! :) Hehex. Nice to see both my favs working tgt :) cya around babe! Happy Filming!
----So pretty!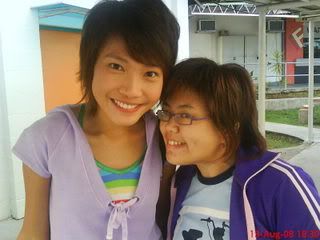 ---Ahdawn! O.o Purple blouse! :) Happy Filming!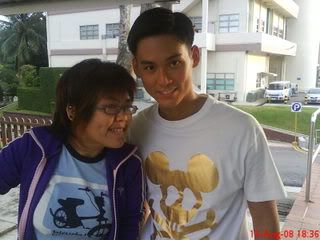 ---haha. Look at Andie's hairstyle? So cute lehz! haha. guess wads his opening line when he sees us? haha. "妹妹们~" hehex. then wad shld i answer? "好哥哥!".. LOL!
btw, went to partyworld after seeing En, & this is da first time i sang less than 10 songs then left.haha.
1)如果你也听说
2)BadBoy
3)你是爱我的
4)失恋无罪
5)不公平
6)遇见
7)爱的主打歌
HAHA.
Neeway, tats about all. Not much to write already.
Once again i started Kaz's bank. Hope it'd really work out something. Thanks my ever special one!
Take care all! Dearie, IMU~! thanks for replying on FB, appreciate it loads, always nice to hear from you!
Kaileng wrote
8/15/2008 10:06:00 AM