Thursday, July 24, 2008
Hello! Back to update, Sianz..I tink i'm down with some weird flu which comes & goes. SCARY.
I'm praying it gets better soon. :(
Neeway, yesterday after work, we specially waited for pretty RuiEn knowing tat she's still not back from filming :D :D
Yeap, she came back shortly after we chit chat to past time..Yea, as she was in a rush, we took some pics & let her go off le :D :D It wont be nice to hold her for long too :D :D
This babe has to report almost everyday for filming, from early morning till sometimes late night..Yes, her filiming has started for new show :D :D I do hope she'll have enuff time to rest though, Jiayou le RuiEn :D :D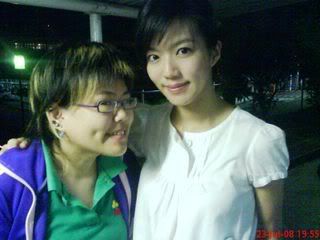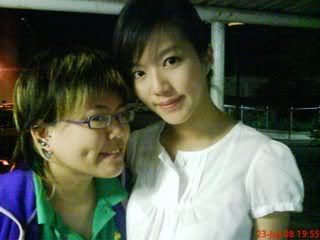 ----Such a pretty Babe :D :D :D
Saw Dawnie the day before too :D :D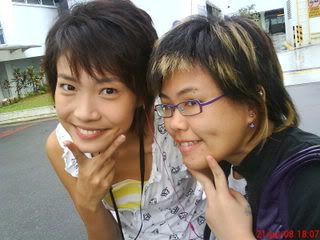 --Quick Pic before she rushes for her scenes :D
While waiting for RuiEn, we saw Feli too :D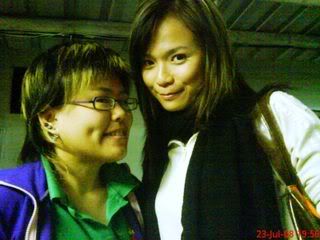 ----She was really hardworking,after almost all her fellow cast went off she stayed by to..eh.. i dunno wad she's doin but she left later than the rest :D :D
Elvin was around too! Omgosh this dude always look better each time we saw him :D
I suppose he has some scenes with Ruien on the new show :D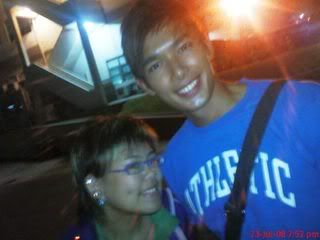 -----Bad lightings covered his handsome face...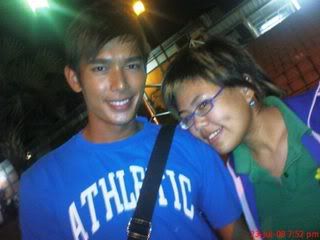 ----So we go for another shot :D
Btw, i once used to dislike Elvin cos of his on-off attitude, but he's actually one nice dude afterall :D :D
Jiayou to all of them! Happy Filming!
Shall end off with Random Zi-Lian: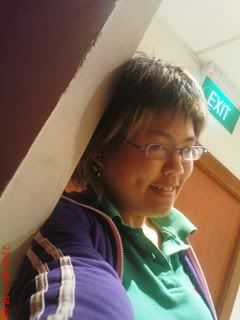 ---Love this shot many!
Olivia asked me to do this test, so here am i posting this up just for her!
20 people that comes to my mind:
1. Kazaf
2. Huan
3. Ruien
4. Clement
5. Olivia
6.Fion
7.Christalle
8. NatH
9. Luoyi
10. Jasmine
11. Ailing
12. zhouchuanxiong
13. Li SHeng Jie
14. Yihan
15. Andre
16. Yishan
17. Rah
18. Weiling
19. JonB
20. Jon T
How did you meet 14[Yihan]?
ITE college east school of ICT :)
What would you do if you never met 1[Kazaf]?
Life would be PLAIN.
What if 9[LuoYI] and 20[JonT]are fated?
haha.no harm becoming friends?
Will 6[Fion] and 17[Rah] date?
Erm, they'r straight.
Describe 3[RuiEn]
Well, she's a cool babe.
Is 8[NatH] attractive?
Yea,absolutely. :D :D
Describle 7[Christalle]
Big eyed babe, intelligent :D
Do you know any of 12's[zhouchuanxiong] family members?
HAHA. I wish i know.. :P
What if 18[weiling] confess to you he or she likes you?
hehex, i love her too!
What language does 15[Andre] speak?
English & Mandarin lo!
Who's going out with 9[LuoYi]?
I dunno! aha!
How old is 16[yishan]?
22 yrs old?
When did you last speak to 13[lishengjie]?
haven had a chance to tok to him :(
What is 2's[huan] fave singer?
F4..LOL..
Would you ever date with 4[Clement]?
nope, i like older man. LOL!
Will you ever date with 17[Rah]?
She is Loud & can protect me..yeayea. LOL!
Is 19[Jon Bro] single?
Yeap.
What 10[Jasmine] last name?
Ng.. :)
School of 3[Ruien]?
eh.. i dunno. :P
Where does 6[Fion] live?
SG.
What is your favourite thing of 5[Olivia]?
Ever so supportive of Jiaxi :) Oh & she's nicey!
Have you seen 2[huan] dance?
Yeayea. Damn HOT. OOPS!
5 ppl I choose to do this testAny 5 volunteers?
LOL.
p.s: she changed the last question, cos it was gross =.=
Tats all! I miss dearie Huan as always! :D :D :D :D
Kaileng wrote
7/24/2008 01:01:00 PM