Monday, July 07, 2008
Hehheh! Exactly 3 Weeks, Day 21! :D :D
Nuff said, incase i will for sure repeat wadever i've said over the past 20 days.HAHA!
Picture for Day 21:
Haha.such color for such picture. Did it on purpose cos it looks NICE.& yea. Indeed, those were the days i'm missing loads. hehex!Being Random, We'r in purple for tat day! :) Is his 5 to 6 days of coming back becoming closer? I hope so, i wanna see him!*Misses & Love*
So yesterday i went to Woodlands Party World with Amigo dearest :) hehex. He dropped me a call by surprise asking me if i wanna sing. Yea. So i agreed & settled on Party world. After short while i decided not to go again cos i'm really short of cash, so i called him & explained my situation. He says he doesn't mind paying for my share. Omgosh! Anyway, i wont take things for granted so i'd give him a treat back when i got my pay. HAHA! Though he knows, I'd spent all the money before returning him his treat! OOPS! Anyway thanks dear. Btw, the whole hall belongs to us yesterday. haha. we sang like from 7 to 11, infact i thought of staying till 12.30 but he's hugry so we went off earlier.Sodagreen's xiaoqingge is really addictive! :P
Neeway, can anybody explain to me why cant the microphone be place near to your mouth while you sing? Cos it seemed like he has been telling me to put it a distance from my mouth cos it'd sound nicer. I dun like leh. Dunno why. Argh! Perhaps putting far away can reduce feedback & unwanted sound? Ehh.. I need explainations so tat i'd change my way of holding the mic.
Tats about all for our time @ party world.
Yesterday i said there are pics of which i took @ sentosa Palawan yea?Shall show them now :)
----HAHA! Chantrice with '豆豆男'Leijun.. How much we wish he'd turn round so tat i can snap the picture with him included, but he just dun wanna turn round! hump!
-----Joey & Carrie Battle it out!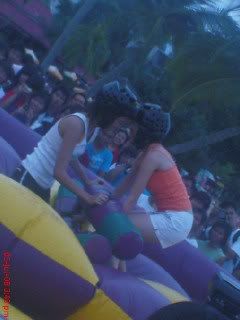 ----Battle goes on! BTW..i forgot who won, i think Carrie made it?
Some Random pics while they'r waiting for their turn to battle: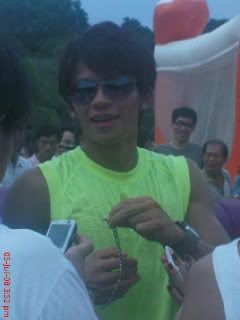 ----Daren, looking better each time!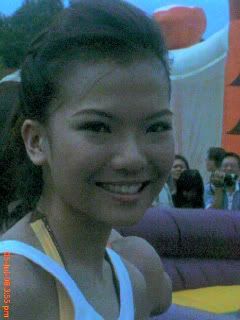 ----Joey Babe!
---Carrie,Andie & Daren!
Pics from Beach VolleyBall! Exciting Match! :)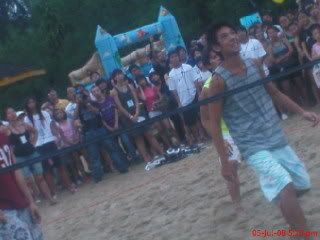 ---AhBen awaiting for the volleyball?
-----YaoDong & Daren! Daren is really good with Volley Ball!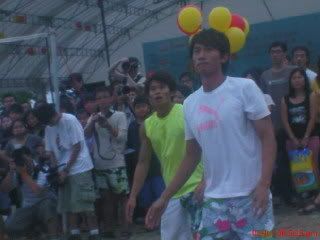 ----Dudes, double D, Daren & Desmond :) Desmond is another one tat can really PLAY volleyball.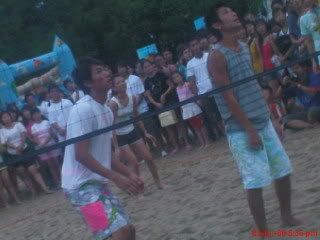 ----Des & Ben :)
------Superstars reunite, Daren & Carrie !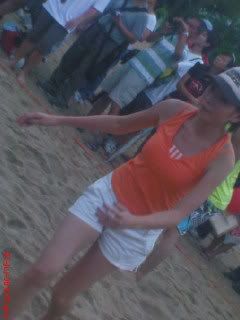 ----Candid shot of Carrie :)
---Candid shot of Yahui :) Oh She's good too!
---Liping Jie :) Still remember '飞跃巅峰'? the volleyball show back then? SBC drama? Yea co starring 陈秀环。。 Yea..Liping jie was one of the players in da show too! no wonder comes her skills.. It's still there!
---------------------------------------------------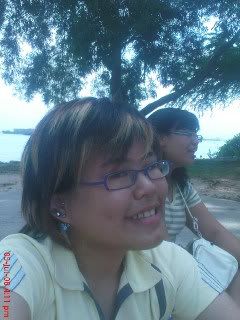 ---Random zilian @ Palawan :) Chantrice was singing to senlintie's qi dai ni de ai! hehex!
-----------------------------------------------------------
With Desmond outside RG: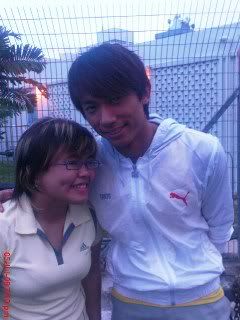 Getting more good looking as always :) Oh! You look nicer with short hair! Thanks for the short ride :) Shall cya around mdc..
------------------------------------------------------
Random end off with!
Face Wrap from SE application :P Have a nice day!
Kaileng wrote
7/07/2008 10:08:00 AM