Saturday, June 21, 2008
Day5 & 6.. :)
A lil emo, cos i got news tat you'r online round evening,but the moment i signed in i couldn't see the nick 'zhenhuan' from my list of adds... :(
I thought a song could so much expressed my feelings now, tats M2M's The Day You Went Away..
Neeway, somehow i wish frenster could hav a function sorta like a chat box,cos i know i could always communicate with you there.. :) Argh! I miss you & I Love You!
aHA, being random, i kenna told off by beloved friends cos my blog entry is always about you & there's not much coverage about them.. OOPS!
They say,in da past it's always about clement,then now comes zhenhuan.. or simply the other loved ones & i nv really blogged about them.. :(
so today i shall blogged about them as well, & it's not a sentence like they always say wad i did to them as compared to idols,cos whenever i tok about friends, it's like a sentence or 2.. got see the difference? LOL.
So life has to go on w/o huan around yea? Later gonna go for Jon Bro birthday celebration. Sg flyer here i come! When huan's back, i wanna bring him on flyer too! Neeway, i gotta pass thru suntec later, hopefully no much tears starts falling again. cos that's the place where really all da memories comes.
Yesterday went to support Rah's friend at 'Poparaazy', a pub. Her friend being one of the organiser & there's this fashion parade going on(all girls show) sianded!haha!, so went along with Amigo & Grace lo :) Not bad la, the show. Just the same models with different sets of clothings. All pretty young also.. yeap.. I think our dear Grace can go for the show too!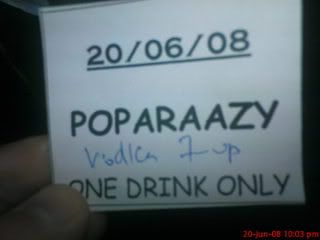 ----The ticket with drinks ordered written on it :)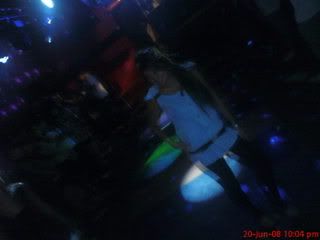 -----The Models.
----Not sure if it's da same gurl. hhaha! They all looked about the same..HHAHA!
Some pics outside with dear friends :)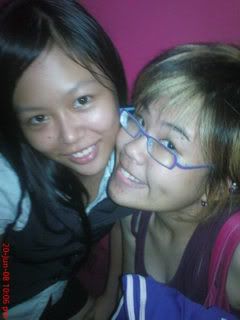 -----Grace dearie! She can also go for the fashion show..doncha think so...? :)
-----Weiling Babe. Stop! I gonna write more bout you this time round. read up for more. HAHA!
*forgotten to take a pic with rah! OOPs!
Okay... so dearest Amigo is back le!I miss you so much ! Finally ya back...Thank you for bringing me my dearest laogong CD! shengjie = love! you too!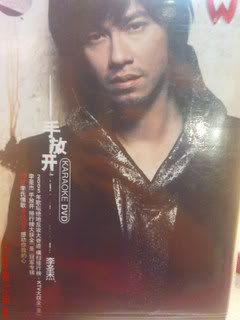 ----Shengjie the king of love songs :) The way he emote the songs brings so much feel! Really! Shengjie=LOVE!
Anyway, went to TOP 1 KTV with Amigo & Weiling. KTV session rocks. Love it. We should go for more session!
--------Dearest Amigo. I really really appreciate all you've done.Sometimes, we need not voice out or write out just to show you appreciate someone :) Thank you for all you've done for me... :) Dont complain it's just a sentence i blogged liao okay? Sometimes, words can't show how much i am deeply thankful for a friend like you. Thanks for coming to my life.. :) Love ya many.
----Ling! Darling. Same words as i had for Amigo. Sometimes i'm really bad at words, i dunno how to express in terms of writing.. so if i seldom blogged bout friends, hope u understand...Really appreciate all you've done for me, the love & concern you've showed as a friend. I'm really thankful from bottom of my heart. You are loved alrite. Nice gal i've met. If i've any regrets it would be takin such a long time to find a confide like you :) Thanks gal. I Love you!
Sometimes,sorry if i blogged about idol friends more than friends cos i hardly & seldom sees them, so tats part of the reason why i love to write so much about huan & so on.. yup..
to end off, i wanna end of with someone special as well, my dearest Marcus!
----Blur shots got feel! haha..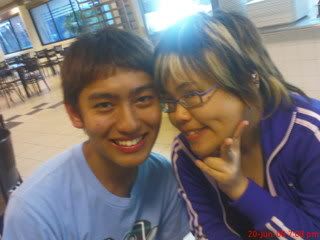 Shall blog about you :) This dearest has been busy! Very difficult to meet him. BUT! It's always nice to see him, simply makes me SMILE. this sweet boy is always nice la. Nth we cant tok about..hehex! wadever, he's loved as well!
I think i should get going le. shall update soon! Watching WWDZ repeat after tat, i'll leave for bro's celebration le. I really really miss dearie Huan!
Last note Dearest Amigo & Weiling, you guys are really SPECIAL alrite.
Xiaotiantian(he knows why)=LOVE!
Kaileng wrote
6/21/2008 06:08:00 PM