Wednesday, June 25, 2008
Day 9... :D :D
woah. din expect time to run so fast, i wished it could be faster aha..
So tat a day would be gone just like tat & somebody would be back real soon! haha!
Sorry la, until he comes back, this blog will forever be filled with dearie's name or even pics :D
AHA! Cos i'm happily counting down.
Actually kinda sianded, cos in da morning i saw somebody signed in to messenger, then like a minute or so he offlined. argh! LOL! okay la, my thought was he might not have the intention to online. So just accidentally sign in lo! hehex! Neeway, i still miss him loads. hehex!
Our first picture. hehheh! I still remember tat time i was still so hyper supporting lemonboy, din even like pay 2nd attention to huan. hehe! Wad happens now? love him so so much! LOL!
YEa..nth much to update la. prolly show some pics taken yesterday?
saw kym when i knock off from work, wahlao, damn miss WWDZ gang when i saw her. Well, memories starts flowing lo.. :( Neeway, she keeps commenting on every pic tat my friends & i took. She says they'r pretty :)
TADA! Our pic.. :)
Then headed to wardrobe lo..saw Mr DYT again..Mr Nice, he's really as nice as we knew him 5 mths back. Really Mr Nice..hehe...advised us not to stay up too late & better get going after we took a pic with him :) Neeway, it was a long day for him. Hope he got himself enuff rest :) would love to see him soon. yangtian 人真的很好。。& easy going & simply someone nice to talk to..
he always made other ppl's day :) cya soon!
Finally..Feli babe. She's still da same, ever so friendly towards us..
hehex! She got herself new hairstyle too! Pretty yea?
Alright shall end off with birthday boy's pic..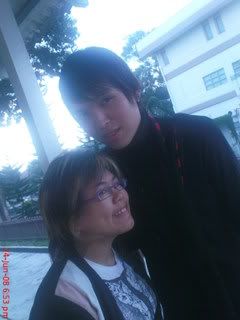 Happy Birthday Comb! hehheh. not really on familiar terms with this dude, but i can say he's really really one nice fellow. Just like yangtian, this dude is really nice to talk to.. hehex!
gtg, take care yea. sorry blog's getting boring these days. No much pics & you'll always see the same old person... ahum! LOL! I MISS YOU!
Kaileng wrote
6/25/2008 03:09:00 PM