Tuesday, June 24, 2008
Day 8 :D :D
Woohoo! Kaileng is really getting better as day goes..Haha. Still missing dearie but the thought of he'll be back at the most 10 days from today makes me so so happy!
Really looking forward to seeing him again after so long. HAHA. Like i said, friendster is the only form of communication since he won't be on messenger tat often :) Tats when i got the news tat he'll be back at the most 10 days too. hehex.
All thanks to Stephanie darling. haha. suddenly messaged me tat he will be back in 10 days. I got so high so i called her back to ask where she learnt the news from..Orh! My friendster comment again..:D :D
ahuh! Early July pls pls faster come~! :D :D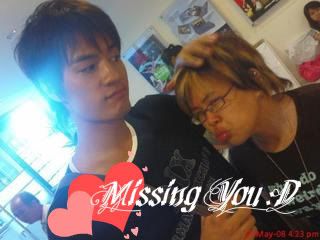 ---Till then i'll be missing you :D Huan=Love many!
Anyway,i was also happy today cos i saw sweetest again! The ever so sweet Nat :D :D
Not really surprised to see sweetest, cos i somewhat have a feeling he'll be back to do his image for new show...& there he is.. He still look as good as before & as sweet as before. aHA. Don't hav to say much, once he sees us, he'll automatically wave & say hello :D After that, he knows tat we'd love to take pic with him so, he'll request for us to wait until he finish his stuff first, and then come back to us. really super nice of my sweetest. Tats why i always name him sweetest, there can be many others as sweet, but for me he's da sweetest :D Love him to bits.
& my pics with sweetest :D :D :D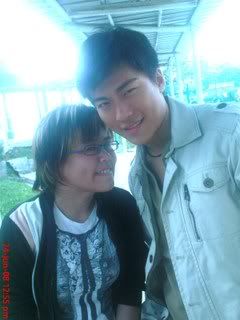 Btw..i find his image for the new show damn cute! Do look out for him! & yeap..do support Nat :D :D
Btw..while he came back to do his image, we saw someone familiar whom we hav not seen for some time. Mr Dai Yang Tian! omgosh! 3 mths or so already? & he's still looking good. AHA! At first we were unsure if it was him, so after looking at him several times, yea. It's yangtian. haha.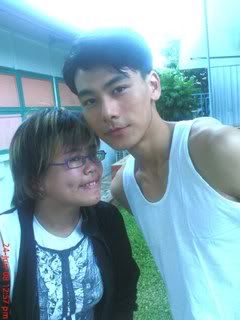 Should give him more scenes ma. heard tat he'll be involved like only 5 episodes out of the entire show? ehhh...
*btw, sorry dude for disturbing ya while you having lunch.. :P he was like having his first bite then i called him, after 2nd bite he has to get up to take pics again. Sorry leh!
Same for sweetest. Sorry for disturbing ya lunch break.
Yeap..Saw Paige too. A super nice gal tat initiates to smile & sometimes say hello :D Moreover she's pretty. Being random, she does looks like Yahui :P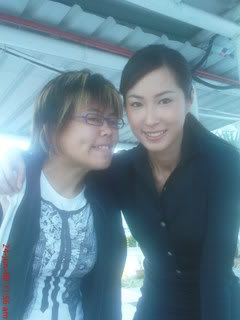 Do support her upcoming productions yea. I think she's really nice. hehex.
Oh! I found a grp pic from jiaxi's blog. so i shall post it here. I love these peeps!
Being random, i shall end off with a pic with weisong laoshi.Caught him at reception yesterday.:P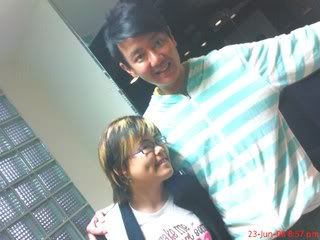 I wonder why his face so red...hehheh. Anyway. i really respect all da musicians. They really rock & the music they make is really wad i call great music. great compositions.
gtg already! no much updates. Shall blog again tmr or soon! Missing all da lovely people in my life, you guys know who you are!
XOXO!
Kaileng wrote
6/24/2008 04:39:00 PM