Monday, June 30, 2008
Day 14 :D :D
*another wordy entry* & call me crazy cos i'm way too happy~!
Exactly two weeks since dearie left for China..& i'm really happy la, cos he's gonna be back...
REAL SOON.hehex.
Happily counting down as usual :D
This dearie gave me a surprise by sending me messages on msn. wads so surprising?the messages were sent when he appeared offline. duhx! tats why i got so high when i saw his reply. plus i dun usually get the chance to tok to him on msn.So, all along he's been appearing offline la?!? lol. i dun care leh,i asked him to look for me next time he logon msn before he really offlined.
anyway, i left him offline message the day before & he replied kinda fast.. saying everything was fine & tat there's still earthquake going on but he can hardly feels anything, so i assume everything is going on fine for him & his loved ones there :D :D
Anyway yeap, short update, he's still not done with his lasik surgery cos he has to stop wearing contact lenses for half a month. haha. from the very last time i asked till now, the surgery was still not done! :P He will be back there to follow up this coming weds, hopefully everything goes well for him & tat he could get his surgery done asap bah :)Afterall, it'll be easier for him to go w/o specs :)
Being random,I had the intention of picking him up at the airport but this ever considerate dude says it'd be too troublesome for me cos he'll be arriving like really late midnight.:D :D So i just had to wait at home lo.
Meanwhile, here's picture for day 14 :D :D
HAHA. Absolutely loves tat pic of us :D
Neeway, friday after work went to canteen saw Jiahui :D
As usual, i'm so shy to approach him for a picture, so 90 helped :D
Thanks babe. Jiahui was cute, he asked if i still wanna carry on with takin the pic cos his hair is not styled. i dun mind, so we proceed with the pic :D Nice dude. Jiayou le jiahui!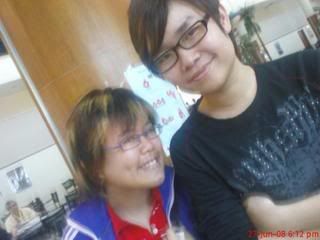 Then headed to Jurong Sports & Recreation hall to see Feli?!? haha. she was one of the representative for the Asia challenge? I dunno wads tat in detail, but some basketball challenge.Yeap. Yangtian was around too. Talking about him, he was with mdc ppl so i dun dare approach him, all thanks to XT..helped me called him & request for a pic. thanks babe! :D
He's nice as usual, there is already ppl waiting for him yet he still stops for a pic. Appreciate it loads! Yangyang, is a really NICE DUDE. :D he will stay for 4 mths this time round. Good! :D
Yea. to end off, super random, we saw a grp of young boys grabbing signatures from one of the basketballer. i was thinking, ehh who is tat tat they are asking autograph from? Orh..some well known basketballer. Well known in their basketball world. Just like how we chase stars from mediacorp, they hav their own idols too from their own cycle. :)
till then...XOXO!
Huan, miss you loads!
Kaileng wrote
6/30/2008 09:10:00 AM