Friday, June 27, 2008
Day 11! :D :D
I might as well just put it as day 14 cos next two days i might not be blogging! hehex! Wadever, wad day is it doesn't really matter, i miss dearie still loads. hehex!
Anyway,duncha think he looked so man in this photo? hehheh. I love him this way. oh..超'Man'的。。呵呵。。
omgosh! Not very good news for me now,cos with dearie huan whom left for quite sometime already,lemonboy is going for holidays! to sydney! omgosh! 18 days leh..why are all the guys leaving one by on..argh! LOL! Okay la..you go enjoy & i'll plan a belated birthday gathering for you & your fans alrite?
Random note, he's super happy tat he's going overseas. :D
Yeap, so yesterday i went for dinner with all my dearest-es la.Is there such word? haha! haha! Kazaf,Marcus & Amigo. Not according to any merit or wad so ever huh. 排名不分先后。。你们都是我的'Dearest'哈哈。。
yea, we ate at sakae sushi lo @ northpoint. Bill comes round 90 plus lo. I'm super addicted to sashimi!!!!!! I want more more & more!hehex..
actually, i'm super touch cos the two guys marcus & amigo came all da way from chinatown to Yishun just to have a dinner with me leh! 哈哈。。Initially just wanted to settle dinner with kazaf cos he asked first.haha. then tat two dearest called me ask me get down to meet them, i was like err arrr.. till they finally say they will come down to find me instead. :) Thanks ar, so 迁就 me.. :)
Yea..enuff toking for now our pics!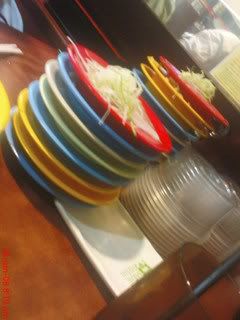 & that's wad makes up 90 over dollars! Colourful plates!haha!
supercute bottle. ordered mango juice with nata, thought it's home made or something but ended up in a bottle. damn cute leh..haha!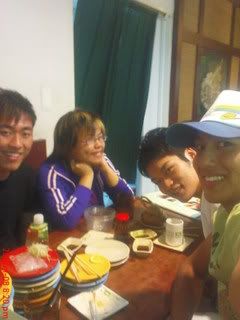 Family Picture also known as 全家福!:D :D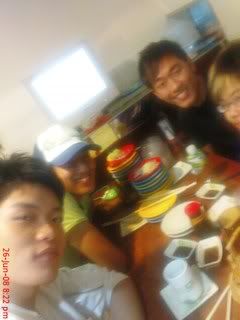 Blurred shot! Kazaf says he likes this cos my face got cut off! Very nice of you to say tat! haha!
Random zilian @ Sakae :D LOL! while ppl are waiting to be seated, we refused to leave..haha..cam whore session! :P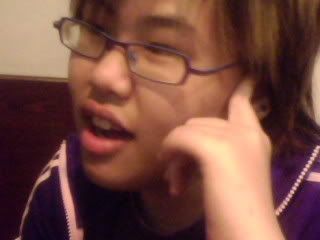 natural shots are the best,says amigo...
omgosh! Cute.. okay.. i'm thick-skinned. so yea. haha! 脸皮够厚!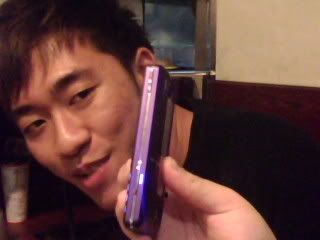 not nice meh? i thought this pic of you is nice..LOL! :P
Tats all about us @ Sakae :)
Saw Joakim today, been long time already hehe!
Yea, like wad this dude says, i looked very tired,
indeed i'm..haha! You looked really tired too. Hehex, as usual everytime see me will ask about Bro Jon. Yea. so i told him, he just had his private birthday celebration with jonatics(supporters of Jon) lo :) haha, he was kidding why he wasn't invited.
hehex. he's nice as usual. Thinking back, SI already 2 yrs or more liao ar.. so fast!
Omgosh! This dude has grown up so much & of cos he's having more exposure which is good! :) Take care Jo!
Kaileng wrote
6/27/2008 05:30:00 PM