Wednesday, February 20, 2008
Harlow! shall blog now cos after this, i'm going to be damn busy with work stuff, so many things to do for the day for our team, mocca leads,'today' calling,deleting ads,uploading images. JUST so many things! haha! yeap. so yea.. Anyway, my house internet connection got cut off liao! :P Neh pay tats why!
Yesterday went to movie gala..yeap. Let the pictures do the talking bahz!
& so Nat wasn't there for the gala :( haha, dunno why ar, seemed like very blog post will have his name eh? hehex!
Anyway, pictures posted up are not in sequence of whoever i met/seen for the day! :)
-------Saw these guys first, weilie & Andie :) This pic so um-so-so, meaning dark lahz, so got feel! haha!
-----------Clearer one :) Kailings with Andie & Weilie. Shh..we kept saying 'weilie shld have been the clear cut winner of Star search!' :) well, true lahz, the 1 mark difference still stays on my mind. aiyOo.. neh mind, they'r still bros & good buddy so no pt bcos of tat ruin their relationship :)
-----Haha, this is funny..having both of us leaning to one side. hehheh! Well, this is kailings with bang bros! :)
-------JS got this cropped from the pic above. :P
-------Weilie came first, so took a pic lor. :) He is still as lame i guess, the way he talks, haha! sometimes i wanna bash him up. wahaha. so qian bian! :P But i know he's just kidding lahz, Act cool seh! lolx!He was funny, say wad ' guan jun hai mei you lai......' i forgot wad he said liao. lolx. something like Andie haven come he can't go in??
-----------Me with Bangjun :) & Thanks ar weilie for your special appearance. Nice shot anyway! :)
Tats Bangzhi :)
------Surprise to see Kelly there too! Nope she din went for gala, she went movie with laoshi & her BF :) Haha! Told her Marcus likes her yi miao zhong de yong yuan! i love it too! we must like sing it so many times when we went for ktv sessions! haha!
-----Another one, Aiyoo..gal pls put on some weight bah! so slim! :P Anyway, dunno when she's going back to TW again, so yah, nice to see her in person, the very last time i saw her, PSS winner single' auto session :)
This picture taken possible only with the help of KAILIN! big enuff your name? :)
Yah, it was funny the encounter, cos i was like keep saying i wanna take pic with tat thai actor, then no chance, but while looking at CDs at MJ, they suddenly shout out so loud..tat eh! isn't he tat guy i was looking for, so Kailin went to tap his shoulder & says i wanna take a pic with him :) He's very shuaiz lei! haha! & a very nice person. He was like okay sure when they help me asked for a pic :) His name quite chim haha! Mr Ananda Everingham :)
Yah then i went back to camwhore with the board with his face on it. :P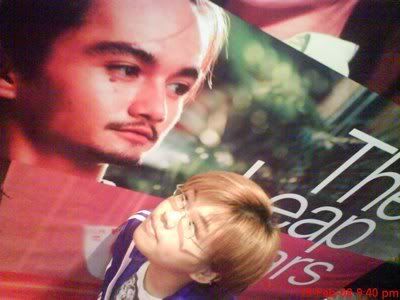 Think tats about all bahz,
Byee!
Singapore's F4 :)
Andie & Weilie with us :)
Kaileng wrote
2/20/2008 10:02:00 AM